Transgender Woman Dies In ICE Custody, Sparking Outrage Over 'Deplorable And Inhumane' Conditions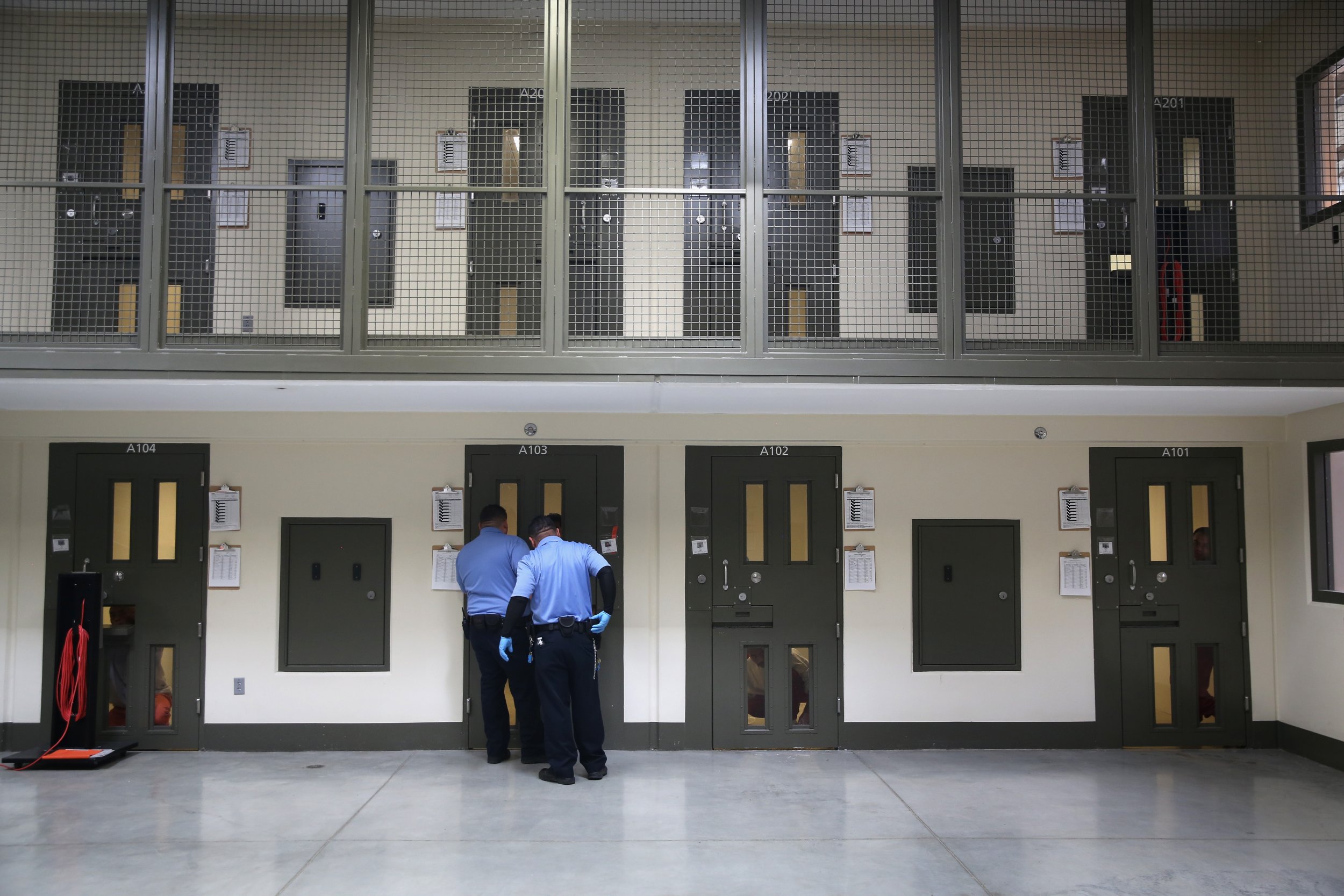 LGBT immigrant rights activists have called on the U.S. Immigration and Customs Enforcement (ICE) agency to stop holding detainees in "inhumane" conditions after a 33-year-old transgender woman who travelled to the U.S. with the so-called "refugee caravan" died in ICE's custody.
In a press release, ICE confirmed that a Honduran woman named "Jeffry Hernández" died in the agency's custody early Friday morning at the Lovelace Medical Center (LMC) in Albuquerque, New Mexico. The statement added she had shown "symptoms of pneumonia, dehydration and complications associated with HIV," before dying of cardiac arrest.
LGBT immigrant rights advocates with the Transgender Law Center (TLC) said that while ICE has identified the woman as Jeffry Hernández, she had identified herself as Roxana Hernández.
A representative with Pueblo Sin Fronteras, the immigrant rights group that organized the "caravan" that saw hundreds of Central Americans travel to the U.S. border to claim asylum last month confirmed to Splinter News that the woman had made the journey with the group.
It is unclear what condition the 33-year-old was in when she was taken into ICE custody on May 13 in San Diego, but after being transferred to Enforcement and Removal Operations' custody in El Paso two days later and then arriving at the Cibolo County Correctional Center in Milan, New Mexico on May 16, she became visibly ill enough for the agency to have her admitted to Cibola General Hospital on May 17.
That same day, Hernández was transferred via air ambulance to LMC's intensive care unit, where she died days later.
ICE said she was pronounced dead on May 25 at 3:32 a.m., with medical center staff identifying her preliminary cause of death as cardiac arrest. She has been the sixth detainee to die in ICE custody in fiscal year 2018.
TLC said her death highlights the need for action in stopping ICE from holding "transgender immigrants in deplorable and inhumane detention conditions."
"It is unclear where and in what conditions Ms. Hernández was held for the five days she was in custody until she was transferred to ICE and the Cibola Correctional Facility," TLC said in a statement.
"It has been repeatedly reported that asylum seekers at the border are held in freezing holding cells (often referred to as "hieleras") for days," TLC said, later suggesting that Hernandez's symptoms of pneumonia could have been related to the conditions she was held in.
"Transgender immigrants often seek asylum, withholding of removal or protection under the Convention Against Torture because of violence, rape and torture they have experienced in their countries of origin due to their gender identity or expression," TLC.
"However, once inside the United States, transgender immigrants may often face similar risks, as well as criminalization, as they are targeted and harassed by police or held in detention where they experience violence, discrimination, and an inability to access to medical care, all of which may lead to dire consequences," the legal center added.
"Paired with the abuse we know transgender people regularly suffer in ICE detention, the death of Ms. Hernández sends the message that transgender people are disposable and do not deserve dignity, safety, or even life," TLC Deputy Director Isa Noyola said in a statement.
In a group press release, TLC joined rights groups Familia: Trans Queer Liberation Movement and Organización Latina de Trans en Texas in demanding that ICE "adopt and immediately implement a policy against detaining transgender people."
"[The Department of Homeland Security] cannot continue to hold transgender immigrants in deplorable and inhumane detention conditions and waste millions of dollars detaining a vulnerable population that is overwhelmingly eligible for relief," the press release said, adding that the agency "must exercise discretion" when it comes to LFBT undocumented immigrants and especially those with life-threatening medical conditions.
ICE said its Health Service Corps (IHSC) "ensures the provision of necessary medical care services as required by ICE Performance-Based National Detention Standards and based on the medical needs of the detainee."
It said "comprehensive medical care is provided from the moment detainees arrive and throughout the entirety of their stay," adding that all detainees receive a medical, dental and mental health intake screening within 12 hours of arriving at each detention facility, with a full health assessment being given within 14 days of a detainee entering ICE custody or arriving at a facility.
Detainees are also given access to "daily sick call and 24-hour emergency care," ICE said, adding that the agency spends more than $250 million on healthcare services provided to detainees.
ICE said Hernández was processed as an "expedited removal" when she applied for admission at the San Ysidro Port of Entry in California. She was transferred on May 15 to the Cibola County Correctional Center six days later.
The agency said Hernández had ilegally entered the U.S. at least two times between 2005 and 2009 and was allowed to voluntarily return to Mexico each time "since she claimed Mexican nationality when encountered by immigration officials."
ICE said she illegally re-entered the country a third time on January 23, 2014 and was arrested, processed and removed on March 11, 2014.
The agency said Hernández had also been convicted of theft in 2006 and was also convicted in May ofp "prostitution" in 2009, with both convictions in Dallas.
ICE said it had notified "the appropriate state health and local law enforcement agencies" about Hernández's death, as well as the Department of Homeland Security's Office of Inspector General and ICE's Office of Professional Responsibility.
It has also notified the Consulate of Honduras in Houston, and said Honduran consular officials would attempt to notify Hernández's next of kin of her death.