Transgender Swimmers Restricted From Top Women's Races: FINA
Advocates for allowing transgender women to compete in sports against biological women took a huge setback Sunday, at least in the world of elite swimming. FINA, the sport's world governing body, announced transgender women would not be allowed in major women's races, effective Monday.
FINA is known as the international swimming federation that's recognized by the International Olympic Committee. FINA stated it's working to create an "open" category for some events for transgender who want to compete.
The new policy didn't absolutely disqualify transgender women from participating in women's sports. It will require any transformations to be completed by age 12 to compete in women's events, but this wasn't a way for FINA to say children should become transgender before they become teenagers.
"This is not saying that people are encouraged to transition by the age of 12. It's what the scientists are saying, that if you transition after the start of puberty, you have an advantage, which is unfair," FINA spokesperson James Pearce told The Associated Press. "They're not saying everyone should transition by age 11; that's ridiculous. You can't transition by that age in most countries, and hopefully you wouldn't be encouraged to. Basically, what they're saying is that it is not feasible for people who have transitioned to compete without having an advantage."
Transgender athletes competing in women's swimming hit a high mark this spring when Penn swimmer Lia Thomas became the first openly transgender woman to win an NCAA Division I title in any event. Thomas, who won the 500-yard freestyle, said she wants to compete at the 2024 U.S. Olympic Trials. Thomas' 500 time last spring of 4:33.24 is way off an NCAA record set by Katie Ledecky (4:24.06) at the 2017 championships, and it's highly unlikely Thomas would catch Ledecky in any race during the current Olympic quad.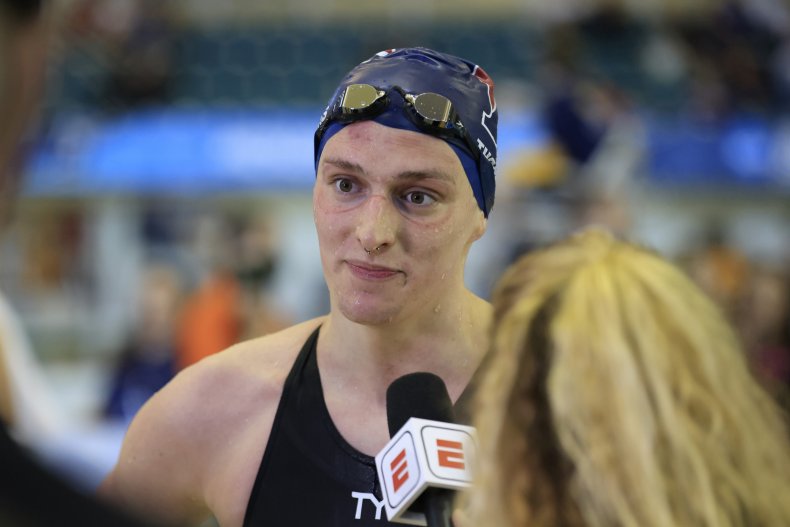 FINA's new rule would not allow Thomas to compete against Ledecky or any other top athletes in elite women's races. It also would have likely prevented Thomas from swimming at NCAAs last March.
There's also controversy sparked from those who support Thomas and other athletes like her.
Athlete Ally is a group that champions efforts of LGBTQ+ athletes. Anne Lieberman, who is part of that nonprofit, said any enforcement of the new FINA rule would be violate "privacy and human rights" of each athlete.
"The eligibility criteria for the women's category as it is laid out in the policy [will] police the bodies of all women, and will not be enforceable without seriously violating the privacy and human rights of any athlete looking to compete in the women's category,'' Lieberman said in a statement.
Pearce, who's the direct spokesperson for FINA president Husain Al-Musallam, said the inclusion of an "open" category would create more events around an already-crowded agenda. He added that the swimming organization would begin discussing options on Monday.
"No one quite knows how this is going to work. And we need to include a lot of different people, including transgender athletes, to work out how it would work. So there are no details of how that would work. The open category is something that will start being discussed tomorrow," Pearce told the AP.
FINA's new policy was voted upon by its 152 members Sunday, with it passing at 71 percent. Part of the discussions evolved around the age of 12, in which a transformation be completed.
"Where did that 12 come from?'' said Dr. Alireza Hamidian Jahromi, who's the co-director of the Gender Affirmation Surgery Center at Temple University Hospitals. "Is that a specific age that everybody is supposed to have passed through puberty, because it may not be the case.''
Hamidian Jahromi said the age of puberty differs, and that there's more to just that, like the three different transitions involved: social, surgical and medical—which involves hormones.
FINA acknowledges that everyone can be different.
"Some individuals and groups may be uncomfortable with the use of medical and scientific terminology related to sex and sex-linked traits, [but] some use of sensitive terminology is needed to be precise about the sex characteristics that justify separate competition categories," the federation stated.