Transgendered Model Lea T.'s Runway Revolution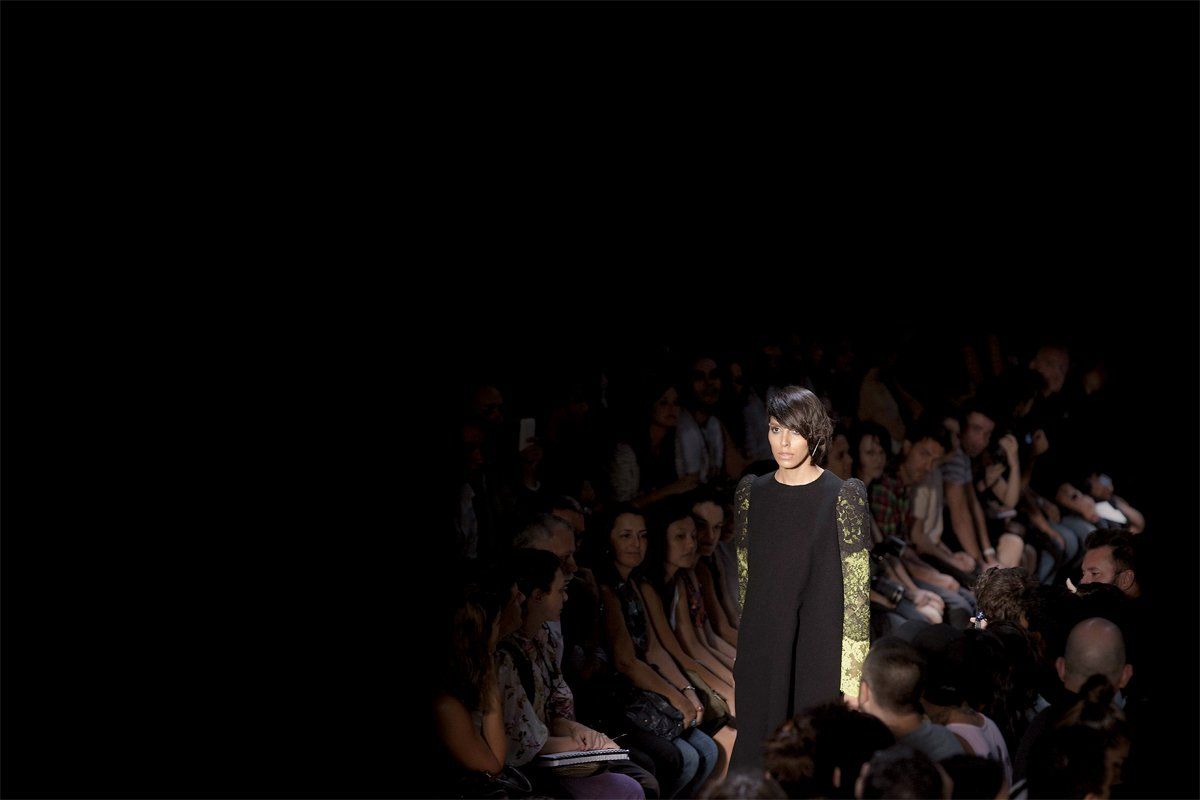 In a snakeskin monokini and pink denim hotpants, Lea T. emerges from a faux tropical portico and saunters into the bright lights. This is Fashion Rio, Latin America's signature fashion event for summerwear, and for weeks now the buzz has been building to just this moment. All night, sylphs in beach gear have walked the fashion planks, but they might as well be teasers for Lea. A dozen steps later, with a practiced pout and a hip-check salute to the camera pit at the end of the runway, the 29-year-old model with a dragon tattoo on her pelvis owns the crowd. As the bleachers erupt in wolf whistles, who'd have figured that the hottest new face from Brazil is not a she at all?
Brazilian beauties are hardly strangers to the world of high style, but never mind Gisele and the Girl From Ipanema. The new sensation of the runways is Lea T., a transgender model who fell into the trade almost by accident and has been making outsize waves ever since. Atop a runway for the first time less than a year ago, she has graced magazine covers, posed fully nude for French Vogue, and fled paparazzi. She donned swimwear for compatriot designer Alexandre Herchcovitch and strapped into a full bikini for Blue Man in Rio last week, to the delight of gawkers on Copacabana beach. That was her in a lip lock with Kate Moss on a recent cover of the French magazine Love, and that was her again on Oprah, in February, when she detailed how to flaunt the scantiest women's gear without spilling secrets. She's now listed No. 42 on Models.com's top 50 models. And to judge by the ruckus in Rio, Lea's rise is just beginning.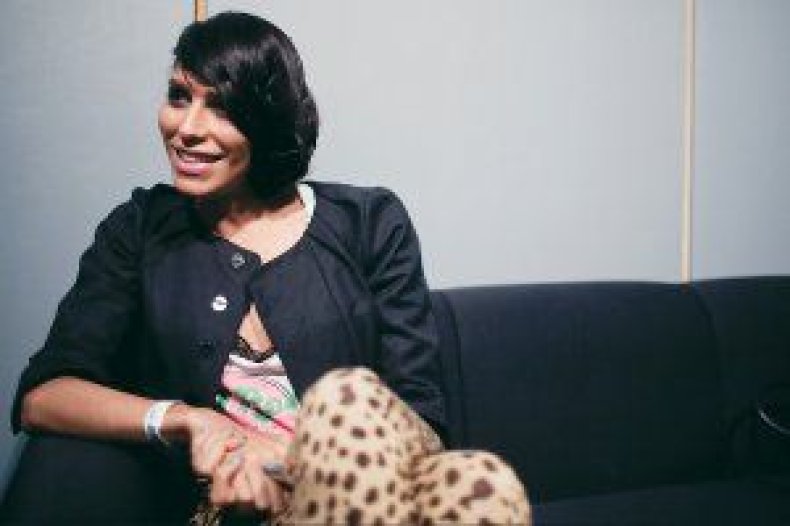 Couture is an edgy business, of course, and players in the megabillion-dollar industry, where the only sin is a bad fiscal quarter, have resorted to all manner of trope, prop, and aesthetic hook in the scramble for soundbites and market share. From Benetton's blood-spattered apparel and death-row campaigns to the pasty wastrels of photographer David Sorrenti's heroin chic, fashion moguls have tried it all, often pushing the envelope of taste and commercial decorum. "Fashion is always outrageous in difficult times," Italian designer Elsa Schiaparelli famously said, and that was back in World War II.
So it still is, and now gender bending is part of the canon. Both Vogue Italia and Vogue Paris recently rolled out androgyny issues, and one of the class acts of the international runway today is Andrej Pejic, the towheaded, flat-chested Serbian femi-man—ranked 98th among the world's sexiest women, according to For Him Magazine—who dons both mens- and womenswear on the runway. "Oh Lord, I have sinned," read his diaphanous blouse at Fashion Rio. With Lea, transgender models have made their debut. Thomaz Azulay, creative director of Brazil's Blue Man, who signed Lea for Fashion Rio, says it's all about breaking down walls. "Our brand is about democracy," he says. "The beach is for everyone, and Lea is a perfect symbol for that."
Becoming a symbol comes with a price, and Lea has paid hers. It's not just the cheap jokes and gibes she absorbed on the macho streets of Brazil and Italy. Born Leandro Medeiros Cerezo, she is the scion of Brazilian football legend Toninho Cerezo, the hustling defensive midfielder who played 74 games for the national team, scoring seven goals. Rugged and tall, hailing from the inland state of Minas Gerais, Cerezo divided his victory-studded career between Brazil and Italy, raising four children in the stardust. If it were up to him, all would have worn cleats. Leandro had other ideas.
Her father had long harbored suspicions that Leandro was different. But perhaps it was that day in the stadium, with Corinthians and São Paulo squaring off on the grass below, that it all clicked. The Brazilian Hall of Famer had squired his kids to the match for a live-action glimpse of the game that makes this nation's pulse race, and there was young Leandro asleep in the bleachers. But idols don't give up easily: later, in Italy, while playing for the Genoa club Sampdoria, Cerezo decided to enroll his heirs in football camp. Leandro never gave the ball a second look.
It was still a long way to powder and paint, but over the years Leandro grew into a new identity. First came the hair, grown long and luxurious, then came the breast implants, and slowly the awkward, gangly Leo became limber Lea. Today she is tall and dark and as ethereal as any of the 20-something divas who work the catwalks. Her coffee complexion, the delicately angular face behind lustrous hair, and the faintest hint of a lisp give her a vulnerable, almost hyperfeminine air. Only the hands, which seem exceptionally long, and her tremulous tenor, which she keeps to a breathy undertone, belie the angel's tableau.
Today Lea radiates confidence. But all through her teens she thrashed around in doubt, now attracted to women, now to men, occasionally sinking into bouts of self-revulsion. All the while, she bore up under quips and insults. "People called me prostitute, a slut, a sex fiend," she said in an interview in Rio. "In time, you grow a shell."
For a while, Lea kept quiet. In Italy, she worked as an assistant for stylist Patti Wilson, scraping by on a modest salary. Then she met Riccardo Tisci, the Italian designer, now with Givenchy, who was struck by Lea's exotic beauty and encouraged her to try the fashion world. "I had studied the arts, but Riccardo was so into fashion that he contaminated me with his enthusiasm." The friendship grew, and soon Lea added an honorary T. to her name. It may not be the first time a celebrity son or daughter has deliberately ditched a legacy surname, but remarkably Lea preferred taking a plunge onto an uncertain path of her own to a life trapped in the amber of inherited fame. From that moment on, she would be a Cerezo to the immigration authorities and bureaucrats, but Lea T. to the world of bright lights and fashion.
At Tisci's urging, she began to do photo shoots, "mostly conceptual work" for fashion-industry insiders and photographers. But journalists got wind of the new, exotic Brazilian on the circuit, and soon Lea's cover was blown. Drag queens and transvestites may be the toast of the annual Carnival, but for most Brazilians the frolicking stops on Ash Wednesday. The news of Lea's new profession hit the Cerezo household hard. "My mother has seven sisters, all are super-traditional and very Catholic, and no one wanted to hear about it at first," Lea says. "But no one turned their back on me." She notes that several members of her family had come to Rio to watch her on the catwalk.
Remarkably, it was the jock who took it in stride. At first, the Brazilian media trumpeted an ugly falling-out between Lea and her dad, and earlier this year Cerezo abruptly quit his job coaching a league team in Pernambuco, in macho northeastern Brazil, to "get my life in order," he said. Yet the footballer has publicly wished Lea well and now even makes light of the whole affair. "Every now and then someone might insult me, but they've already cussed out my mother so many times!" he recently told the Brazilian sports journal LanceNet! "We'll get over it."
By all appearances, Lea already has. She speaks calmly about her hormone treatment in the run-up to her sex-change operation, the final step in her transformation, from which there is no dialing back. And yet if she is worried about being trapped in a new stereotype, it doesn't show. "I want to send a message that transsexuals do not have to be prostitutes or hide their identities to be part of society," she says. "The day I am no longer identified as a transsexual is the day my career is over." For now, at least, fashion's latest frontier still looks wide open.
Margolis, a longtime correspondent for NEWSWEEK, has contributed to The Economist, The Washington Post, and The Christian Science Monitor, and is the author of The Last New World: The Conquest of the Amazon Frontier.