Transport Workers Union of America Blasts Bloomberg as 'Wannabe President Plutocrat' Who Belongs in Republican Primary
A tweet from the Transport Workers Union (TWU) of America Tuesday said former New York City Mayor Mike Bloomberg should be running for president as a Republican instead of a Democrat, referring to Bloomberg as "Wannabe President Plutocrat."
Calling Bloomberg an anti-unionist, the TWU's tweet shows footage of Bloomberg making a statement during the 2005 transit strike in New York City which shut down bus and subway services. At the time, Bloomberg referred to the strike as "selfish" and "illegal."
"The TWU has first hand experience with anti-Union Bloomberg's true colors. Wannabe President Plutocrat belongs in the Republican primary, not with the Democrats @MikeBloomberg"
"The TWU have shamefully decided that they don't care about the people they work for and that they have no respect for the law," Bloomberg can be heard to say in the video. "The leadership of the TWU has thuggishly turned their backs on New York."
"We live in a country of laws where there can be severe consequences for those who break them," Bloomberg said in a 2005 statement. "Union members are no different."
Newsweek reached out to Bloomberg's campaign but did not receive a response in time for publication.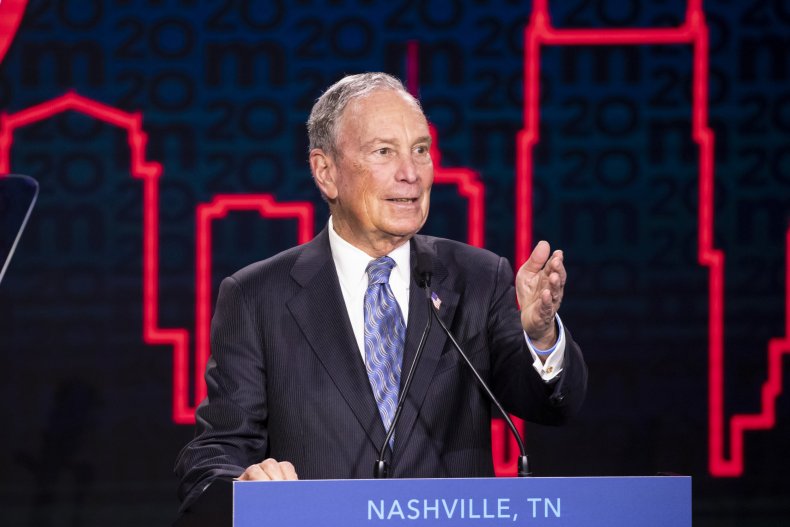 While Bloomberg has a history of being tough on labor unions, his entrance into the 2020 presidential race may have caused his views on unions to become more moderate.
Released as part of his campaign platform, Bloomberg's labor plan promises to strengthen unions by guaranteeing collective bargaining and unionization rights for public sector workers.
"Mike will protect union elections, establish a scheduled process for initial contracts, enable franchise workers to bargain directly with corporate headquarters and promote sectoral bargaining in industries where workers are highly organized but face barriers to unionization," according to Bloomberg's campaign website.
Undocumented workers would also be allowed to join unions "without fear of immigration consequences" under the Bloomberg plan.
"Donald Trump inherited his wealth and does nothing but pay lip service to the working people who drive America," Bloomberg said in a statement on Saturday. "It's past time to increase wages, guarantee paid leave and make it easier to organize—and, as president, I'll get it done."
Bloomberg is expected to make his first appearance in a Democratic debate Wednesday in Las Vegas. Other candidates have already taken swipes at Bloomberg's personal wealth, including the fact that he has bankrolled his entire campaign and reportedly taken no donations.
Minnesota Senator Amy Klobuchar said Sunday on Meet the Press that Bloomberg's advertising budget would not help him during the debates.
"He just can't hide behind the airwaves," Klobuchar said. "I can't beat him on the airwaves but I can beat him on the debate stage and I think people of America deserve to make that decision."
In a speech to supporters in Nevada, Vermont Senator Bernie Sanders said, "Mayor Bloomberg, with all his money, will not create the kind of excitement and energy we need to have the voter turnout we must have to defeat Donald Trump."