Transportation Secretary Elaine Chao Netted $40,000 Gain in Shares She Promised to Sell a Year Ago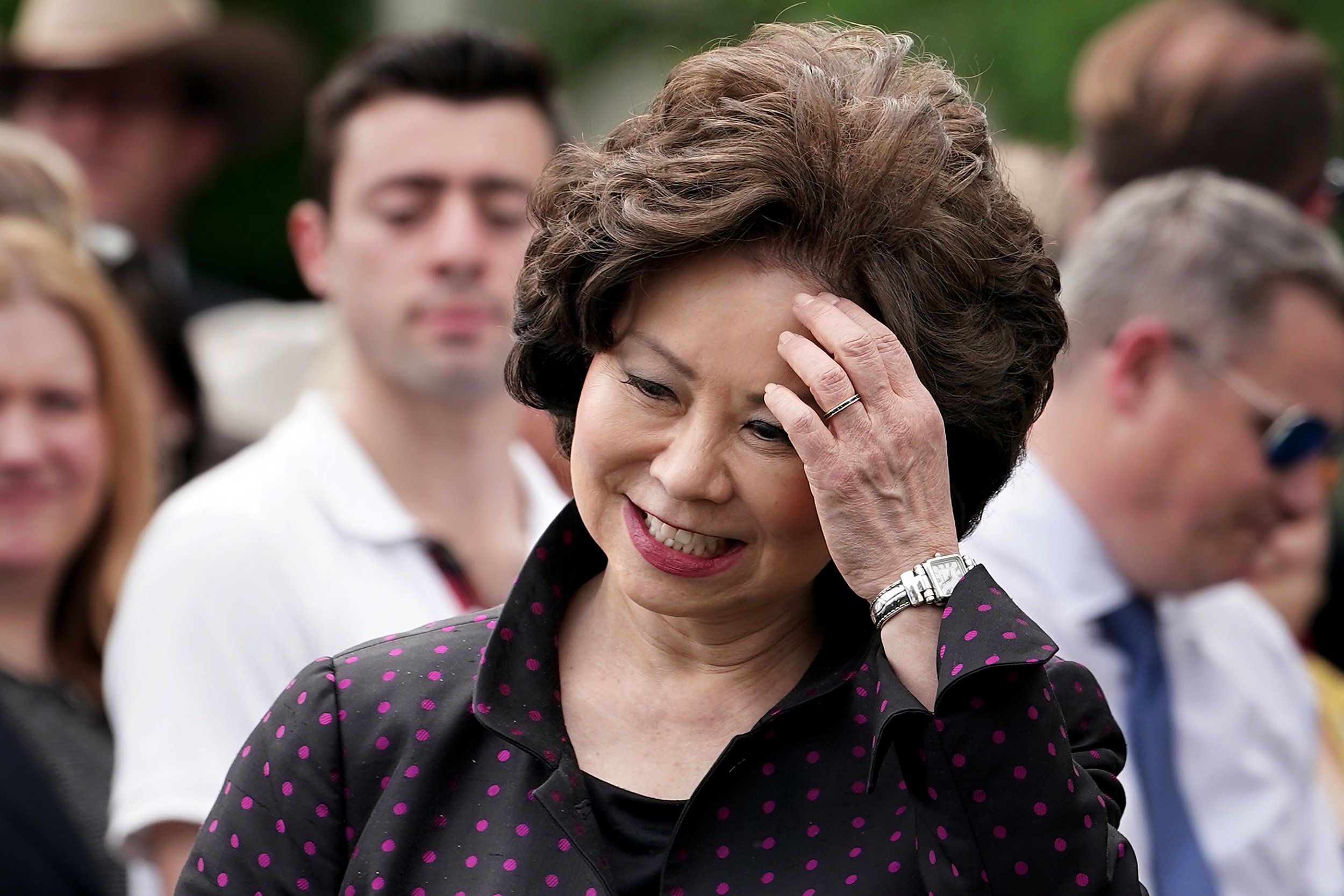 Transportation Secretary Elaine Chao has held onto shares of construction firm Vulcan Materials that have increased in value by over $40,000 in the year since she promised to divest from the company, a report from The Wall Street Journal revealed on Tuesday.
A 2017 ethics agreement from Chao ahead of her Cabinet appointment said she would cash out her vested deferred stock from Vulcan, on whose board she was serving, in April 2018. The Journal reported that, despite this arrangement, Chao has decided to retain her shares in Vulcan while serving as President Trump's transportation secretary.
Vulcan's rising share price over the last year means Chao's stock is now worth over $40,000 more than it was in April last year.
The agreement also specified that Chao would "not participate personally and substantially" in any decision that could impact Vulcan's bottom line.
Vulcan is the nation's largest provider of construction aggregates, which are rudimentary materials used in infrastructure projects such as crushed stone, sand and gravel, according to the company's website.
"It is unfortunate that members of the news media have attempted to substitute their opinions for the decisions of senior career ethics officials of the department, who have determined there is no conflict of interest as the Secretary remains disqualified from matters directly involving the company mentioned," a Department of Transportation spokesperson told Newsweek. "In her ethics agreement, the Secretary agreed to resign from her Board position and not participate in matters with a direct and predictable impact on Vulcan Materials, which she has followed."
The agreement is "being clarified" to accommodate Chao's stock holdings, the DOT told the Journal.
The Department of Transportation spends tens of billions of dollars annually on infrastructure projects itself and doles out an even greater amount through grants to state and local governments for regional transit initiatives.
Vulcan said in a securities filing in May that between 45 to 55 percent of its products are used in government-funded projects. American Public Media reported in 2017 that each time Chao or President Donald Trump spoke publicly about infrastructure, Vulcan's shares increased in the days afterward.
Former top ethics official Walter Shaub, a former director at the Office of Government Ethics who resigned amid a public dispute with President Trump, told the Journal that Chao's arrangement was improper.
"If you look at her ethics agreement, it provides for a complete disentanglement of her interest from Vulcan Materials, and that's what was represented to the Senate," he said. "For the head of the DOT to have a financial interest in an asphalt company, that is not sending a message to employees of DOT that she is making ethics a priority."
Secretary Chao is hardly the first Trump administration official to come under fire for way they've handled their ethics agreements.
Commerce Secretary Wilbur Ross agreed to sell his stock in BankUnited after being confirmed by the Senate, but a document obtained by the Center for Public Integrity showed that Ross held onto the shares, valued up to $15,000, for more than a year after he was supposed to divest. During this period, Ross submitted financial disclosure forms reporting that he no longer owned the company's stock, leading the office of Government Ethics to not certify Ross' 2018 filing.
Treasury Secretary Steven Mnuchin's financial disclosure forms were also not certified this year. The government's top ethics agency said that in an attempt to avoid conflict of interest entanglements, Mnuchin sold his stock in production company StormChaser Partners to his then-fiancée in 2017. But, in part because the pair had subsequently married, the agency did not find this maneuver to be compliant with ethics rules.