Trapped Thai Soccer Team: What Will Happen if Boys Must Stay in Cave for Months?
As global rescue teams face rainfall and depleting oxygen, the mission to save 12 teenage soccer players and one 25-year-old coach trapped in a cave in Thailand is becoming increasingly urgent.
The Thai soccer team ventured into the cave on June 23, and torrential rains forced the players and coach deeper inside, blocking their escape. On Monday, 10 days after their disappearance, two British divers found the entire team alive about 2.5 miles from the cave's entrance.
Since being located, rescue teams from around the world have worked together to find a way to lead the boys out of the cave, and on Friday, the rescue effort drew a new sense of urgency as officials revealed that available oxygen has dropped to dangerously low levels inside the cave, according to CNN.
Dr. Christopher McStay, an expert in emergency and wilderness medicine, told Newsweek that while your body can acclimate to lower oxygen levels, there's a point where it becomes debilitating.
Faced with massive flooding and treacherous diving conditions, the possibility has been raised that the team may have to remain in the cave until monsoon season is over and the water recedes in October. In the event of a delayed rescue, divers would provide enough food and water to the team to last them a few months, and two Thai doctors have even volunteered to remain with the boys until freedom is possible. However, a plan would still have to be put in place to deal with the physical and psychological effects of being trapped underground for a prolonged period of time.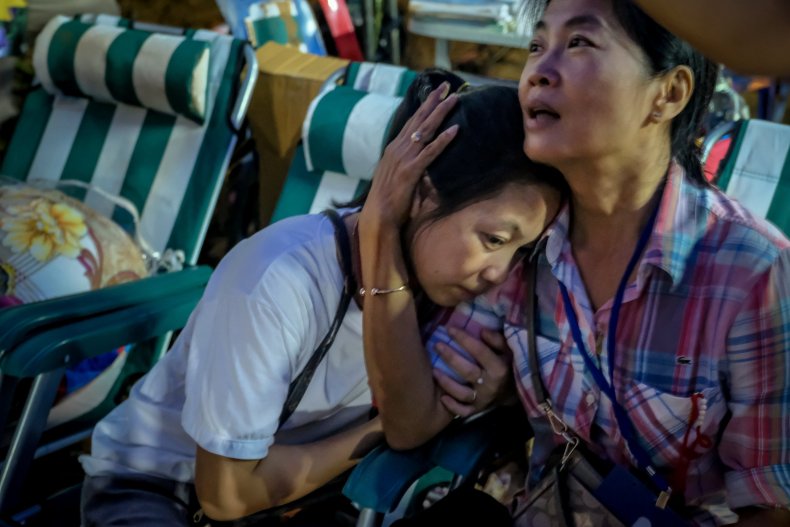 Assuming the issue of oxygen can be resolved, McStay, who has been scuba diving in the past, told Newsweek that the "biggest risk" could quite possibly be trying to rescue the kids by making them dive, given their inability to swim and the harsh conditions.
"I can't imagine the difficulty of training these kids to dive using whatever equipment they're going to use and bring them through that environment," he said. "If you can get oxygen to them and feed them, then there's no rush."
All three doctors Newsweek spoke to about the plight facing the boys if they're to remain underground for months agreed that regulating the teens' circadian rhythms needs to be a high priority.
A circadian rhythm is the 24-hour internal clock that cycles between sleepiness and alertness at regular intervals, as explained by the National Sleep Foundation.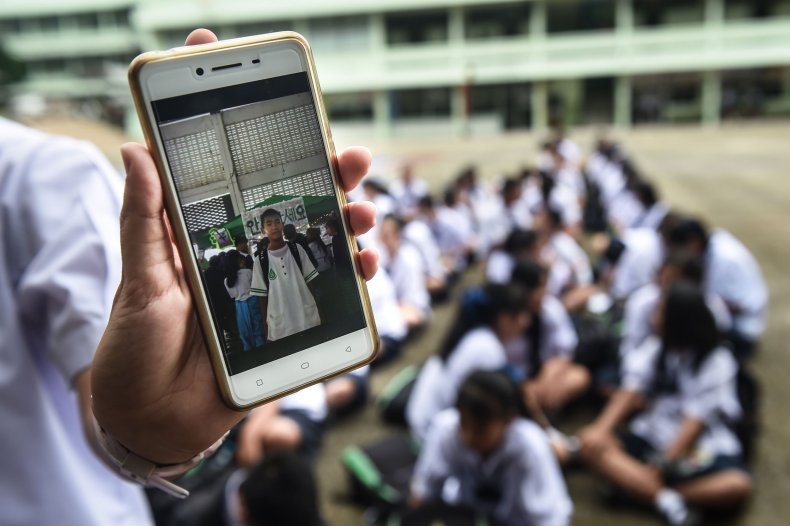 While the details of the supplies the boys have been provided with are scarce, they at least have a flashlight. Dr. Richard Angle, an adjunct assistant professor of psychology at Columbia University, stressed the importance of not only providing them with light but also monitoring the amount they receive.
"That's the key—having some sort of circadian rhythm to regulate when they should be sleeping, when they should be awake," Angle told Newsweek.
He compared the cave's lack of natural light to northern territories that find themselves in total darkness for parts of the year. "It really messes with your mind to not have that sort of natural light," he explained, adding that it can also increase the likelihood of experiencing depression.
Dr. Ken Dunham, a psychiatrist at Novant Health Psychiatric Medicine in North Carolina, agreed that after basic needs for sustaining life are met, it's important to keep the kids on as natural of a sleep and wake cycle as possible.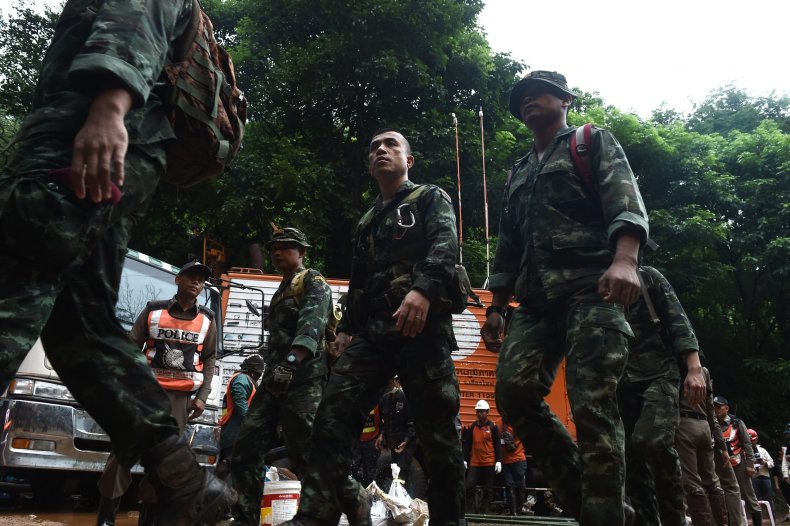 "If the workers could simulate night and day with lights this would help with keeping their circadian rhythm going along a more natural pace," he told Newsweek. "A natural sleep and wake cycle is important for health. Without this, their internal clocks will go awry and this will make them more likely to suffer from mental illness, as well."
In addition to being an important factor in maintaining a good mental state, Dunham explained that a normal sleep and wake cycle also aids the continuation of social norms and stability.
"You have to sort of normalize the environment for these kids and achieve some regularity and schedule as much as possible," said McStay. The expert in emergency and wilderness medicine concurred with the other two doctors and pointed out that by the time the kids were found, they'd already gone nine days without daylight.
Without regulating sleep and wake schedules, some kids could be awake while others are sleeping, creating an environment where no one is getting proper sleep, which increases stress and the likelihood of contracting a viral infection or illness.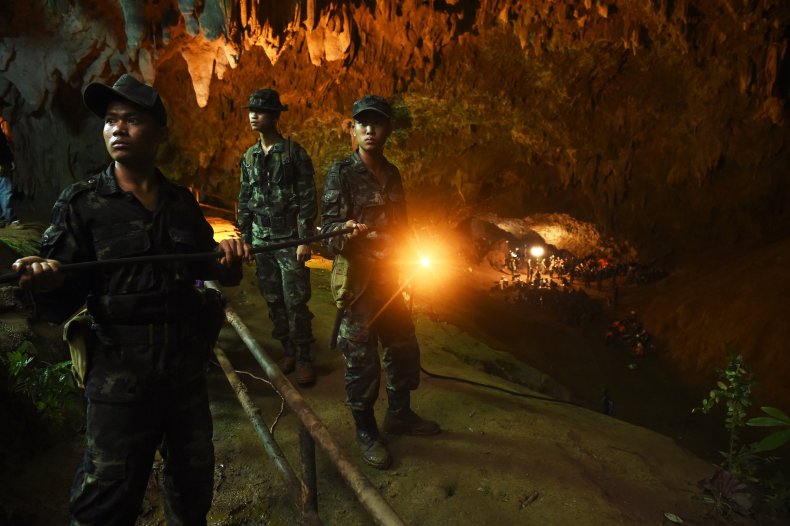 The concept of setting up communication between the boys and their families while they're in the cave was floated, and Dunham called it "ideal" because it will help maintain a level of hope, which he considers to be crucial.
"This would be very important, probably the most important thing after seeing to their basic nutritional, health, safety and sanitation needs," he explained. "Ideally, this would be part of a regular schedule."
Angle agreed that it would be very beneficial, but added the caveat that it will only be helpful as long as it doesn't spike the feeling of anxiety in the boys. While messages of love and excitement for a future reunification would help the teens, he said that overly exuberant "cheerleading" could freak them out.
"If it is possible, I think it would be great for them to get things that are really important to them, like personal items that have meaning," Angle told Newsweek.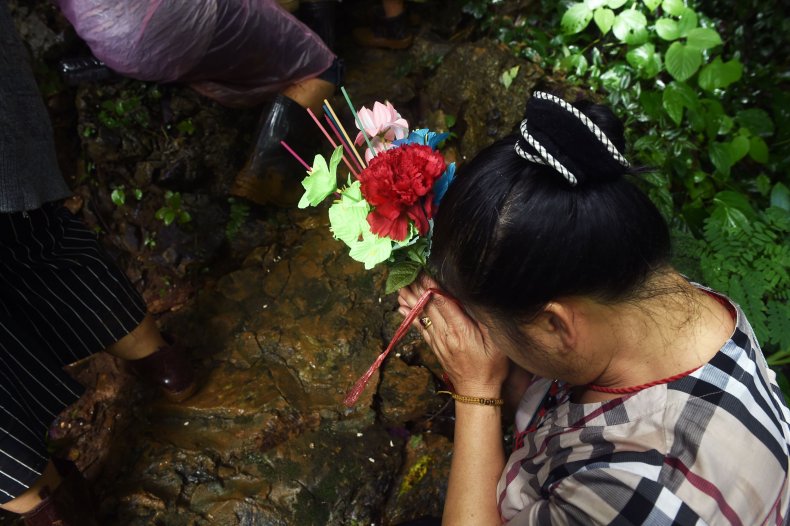 He specifically pointed to pictures or other possessions such as stuffed animals that can serve as ways to keep their families and friends in mind. Dunham added that having a connection to prior life experiences such as games could help fight pessimism and boredom.
"Some schoolwork would be important," he explained. "Anything really that will help them keep their minds and hands active."
As for life after the rescue, Angle cautioned the team members against becoming "celebrities" of sorts because it could begin to define their identity. Dunham related it to being a veteran coming home from a deployment and advocated for returning to a normal routine while remaining in contact with the people who experienced the harrowing ordeal, as well.
Ultimately, McStay reasoned that the choice to rescue the boys by having them attempt to dive through the tunnels comes down to the ability to get them a proper amount of oxygen—and it's a decision he's glad he doesn't have to make.