Trapped Toddler Rescued from Rubble of Collapsed Building 3 Days after Turkey's Earthquake
A three-year-old girl has been rescued from rubble, nearly three days after a catastrophic earthquake struck Turkey, killing at least 85 people on Friday.
Little Elif Perinçek was pulled from the wreckage of her family's apartment in the city of Izmir this morning where she had been trapped for a gruelling 65 hours.
Hours later, she was reunited with her mother, Seher Dereli Perinçek, and 10-year-old twin sisters, Ezel and Elzem, who were rescued two days earlier, state-run Anadolu Agency reports.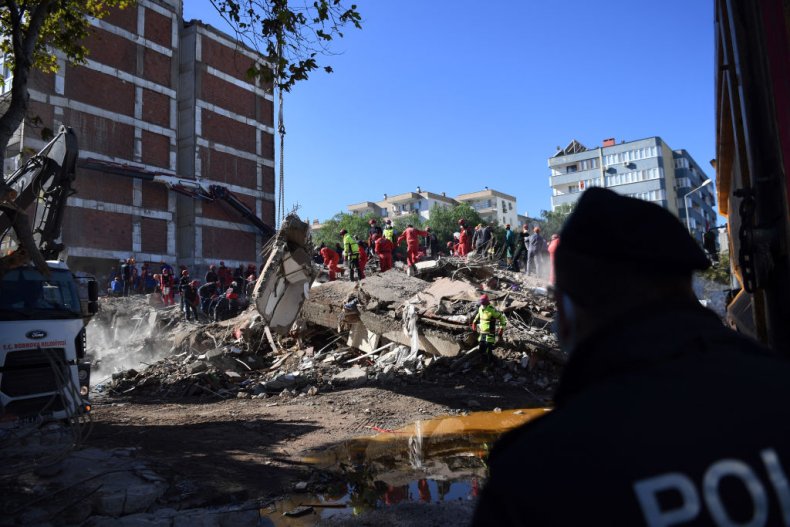 Muammer Celik of the Istanbul Fire Department's search and rescue team said he discovered the child around 7 a.m. after hearing noise coming from the third floor.
"There was dust on her face, her face was white," he told NTV television, believing the girl to be dead. "When I cleaned the dust from her face, she opened her eyes. I was astonished."
Three-year-old Elif was pictured holding Celik's thumb while being carried on a stretcher into a tent where she was treated before being taken to the hospital.
"It was a miracle, it was a true miracle," Celik added. "I am now her big brother."
Elif was placed on a stretcher and taken to an ambulance as emergency crews searched for survivors in eight other buildings nearby.
In video footage of the rescue, posted to Twitter via Turkey's Interior Disaster and Emergency Management (AFAD), dozens of rescue workers are seen crowding around debris and rubble before the little girl is hauled onto a stretcher and carried away.
"God, thank you thousands of times. We removed our baby Elif from Doğanlar Apartment," AFAD President Mehmet Güllüoğlu, posted to Twitter, as translated by Twitter translate.
Rescuers at the scene were seen crying and hugging each other as they scrambled to find more survivors.
Onlookers were also seen applauding and crying with relief as ambulances arrived on the scene.
The lifeless body of Elif's seven-year-old brother, Umut, was also pulled from the rubble on Saturday but the child later died, NTV reported.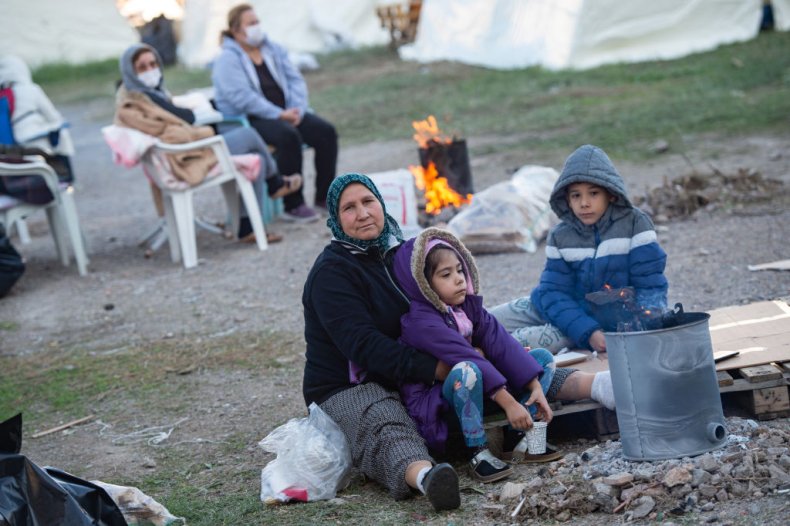 AFAD reported the death toll had risen to 85 in Turkey's third-largest city, Izmir, in a press release on Monday.
A total of 994 people were injured from the quake and around 220 people are still being treated for their injuries, AFAD added.
Rescue teams are continuing to find more bodies amid toppled buildings.
More than 3,500 tents and 13,000 beds have been supplied to provide temporary shelter across the country, and nearly 8,000 personnel and 25 rescue dogs were involved in rescue and relief work, the force said.
Friday's disaster is the deadliest quake to hit Turkey in nearly a decade.
The country, which is crossed by multiple fault lines, is prone to earthquakes.
Friday's earthquake—centered in the Aegean Sea northeast of the Greek island of Samos—is said to have had a magnitude of 6.9, according to the Istanbul-based Kandilli Institute.
A quake in January this year killed 41 people in the eastern province of Elazig.
In 1999, two powerful quakes killed 18,000 people in northwestern Turkey.
There have since been nearly 1,200 aftershocks, according to AFAD, with many more continuing.
Newsweek has reached out to Turkey's Ministry of Interior Disaster and Emergency Management for comment.