Trash Mountain in India Could Be Taller Than the Taj Mahal by Next Year
A pile of trash in India towering hundreds of feet off the ground could grow as tall as the Taj Mahal by next year.
The Ghazipur landfill, to the east of the Indian capital of New Delhi, stands 65 meters (213 feet) high, East Delhi's superintendent engineer Arun Kumar told AFP. If it continues expanding at the current rate of 10 meters per year, it would rise 73 meters off the ground by 2020, according to AFP. That would make it taller than India's iconic ivory mausoleum in the city of Agra.
Each day, New Delhi creates some 10,000 tonnes of garbage, according to the Hindustan Times. Some of it ends up in the Ghazipur trash heap, which stretches the equivalent of more than 40 soccer pitches. It is home to large numbers of rats, as well as stray dogs and cows.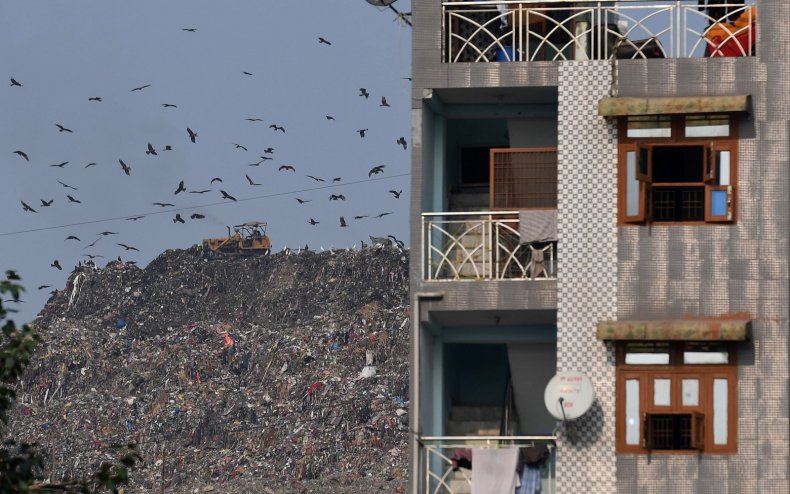 Opened in 1984, the landfill was supposed to close in 2002 when hit a height of 20 meters, according to The Hindustan Times. However, it has remained open as officials have struggled to find other ways to deal with the capital's garbage.
More than just an eyesore, the tower of trash threatens the lives of the Indian capital's locals. In 2017, two people died after part of the heap collapsed, falling onto a road and into a nearby canal, The Hindustan Times reported at the time. Officials responded by banning dumping in the heap, but days later it recommenced.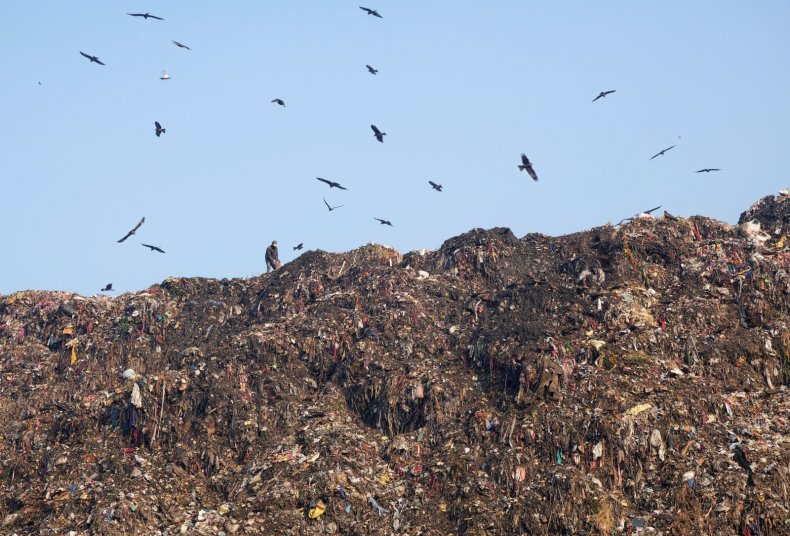 Abhishek Gautam, 19, was among the dead. His mother, who was identified as Rammurti, told the New York Times last year: "The dump killed my son."
The supervisors of the dump told the newspaper the city, which has a population of over 21 million, also struggles with the effects of air pollution and dirty water.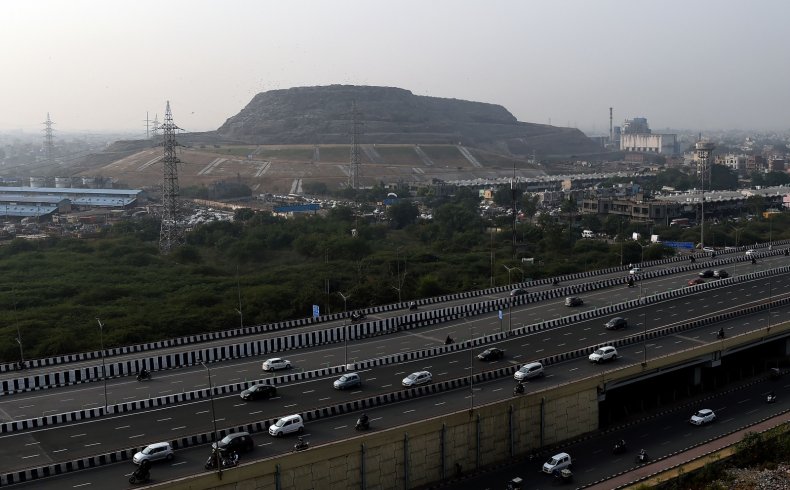 Problems include methane gas causing fires to ignite in the pile; toxic leachate draining into the nearby canal; and poisonous smoke rising from a plant that turns the trash into energy, according to AFP.
Chitra Mukherjee, the head of the Chintan environment advocacy group, told the news agency: "It all needs to be stopped as the continuous dumping has severely polluted the air and groundwater."
Last year, local trader Muhammad Aslam told Al Jazeera: "Children fall sick very often here. We want to breathe freely but we can't. This mountain of trash has made our lives hell.
"When they burn the trash, it becomes very hard to breathe. Our doors and windows remain always shut."
Kumud Gupta, a doctor who works near the garbage heap, told AFP around 70 people visit her each day to be treated for respiratory and stomach conditions linked to air pollution. Her patients include babies, she said.