Trash Talking Ariarne Titmus Crushes Katie Ledecky in Olympic Swimming Grudge Match
Swimmers and swim coaches from both Australia and the United States have long considered themselves the top of the swimming world, so much that they keep their own swim meet points to compare their teams at places like the Olympics.
The rivalry between the two countries for swimming is epic. One race on Monday in Tokyo proved the rivalry is far from over. A young Australian named Ariarne Titmus took down the great Katie Ledecky in the 400-meter freestyle final on Monday in Tokyo (Sunday night in the U.S.), setting the stage for an interesting finish to swimming in this year's Games.
It was one of the most-anticipated swimming races at this year's Olympics, going back to the 2019 World Championships and last month's Olympic Team Trials for each country.
Titmus, who was in lane 3, trailed Ledecky (lane 4) for the first three quarters of the race. Titmus overcame Ledecky in the 300-350 leg of the race, and she outpaced the final 50 meters to claim the gold medal.
Titmus touched first in 3 minutes, 56.59 seconds, which was 0.67 seconds ahead of Ledecky. China's Li Bingjlie finished third at 4:01.08.
Titmus swam the best race of her career, which was just enough to beat Ledecky's second-best of her career, only second to her world record. Ledecky's time was the fourth-fastest in women's history for the 400 meters.
Just last month after Titmus won the Australian Team Trials in the 400, she took a jab at Ledecky's world record and prowess as the best in history.
"That world record is outstanding and to be close to that this close to the Olympics, I'm very excited," Titmus said. "[Ledecky] is not going to have it all her own way I guess...I can't control what she does, I can only control myself."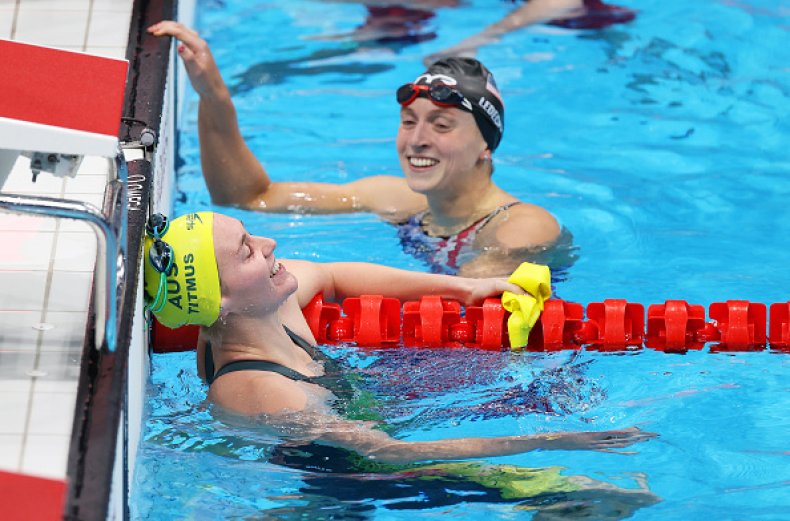 This was the first final on Ledecky's busy Tokyo schedule, which includes a 200-meter and 1,500-meter final on the same day this week.
Ledecky was a prohibitive favorite to win a big haul of gold medals in her freestyle load, but an early silver was a shock. She was gracious in defeat.
"I think it was the 300 when I saw her right there," Ledecky said after the race. "It was an awesome swim by her."
Ledecky was the top swimmer in the world at the 400 meters for the last several years, but her performances created new training techniques for up-and-coming swimmers who could potentially challenge her.
Titmus was one of them.
While training in Australia with her father, who kept meticulous notes on all of her splits, Titmus' father would constantly say she couldn't beat Ledecky unless his daughter had better splits. That meant smoother strokes, quicker and more explosive turns, and great underwater swimming.
It worked at the 2019 World Championships, when Titmus beat Ledecky, who was battling illness. And it worked again at the Olympics, outlasting a healthy Ledecky.
Ledecky still has three more events, including the 200, 800 and 1,500 meters. She's expected to win the 800 and 1,500.