Travel Insurance Sales Rocket As Americans Ignore COVID Advice for Thanksgiving
An unlikely boom is happening in the U.S. travel insurance industry as people seeking holiday cheer are paying against the odds to protect their Thanksgiving trips.
Data from insurance comparison website Squaremouth published by Reuters showed a 170 percent jump, compared with the same period in 2019, in the number of insurance plans bought for U.S. domestic Thanksgiving trips.
Although overall numbers of travelers were down by around half from a year ago, in excess of 3 million people passed through U.S. airports over the weekend.
Squaremouth said the number of people seeking cover had increased 26 percent on last year.
The volume of people travellng runs at odds with advice from public health professionals. Dr. Anthony Fauci, the country's top infectious diseases expert, told CBS News that people traveling for the holidays "are going to get us into even more trouble than we're in right now".
The U.S. has hit almost 13 million coronavirus cases to date, and with a second wave threatening to overwhelm health services, daily death tolls have hit their highest levels since early May.
The Squaremouth data, which is based on all travel insurance policies purchased on its website between March 12 and November 9, said among those searching for cover, 40 percent of all Thanksgiving travelers specifically looked for COVID-19 cover. In previous years primary concerns were weather and financial defaults.
The data comes alongside a poll showing that people living in states which voted for President Donald Trump in the election are on average more likely to dismiss COVD-19 guidelines and celebrate Thanksgiving with people from outside their households, according to a survey.
A poll conducted by data and survey firm Dynata at the request of The New York Times found that Louisiana and Oklahoma are the top two states where people said they intend on mixing households over the holiday period, with 35 percent stating they will. South Carolina was third on 34 percent.
The results found that the entire top 10 states in which people are more likely to eat Thanksgiving dinner with those outside their own household all voted for Trump. Alabama, Tennessee, and Indiana are fourth, fifth and sixth respectively, followed by Iowa, Missouri, North Carolina and Kansas.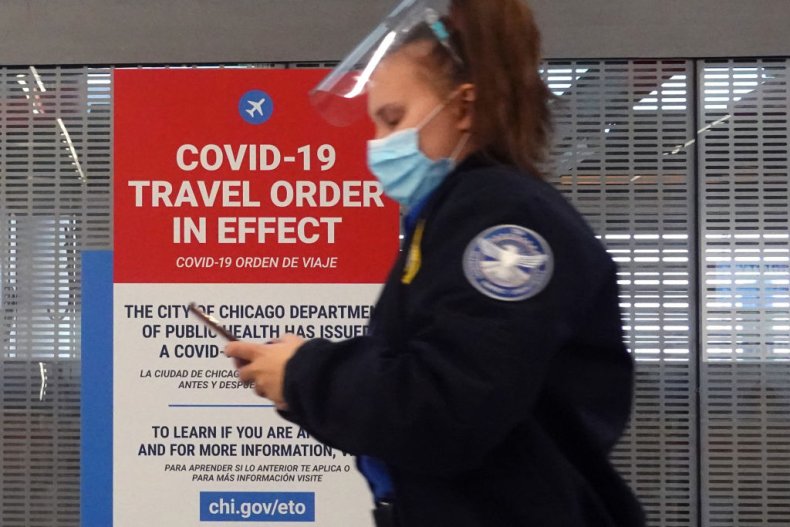 Although worrying in terms of public health, greater willingness to travel could be a bright spot for one sector. The numbers suggest a change in mood in the travel market, as widespread lockdowns have caused a dearth in demand for both domestic flights and foreign holidays.
Data released this week by the International Air Transport Association (IATA) shows the airlines sector has suffered a $118 billion net loss in 2020 due to the coronavirus; the financial impact of which will still be felt into next year, when the IATA predicts that losses will hit $38 billion.
Vaccines and coronavirus testing are expected to support global travel levels at 50 percent of levels seen in 2019 next year, with momentum gathering towards the end of the year.