Travelers to New York From High-Risk States Face $2K Fine if They Don't Register
New York Governor Andrew Cuomo announced during a news conference on Monday that he was signing an executive order requiring travelers coming to New York from high-risk states provide contact information.
Cuomo said states that opened too soon failed to heed the warnings and the lessons from New York, which saw spikes of the new coronavirus in April and May.
"New York went down the path before. We lived exactly this," Cuomo said. "We knew that if you reopened recklessly the virus was going to take off again. Now, New York's problem is that we have this infection coming from other states."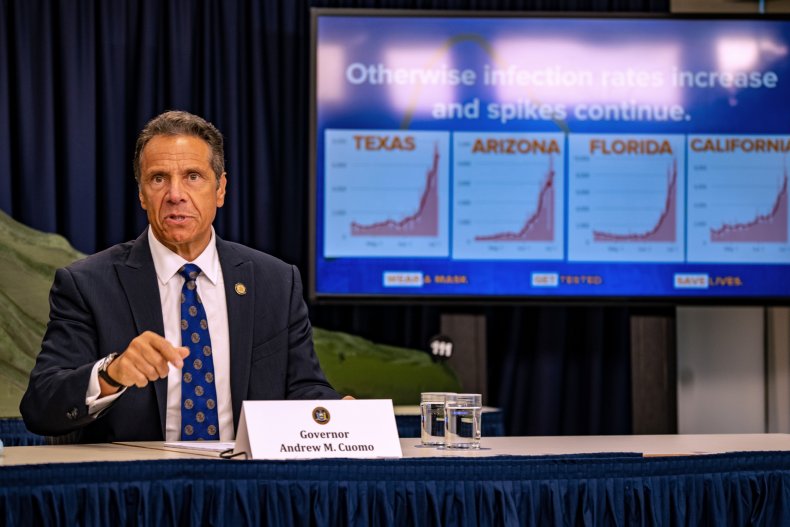 The high-risk states include Alabama, Arizona, Arkansas, California, Delaware, Florida, Georgia, Iowa, Idaho, Kansas, Louisiana, Mississippi, North Carolina, Nevada, Oklahoma, South Carolina, Tennesse and Texas, WIVB reported.
"There was no reason for these states to have an increase," he said. "New York inherited a spike. We started with a high spike. The other states didn't have a spike. They just had to stop it from increasing."
Cuomo said there are 39 states that have noted an increase in COVID-19 cases in recent weeks, prompting New York to take the steps needed to protect its residents from a resurgence of the coronavirus.
Cuomo said there were cases in upstate New York where travelers who visited from Georgia passed the virus to New York residents.
Cuomo said the number of hospitalizations related to COVID-19 pandemic had dropped steadily to just 792 as of July 12. New York experienced a then-record high of 18,825 COVID-19 hospitalizations in March.
Travelers from high-risk states coming to New York would face a fine of no more than $2,000 if they fail to provide their contact information.
On another topic, Cuomo said he would announce the first week of August if schools would reopen this fall if the numbers and data from health care providers showed the virus was not spiking in New York.
"This is purely on the numbers," he said. "We will make the decision on August 1 to 7."
Cuomo said that when schools reopened, they will screen for the virus, require students and staff to wear face masks and continue social distancing to ensure the virus does not surge in schools.
Overall, Cuomo said the numbers on coronavirus cases were good, but he advised New Yorkers, local leaders and state agencies to not let their guard down and become complacent.
"We have to remain compliant," he said. "We have to do it. If you don't do it, the virus will increase. Period."