Traveling Nurse Says COVID Outbreak in El Paso 'Surpassed' New York, Treatment Options Limited
A traveling nurse said the coronavirus outbreak in El Paso, Texas is worse than her experience working in COVID-19 units in New York, noting that treatment options in the city are limited.
Lawanna Rivers, a traveling nurse who has practiced for 13 years, posted a nearly hour-long video to Facebook on November 7 to address her experience temporarily working at University Medical Center in El Paso.
"Out of all the COVID assignments I've been on," Rivers said in the video. "This is the one that's really left me emotionally scarred. The facility I'm at has surpassed the one I was at in New York."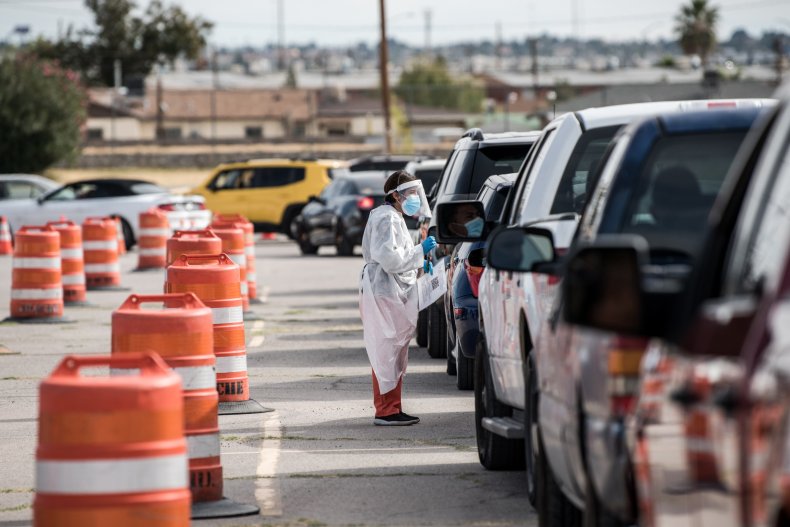 Rivers said the local doctors didn't aggressively treat the COVID-19 patients compared to other doctors she worked with across the country.
"I saw a lot of people die who I felt shouldn't have died," said Rivers.
Rivers claimed that the most egregious policy the hospital had was regarding CPR for COVID-19 patients. Rivers alleged that the hospital allowed no more than three rounds of CPR, six minutes in total, for COVID-19 patients.
CPR typically consists of a sequence of chest compressions followed by the use of a manual resuscitator to help a patient breathe, according to Rivers. The use of a manual resuscitator is frequently called "bagging."
Rivers stated that the hospital didn't allow her to "bag" her patients during CPR because it would result in "too much exposure" of COVID-19 for the nurses. Rivers said she had not experienced that policy anywhere else.
University Medical Center told Newsweek in a statement Thursday night that they empathized with Rivers' experience, but can not verify the events she mentioned in her video.
"After watching the video, while we cannot fully verify the events expressed, we empathize and sympathize with the difficult, physical and emotional toll that this pandemic takes on thousands of healthcare workers here and throughout our country," said Ryan Mielke, the hospital's Director of Public Affairs. "This particular travel nurse was at UMC briefly to help El Paso confront the surge of COVID-19 patients."
Texas became the first state to surpass a million cumulative coronavirus cases on November 7, according to Reuters. The state also currently accounts for over 10 percent of the total cases in the U.S.
County Judge Ricardo Samaniego issued an emergency shutdown and stay at home order for El Paso last month. The order was set to expire on Wednesday, but Samaniego extended the order to be in effect until December 1 or until COVID-19 hospitalizations are under 30 percent. El Paso's current hospitalization rate is 51 percent.
A Texas appeals court halted Samaniego's order on Thursday night. The case, which was brought by Texas Attorney General Ken Paxton and a group of restaurant owners, stated that the order conflicted with the statewide measures put in place by Texas Governor Greg Abbot who reopened some venues to 75 percent capacity in early October.
Rivers did not respond to Newsweek's request for comment in time for publication.