Traveling for Thanksgiving? These States Let Travelers Skip Quarantine If They Have a Negative Test
The Centers for Disease Control (CDC) is advising people not to travel for Thanksgiving, but those planning to venture to seven states can avoid a 14-day quarantine by getting tested before they arrive.
America's had 11.6 million cases of the new coronavirus and spikes in new cases have officials across the country issuing new restrictions going into the holiday season. More than 10 states have quarantine requirements or strong suggestions in place for out of state travelers, including Alaska, Connecticut, Hawaii, Maine, Massachusetts, Pennsylvania and Rhode Island.
However, as of November 19, all seven of those states are giving visitors the option to forego quarantining if they have a negative test.
In Alaska, nonresident travelers must upload a negative result from a test taken within 72 hours before departure to the Alaska Travel Portal or have it with them to show screeners at the airport. Travelers to Hawaii must also upload their negative result to their Safe Travels account and Connecticut are required to email or fax their negative test result to the Commissioner of Public Health.
Maine, Pennsylvania, Massachusetts, Rhode Island and Washington, D.C., also require travelers to have a negative test within 72 hours of arrival if they want to circumvent quarantine requirements. However, there are exceptions to the rule and in Maine, those arriving from New Hampshire and Vermont are not required to quarantine or be tested and the same is true for people visiting Massachusetts from Hawaii, Maine, New Hampshire and Vermont.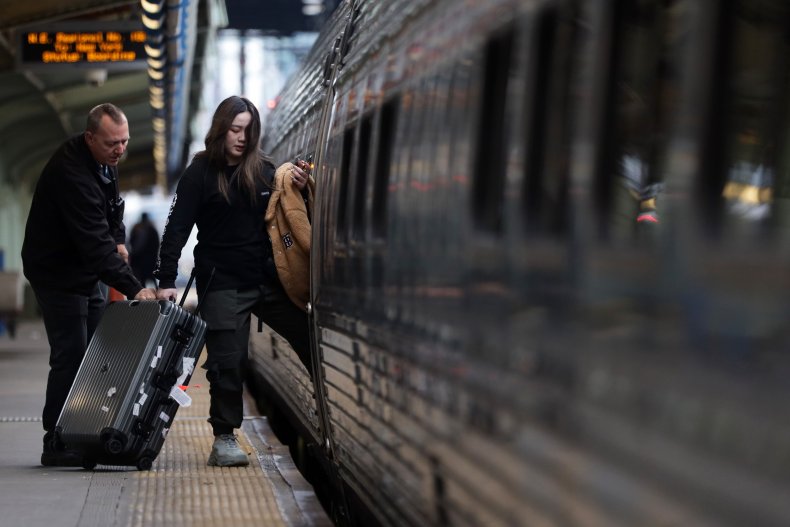 In Washington, D.C., people staying longer than three days are encouraged to get a second test done within three to five days of arriving. Visitors from Maryland and Virginia are exempt.
Three other states—New Hampshire, New York and Vermont—are allowing travelers to end quarantine early with a negative test. In Vermont and New Hampshire, travelers who are asymptomatic can end their quarantine after seven days if they test negative. Travelers to New York, who had a negative test within 72 hours of arrival, must quarantine for three days and then if they test negative on day four they can end their quarantine.
As America's learned since March, the pandemic is a fluid situation, so it's important that people continue to check state websites for updated information before traveling. It's also a good idea to double-check the local health department's website because some places, including Chicago, have restrictions of their own.
Illinois doesn't have any statewide quarantine requirements for travelers, but in Chicago, travelers from "red" states must quarantine for 14 days. Travelers in "orange" states can forego the quarantine if they have a negative test from within 72 hours of arrival.
Unless a person has been quarantining for two weeks before they were tested, it's possible they could be infected and still test negative. Plus, if a person breaks quarantine after being tested—including traveling on a plane, train or bus—it's possible they were exposed after their negative test. So, a negative test shouldn't be viewed as a guarantee of safety.