What Is Pancreatitis? Travis Barker Reportedly Hospitalized for Inflammation
Travis Barker, the drummer for U.S. punk rock band Blink-182, reportedly has pancreatitis.
The condition is the reason he was hospitalized on Tuesday, according to celebrity news site TMZ, which published a photograph appearing to show Barker on a gurney accompanied by his wife Kourtney Kardashian. Newsweek could not independently verify the report.
Pancreatitis is a medical condition referring to inflammation of the pancreas—an organ that sits behind the stomach in the upper abdomen.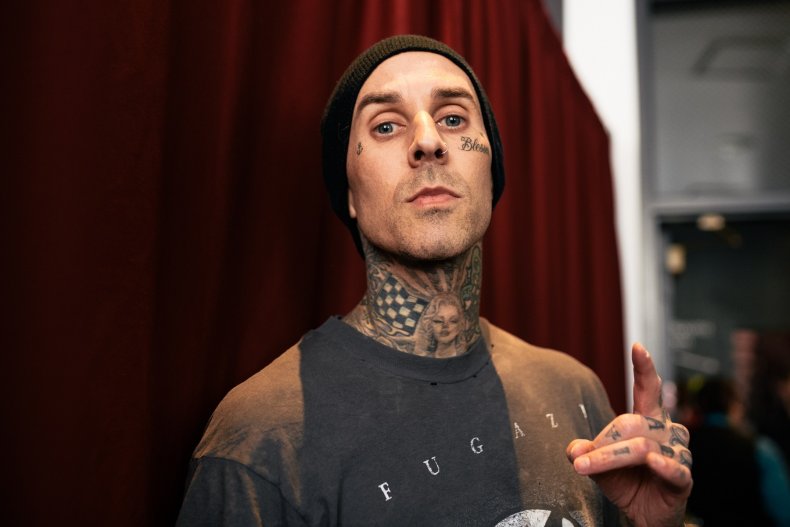 The role of the pancreas in the body is to produce enzymes that help with digestion, as well as regulate blood sugar.
Pancreatitis is a condition that is becoming more common, though experts aren't sure why. Sudden-onset pancreatitis is responsible for about 275,000 hospital stays every year in the United States, according to the National Institute of Diabetes and Digestive and Kidney Diseases. Men are more likely to get it than women.
The pancreas can become inflamed when digestive enzymes are activated whilst still inside the pancreas, damaging its cells. Pancreatitis can either occur suddenly—acute pancreatitis—or over a long period of time—chronic pancreatitis.
While both have the potential to be severe, people who suffer from an acute case can have their pancreas return to normal afterwards.
There are many possible causes for the condition. One of the most common is lumps of solid material found in the bladder, also known as gallstones, according to Johns Hopkins Medicine. This material blocks enzymes from getting out of the pancreas, leading to irritation.
Other possible causes of pancreatitis include alcohol intake, surgery, very high fat or calcium in the blood, and certain medicines.
Symptoms of pancreatitis may vary but can include severe belly pain that might spread to the back and chest, nausea and vomiting, rapid heart rate, fever, and yellowing of the skin and eyes.
These symptoms may look like other health problems. When diagnosing pancreatitis, medics may perform various scans and a physical exam to be sure.
Pancreatitis can be treated and often gets better in a few days, Johns Hopkins Medicine states. The aim of treatment is to let the organ rest. This might involve restricting one's diet until food can be tolerated and pain symptoms improve. Doctors can also prescribe IV fluids and pain medication.
Once the condition is under control doctors will evaluate the underlying cause and see what further treatment needs to be carried out. This might involve removing gallstones, if necessary, or surgery to clean fluid out of the pancreas, according to Mayo Clinic.
Barker and Kardashian got engaged in 2021 and were wed in a ceremony this May.