Who Was Travis Barker Married To Years Before He Met Kourtney Kardashian?
The Kardashian-Jenner family is back with their brand new Hulu reality series, The Kardashians. They announced in 2020 their long-running reality series, Keeping Up With the Kardashians (KUWTK) was coming to an end and in early 2021, Kardashian fans were over the moon to hear the sisters (and Kris Jenner) were coming back with a totally different new show, aptly titled The Kardashians.
For those who were sad to see KUTWK go, you should not be. If anything, Hulu's reality series shows the famous family in a way we have never seen them before from Kim's SNL performance, Khloe's struggle with anxiety, Kylie's pregnancy, Kendall's business ventures, and Kourtney's blossoming romance with Travis Barker (plus all of the side drama with her ex, Scott Disick).
Fans will also be over the moon to see Travis and Kourtney's relationship blossom beautifully on screen and nothing is off-limits, including Travis's adorable proposal and their plans to have a baby together.
Barker, who is best known as the drummer in Blink-182, like Kourtney, has kids from a previous relationship but who was he married to before he met Kourtney Kardashian? Newsweek has everything you need to know.
Who Was Travis Barker Married To Before He Met Kourtney Kardashian?
Travis Barker, 49, has been married twice. He is also known to have publicly dated singer Rita Ora for several months and Paris Hilton and Tara Conner back in 2006.
His first marriage was to Melissa Kennedy. They married in September 2001 but sadly, the marriage was short-lived. He filed for divorce in August 2002, details People.
Since their split almost two decades ago, Kennedy has kept her head out of the spotlight and very little is known about her. However, fans of Blink-182 may have spotted her in the band's documentaries, The Urethra Chronicles and The Urethra Chronicles II in 1999 and 2002, respectively.
Barker's second marriage was to former Miss USA, Shanna Moakler.
They tied the knot on October 30, 2004, hosting a The Nightmare Before Christmas themed-ceremony, inspired by the Tim Burton film of the same name.
Barker and Moakler had two children together: son Landon Asher in October 2003 and daughter, Alabama Luella, born in December 2005. Barker also has a close relationship with his stepdaughter Atiana Cecilia De La Hoya, born in March 1999. Cecilia De La Hoya's father is boxer Oscar De La Hoya, Moakler's ex-fiance.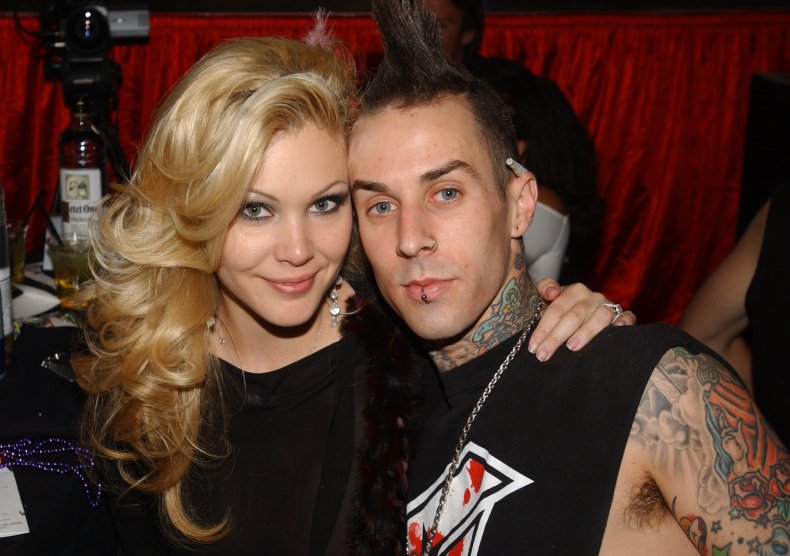 Together, Barker and Moakler starred in their own MTV reality series, which aired from 2005 to 2006.
Barker and Moakler remained together until Barker filed for divorce in August 2006.
They rekindled their romance in 2007 but unfortunately, it was not to last. On February 11, 2008, their divorce was finalized, reported People.
Years later, in December 2014, police were called to Barker and Moakler's shared home in L.A. over allegations they had made threats against each another, reported TMZ. They were both reportedly taken to a police station but were released without charge.
As of June 2016, Moakler and Barker have been co-parenting their two children.
Barker told People in 2016: "The kids' best interest is what we all have in mind – there's nothing else. Our relationship was so long ago. We're just being friends. Doing the best coparenting is the most important thing.
"I bought a home that's very close to my children's school, so when she's with the kids, she's there; when I'm with the kids, I'm there. There's no making them travel back and forth to different houses."
Travis Barker and Kourtney Kardashian
As heard in The Kardashians, Kourtney Kardashian and Barker had been friends for years, and eventually, after years of her friends encouraging her to give things a shot romantically with Barker, Kourtney was open to the idea.
Kourtney shared with the cameras that in 2020 she went around to his house and watched a movie and the rest is history.
They made their relationship official in January 2021 and have been inseparable ever since. They have also been photographed on numerous occasions hanging with Barker's close friend Machine Gun Kelly and his wife-to-be, actress Megan Fox.
In October 2021, Barker proposed to Kourtney Kardashian on a Montecito beach surrounded by roses. Of course, she said yes!
The Kardashians will premiere on Hulu on Thursday, April 14.