Edge rusher Von Miller and wide receiver Stefon Diggs, two All-Pros and current teammates on the NFL's Buffalo Bills, have been around their share of football players over their careers. But neither has seen one quite like the University of Colorado's Travis Hunter.
Hunter, a sophomore, is a rare two-way player, who lines up at cornerback and wide receiver at Colorado. And he plays both positions well.
Through two games of the 2023 college football season, Hunter has seven tackles, two pass breakups and an acrobatic interception on the defensive side of the ball. As a wide receiver, he has caught 14 passes for 192 yards across No. 18 Colorado's two wins.
Hunter's head coach, Deion Sanders, said during halftime of the team's Week 1 game that the Heisman Trophy would be "in [Hunter's] crib chilling right now" if quarterback Shedeur Sanders had hit him on a pair of deep throws.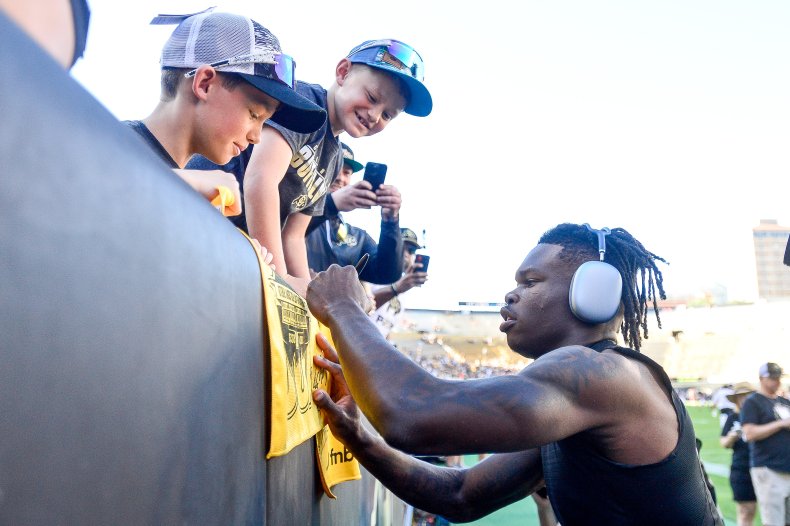 Miller and Diggs are already anticipating what Hunter will do at the professional level.
During an episode of Miller's podcast The Voncast released Wednesday, Miller said he would like Hunter to get the opportunity to play both sides of the ball in the NFL.
"Travis, he plays both sides," Miller said. "And I always like to put my GM hat on. If I was drafting Travis Hunter, I would actually have him play both sides of the ball. I wouldn't take that away from him. Obviously my job would be on the line once I did that. But I just believe...he's done it all the way up to that point. I would give him the opportunity to do it in the league, too.
"Whatever he wanted to do, whatever he felt comfortable with. I would let him play offense, I would let him play defense."
Miller said that, if he were running a team, he would limit Hunter in some ways—not wanting him to play practically every snap of an NFL game. And as Hunter gets older, he could pick which side of the ball he wants to focus on more, Miller said.
Diggs thinks Hunter will likely be the first non-QB selected when he is draft-eligible in 2025.
"Guys like that, if you let them play both sides of the ball, where are you gonna draft them?" Diggs said. "If your team is in need of a corner, is your team in need of a receiver? Hopefully it's a team in need of both. And he can actually mix it up on both sides. I think he's a guy who could be a full-time corner and get receiver reps. Or be the first full-time receiver to get corner reps. That's what I think."
Miller is an eight-time Pro Bowler and has tallied 123.5 sacks in his NFL career. Diggs is aiming for his sixth consecutive 1,000-yard season. All-Pro players on both sides of the ball agree that Hunter can play both ways at the next level.
And they seem to think he will be paid well to do so.
"The challenge would come when he does play both sides," Miller said, "and he plays at a high level at both, when it's time to pay this guy....If he comes into the league and does what he does at the college level, he's great at corner, he's a top-five receiver and he's a top-five corner, four years later...."
"The first $300[million]-[$]400 million player," Diggs responded.
"It'd be insane," Miller said.
Who Are the Highest-Paid NFL WR and CB?
Hunter has been a true two-way player for Colorado so far this season. Through two games, he has played 274 snaps as a starter at multiple positions. According to ESPN, Hunter has played 129 of 158 (81.6 percent) total snaps on offense, 136 of 142 (95.8 percent) on defense, and nine on special teams.
To Diggs and Miller's point, that type of production is rarely seen in the NFL.
Miller compared Hunter to Champ Bailey, a 12-time Pro Bowler and Hall of Famer. Bailey was a standout corner and receiver in college at Georgia, finishing seventh in the Heisman Trophy voting in 1998. The three-time All-Pro cornerback played sparingly at wide receiver early in his NFL career before sticking to defense full time. If Hunter does stick to both sides of the ball, and plays them both well, could Diggs' $300 million to $400 million contract figure be accurate?
Kansas City Chiefs quarterback Patrick Mahomes has the largest contract in NFL history in terms of total value at $450 million, according to Spotrac. No other player's contract reaches $300 million in total value.
Davante Adams of the Las Vegas Raiders has the largest contract of any wide receiver at $140 million. Denzel Ward's $100.5 million contract with the Cleveland Browns is the richest of any cornerback. Diggs might have been shooting high with his contract estimate, even if Hunter is elite on both sides of the ball. But if one thing is for certain, Hunter believes in himself.
"I went out there and dominated. A lot of people doubting me because I rated myself as the No. 1 Heisman watch list," Hunter said this season, referencing a social media post he made. "But people are praising me now, because they know what I can do. They've finally seen what I see in my vision and what the coaches' vision is for me."
Hunter's Abilities Comparable to 'Coach Prime'
Football fans don't have to look very far for an accurate comparison for Hunter.
Sanders was a two-way player at Florida State in college and during his eventual Hall of Fame pro career. Not many coaches were willing to let Sanders see significant playing time on offense in the NFL, wanting to save him for defense and special teams. The former NFL Defensive Player of the Year did line up at receiver frequently with the Dallas Cowboys under Barry Switzer, though.
Sanders ranked second on the Cowboys in receiving yards in 1996 (475), while also earning All-Pro honors for his defensive play. "Coach Prime" has encouraged other two-way players to play for him at Colorado, hoping they can follow Hunter's example.
"Travis is him, like the young folks say," Sanders said this season. "Travis is it."
Uncommon Knowledge
Newsweek is committed to challenging conventional wisdom and finding connections in the search for common ground.
Newsweek is committed to challenging conventional wisdom and finding connections in the search for common ground.
About the writer
Robert Read is a Newsweek writer and reporter based in Florida. His focus is reporting on trending sports stories. Robert joined Newsweek in 2023. He is a graduate of the University of Iowa. You can get in touch with Robert by emailing r.read@newsweek.com. Languages: English.