Updated | Police said the father of suspected Waffle House shooter Travis Reinking handed his son back an AR-15 found at the scene, after it had been seized by authorities in relation to another incident.
Reinking, 29, allegedly killed four people at a Waffle House in Nashville, Tennessee, and injured two more, when he opened fire in the restaurant early Sunday morning. He was naked except for a jacket.
A bystander wrestled the weapon from Reinking, who fled and is on the run, possibly armed. Police believe he returned to his apartment in Nashville, put on some pants, and left again, shirtless.
He had been arrested by the United States Secret Service in July 2017 for entering a restricted area of the White House in Washington, D.C.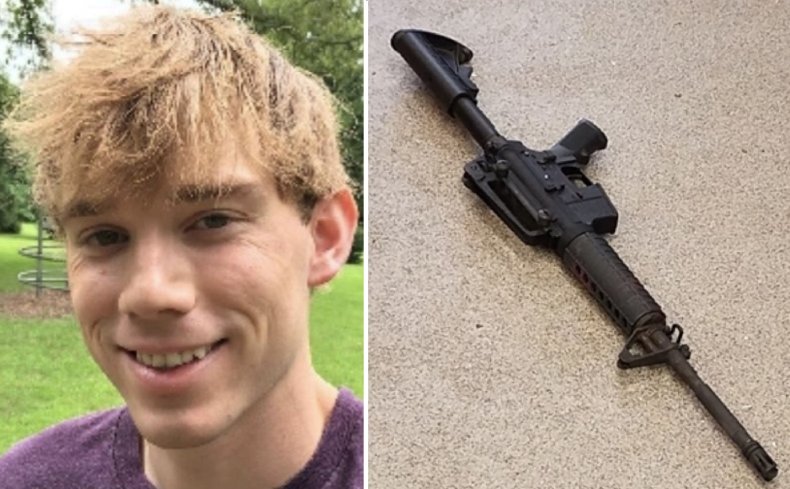 Authorities in Tazewell County, Illinois, and the FBI had interviewed him about the incident. Reinking claimed he needed to speak to the president and stated that he is a sovereign citizen with a right to inspect the grounds, said a police report at the time, unearthed by USA Today.
"His Illinois firearms authorization was revoked, and four weapons were seized by Tazewell County authorities; among them was the AR-15 used today," said a statement from the Metropolitan Government of Nashville and Davidson County.
"The police department has received information that the guns were returned to Reinking's father, who has acknowledged giving them back to his son. Presently two of the four guns are unaccounted for (one of them was recovered during the apartment search)."
It is not clear from the police report if Reinking was referring in general to being a sovereign citizen or if it is a specific reference to the Sovereign Citizen Movement, an anti-government extremist group considered to be domestic terrorists by the FBI.
Jeff Reinking, Travis's father, owns a crane rental service in Illinois. His son was described as "delusional" in another police report from 2016.
The Tazewell County Sheriff's Office report for an incident referred to as "suicide attempt by firearms" said Travis Reinking "was delusional and believed the famous entertainer, Taylor Swift, was harassing him via stalking and hacking his phone. Travis believes everyone including his own family and the police are involved."
It noted that his father, his mother, Judith, and his grandmother Marilyn all had concerns about him.
"Travis is hostile towards police and does not recognize police authority. Travis also possesses several firearms," said the incident report. It also said Reinking believed he has autism, had made "suicidal comments" and was eventually taken away for mental evaluation.
Authorities named the four Waffle House victims as restaurant employee Taurean C. Sanderlin, 29; and patrons Joe R. Perez, 20; Deebony Groves, 21; and Akilah Dasilva, 23.
Shanita Waggoner, 21, and Sharita Henderson, 24, were both wounded.
"Reinking arrived at the Waffle House in his pickup truck at 3:19 a.m.," authorities said. "He sat inside the vehicle for three to four minutes before getting out armed with an AR-15 rifle. He immediately opened fire on Sanderlin and Perez.
"The front glass of the restaurant was also shot out. He then went inside and continued shooting.
"Waffle House patron James Shaw, Jr., 29, initially ran to the restroom area to escape the gunfire. He then looked and saw an opportunity to confront Reinking. Shaw took that opportunity, wrestled the rifle from Reinking's grasp, and tossed it over the counter. Shaw's actions undoubtedly saved many lives."
Correction: The headline on this story has been updated to clarify that Travis Reinking is the suspected Waffle House Shooter.