Travis Scott Announces Event Safety Initiative After Astroworld Tragedy
Travis Scott has announced a new "multi-tier initiative" called Project HEAL to address event safety following last year's Astroworld Festival tragedy.
Ten Astroworld attendees died and hundreds more were left injured after a crowd surge led to a deadly stampede at Houston's NRG Park Stadium on November 5.
Headliner Scott (who was hit with almost 400 lawsuits in the aftermath of the tragedy) has now announced his new charity project which will focus on a number of community initiatives, including making things safer for future concertgoers.
Taking to Instagram to announce the project on Tuesday, Scott, real name Jacques Bermon Webster II, wrote: "Over the past few months I've been taking the time and space to grieve, reflect, and do my part to heal my community.
"Most importantly, I want to use my resources and platform moving forward towards actionable change. My team and I created Project HEAL to take much needed action towards supporting real solutions that make all events the safest spaces they can possibly be.
"I will always honor the victims of the Astroworld tragedy who remain in my heart forever. Giving back and creating opportunities for the youth is something I've always done and will continue to do as long as I have the chance."
He concluded: "This program will be a catalyst to real change and I can't wait to introduce the rest of the technology and ideas we've been working on."
Formed in collaboration with the Houston native's Cactus Jack Foundation, the initiative includes a Waymon Webster HBCU scholarship fund, an expansion of Houston's CACT.US Youth Design Center, the provision of free mental health resources, and a U.S. Conference of Mayors Task Force of Event Safety.
According to Project HEAL's website, the initiative "will address safety challenges for large-scale live events, including funding the U.S. Conference of Mayors Task Force of Event Safety and a tech product solution currently in development.
"This effort will bring together all of the relevant stakeholders from government, public safety, emergency response, health care, event management, music, and technology [and] Scott, in conjunction with the group, will also aggressively focus on new technologies and innovations that offer ways to address the challenges posed by large-scale events.
"At the conclusion of this research, HEAL, together with the US Conference of Mayors, will assist in the creation of a comprehensive report of recommendations to be presented formally and distributed to key stakeholders for adoption, including every Mayor of every town and city which hosts large-scale events.
"HEAL will work towards advocating that this report serves as the new safety and security blueprint for all festivals and large-scale events."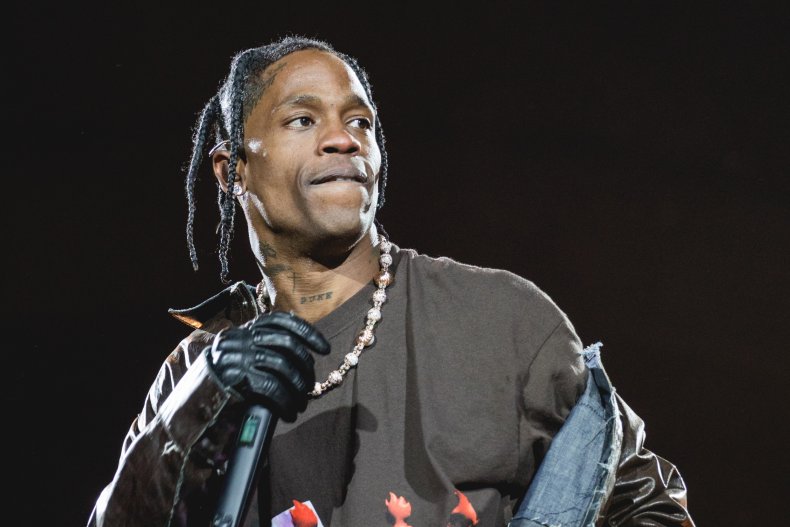 Following the Astroworld tragedy, Scott was named in the hundreds of lawsuits, along with Live Nation, ScoreMore, and Harris County Sports and Convention Corporation, among others.
Drake, who shared the stage with Scott at the event, has also been sued.
In February, Billboard reported that the Texas Judicial Panel On Multidistrict Litigation granted a joint motion from both the alleged victims and the organizers to combine the suits for all pre-trial proceedings before a single judge.
As a result, the almost 400 separate lawsuits—representing nearly 2,800 complainants—will be streamlined. The move would also make it more straightforward for the complainants to negotiate a single settlement.
In early December, Scott denied allegations made against him as he responded to a selection of the lawsuits he is facing. Through his attorneys, he requested that the claims be "dismissed with prejudice."
Live Nation, ScoreMore and the Harris County Sports and Convention Corporation have also denied the allegations made against them, though they did not ask for the lawsuits to be dismissed.
In his first interview about the tragedy, which was released in December, Scott said Astroworld put him on an "emotional rollercoaster."
"I've been on different types of emotions, an emotional rollercoaster," Scott told Charlamagne Tha God. "It gets so hard because I always feel connected to my fans, and I went through something and my fans went through something and people's parents went through something and it really hurts.
"It really hurts the community, it hurts the city. It's just been a lot of thoughts, a lot of feelings, a lot of grieving, and just trying to wrap my head around it."