Travis Scott, Drake Sued for 'Inciting the Crowd' Before Astroworld Tragedy
Travis Scott and Drake have been sued by an Astroworld attendee, who has accused the rappers of "inciting" the crowd before Friday night's deadly stampede.
Kristian Paredes, 23, is accusing the musicians, Live Nation Entertainment Inc. and Harris County Sports and Convention Corporation of negligence, according to a complaint obtained by the Daily Mail.
Tragedy struck the third annual Astroworld festival on Friday, when a sizable portion of the estimated 50,000 concertgoers rushed toward the stage during a performance by Scott at the NRG Park stadium in Houston, Texas.
The crowd surge led to at least eight deaths and hundreds of injuries, with several videos emerging showing attendees pleading with security to stop the show, while sections of the audience were seen chanting for the performance to stop.
In his lawsuit, Paredes—who claims he was permanently injured in the crush—has accused Drake of continuing to perform with Scott as the situation spun "out of control" and "while the crowd mayhem continued."
"The crowd became chaotic and a stampede began leaving eight dead and dozens, including Kristian Paredes, severely injured," reads the filing. "Many begged security guards hired by Live Nation Entertainment for help, but were ignored."
Paredes went on to charge in the lawsuit that the deaths and injuries were caused by the "negligence, carelessness and recklessness" of the "defendants, their agents, servants and employees, in the ownership, management, maintenance, operation, supervision, and the control of the subject premises."
Paredes, who hails from Austin, Texas, is suing for more than $1 million for his purported injuries, and is seeking a trial by jury.
Attorney Thomas J. Henry, who is representing Paredes, said in a statement: "There is no excuse for the events that unfolded at NRG stadium on Friday night.
"There is every indication that the performers, organizers, and venue were not only aware of the hectic crowd but also that injuries and potential deaths may have occurred. Still, they decided to put profits over their attendees and allowed the deadly show to go on."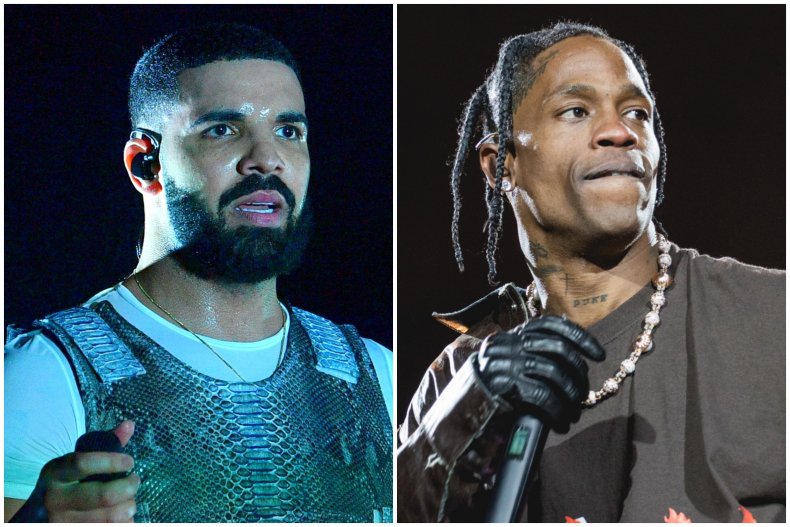 Henry continued: "Live musical performances are meant to inspire catharsis, not tragedy. Many of these concert-goers were looking forward to this event for months, and they deserved a safe environment in which to have fun and enjoy the evening. Instead, their night was one of fear, injury, and death."
Newsweek has contacted representatives of Scott, Drake, Live Nation and Harris County Sports and Convention Corporation for comment.
Following the incident, an "absolutely devastated" Scott released a statement on Twitter that read: "My prayers go out to the families and all those impacted by what happened at Astroworld Festival.
"Houston PD has my total support as they continue to look into the tragic loss of life. I am committed to working together with the Houston community to heal and support the families in need. Thank you to Houston PD, Fire Department and NRG Park for their immediate response and support. Love you all."
Scott's partner, Kylie Jenner, also spoke out in support of the victims, as she also stated that the rapper was unaware of what was taking place as he performed.
She wrote on Instagram: "Travis and I are broken and devastated. My thoughts and prayers are with all who lost their lives, were injured or affected in any way by yesterday's events.
"And also for Travis who I know cares deeply about his fans and the Houston community. I want to make it clear we weren't aware of any fatalities until the news came out after the show and in no world would have continued filming or performing.
"I am sending my deepest condolences to all the families during this difficult time and will be praying for the healing of everyone who has been impacted."