Travis Scott 'Fortnite' Event: 'Astronomical' Concert Tour Dates, Icon List Items and Rewards
Fortnite players will be able to tune into rapper Travis Scott premiering a brand new track as part of his virtual tour Astronomical.
According to an announcement, from April 23 until April 25, gamers and Travis Scott fans around the world can experience a "one of a kind musical journey", choosing a tour date that works for them. Fornite and Travis Scott Present: Astronomical will start at midnight BST on Friday, April 24, with "doors" opening 30 minutes before the show starts.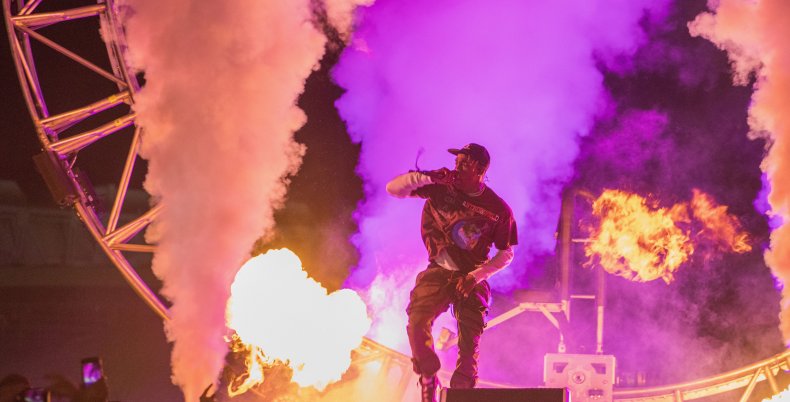 Other dates include:
Friday, April 24, at 3:00 p.m. BST
Saturday, April 25, at 5:00 a.m. BST
Saturday, April 25, at 4:00 p.m. BST
Saturday, April 25, at 11:00 p.m. BST
As part of the Astronomical tour, the game's developer Epic Games is adding Travis Scott to the Icon Series. Players will be able to get his outfits, emotes and more starting today (April 21). Anyone that attends the Astronomical events can also score an Astroworld Cyclone Gilder and two loading screens for free, as well as unlocking more free gear by completing challenges.
For those who want to take part, make sure to do the following:
You need to download Fortnite (it's free), which is available on iOS, Android, PlayStation 4, Xbox One, Nintendo Switch, PC and Mac
Download the latest update, which will be the 12.41 update. It will be available on April 21. Make sure to leave plenty of time to download the game depending on your connection speed so you're ready for the Fortnite Travis Scott Event
Doors open 30 minutes before each show, so get there early to secure a spot. The goal is to accommodate everyone possible, but Epic Games has advised that there is a capacity on its blog post
If you're looking to create content, you can check out this Creator Event Guide for all the info
The game's virtual events have proven to be popular with players. In 2019, the first-ever Fortnite concert was held by EDM DJ Marshmello, attended by millions of viewers. The collaboration between the DJ and Epic Games also saw limited-edition merchandise released.
On the DJ's YouTube channel, the video of the performance has been viewed 48,027,347 times at the time of reporting, in addition to an estimated 10 million live viewers on the gaming platform.
Fortnite players can tune into Fortnite and Travis Scott Presents: Astronomical, on April 24, 2020, at midnight BST via the game.
Newsweek has affiliate partnerships. If you make a purchase using our links, we may earn a share of the sale.