Travis Scott Says He Believes He Did Everything He Could During Astroworld Tragedy
Rapper Travis Scott said he believes he did everything he could to address the out-of-control crowd while on stage at last month's Astroworld.
In his first interview since the deadly concert in Houston, Scott was asked by radio personality Charlamagne Tha God if he felt like he did "everything [he] possibly could to help in that situation?"
"Yes," Scott replied. "Yes, anything I physically can, for sure yes."
"If knowing, you know, what was going on, you just wish... but, standing there, a thousand percent."
Scott said that while he felt a difference in urgency during the show, he was not informed that people had died until after the concert.
On November 5, a large crowd at NRG Park began pushing towards the stage where Scott was performing, leading to a human crush. Eight people died that night and in the days that followed, two more attendees—including the youngest victim, a 9-year-old boy—succumbed to their injuries and died in hospital.
Of the roughly 50,000 people in attendance, 25 concertgoers were hospitalized and more than 300 people were treated for injuries.
In the wake of the tragedy, Scott was heavily criticized for not doing more while performing and for having a history of promoting a rage culture at his shows.
He was also trolled online after posting an apology video to his social media accounts, which many fans saw as disingenuous, and while he offered to pay for the funeral services for the victims, his contributions were denied by some of the families.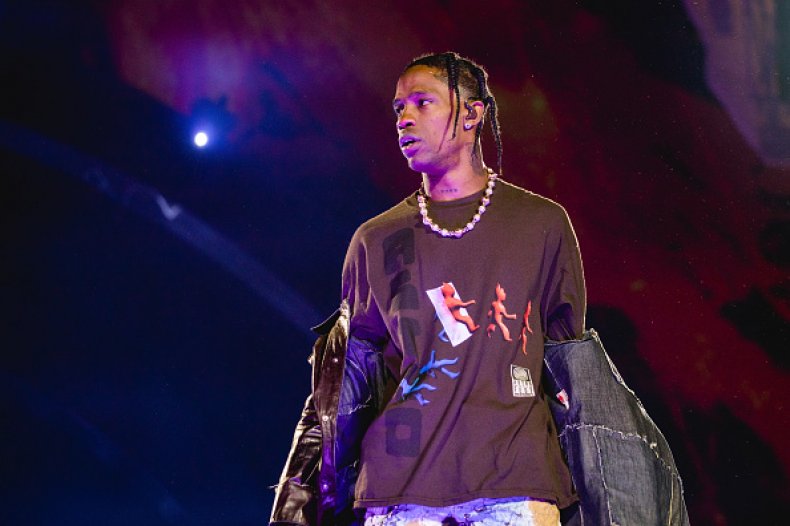 In the interview, which was uploaded to Charlamagne's YouTube page on Thursday, Scott expressed regret over the initial response video, saying he just wanted to "get something out" based on his knowledge at the time, and promised to continue supporting the loved ones of the deceased.
Asked whether or not he believed the "raging" culture of his performances contributed to the "energy" of that night, Scott said no.
"That's something I've been working on for a while, is creating these experiences and trying to show these experiences are happening in a safe environment," Scott told Charlamagne.
"Us as artists, we trust professionals for when things happen that people can leave safely," he continued. "And this night was just like a regular show—it felt like to me, as far as the energy. It didn't feel like... people didn't show up there just to be harmful. People just showed up to have a good time and then something unfortunate happened and I think we really just got to figure out what that was."
Scott said his fans had grown the "raging" culture to be about the "experience of fun" at his concerts and that none of the concertgoers had attended his show just to be "rambunctious for an hour."
"It's not about just harm. It's not about that. It's about letting go and having fun, you know, help others love each other," the rapper said.
While discussing the fans that lost their lives that night, Scott noticeably choked up.
Speaking to the families of the victims, Scott said, "I'm always here. I'm in this with you guys and I love you. I'll always be there to help you guys heal through this... It's not just a right now thing. It's a forever thing."
"It's really hard on me, just... to even... because they ended up—they lost their loved ones, you know? It's tough and, you know, I just always want to be there for them and just always be able to know that Imma fix this for the future people," he added.
Scott said while he feels responsibility to find a solution to the danger of live concerts, he also plans to continue performing as a way of "healing" from the deadly show in his hometown.
Watch the full interview below: