Travis Scott has been seen out in public for the first time since news broke of the tragic stampede at his Astroworld festival that left several attendees dead.
The rapper was photographed spending time with a group that included actor Mark Wahlberg French screen star Saïd Taghmaoui, and Corey Gamble, whose partner is Kris Jenner, the mother of Scott's girlfriend Kylie Jenner.
In the photos, which have been shared on social media, Scott is seen glancing at his phone as he sits beneath palm trees on a patio next to Gamble and Wahlberg, who are engaged in conversation.
Another shot shows the musician posing for a selfie with Taghmaoui. In each of the images, Scott, 30, is seen looking downcast.
On Tuesday, Taghmaoui shared footage of himself golfing with basketball legend Michael Jordan and Wahlberg at the exclusive Madison Club in La Quinta, California. While Scott was not shown in that Instagram post, it appears to be from the same trip.
The Madison Club is a golf club and gated community in the Coachella Valley, whose residents include Kris Jenner, her daughter Kourtney Kardashian, Cindy Crawford, Irving Azoff, and Apple CEO Tim Cook, according to People.
Scott has been keeping a low profile in the weeks since his November 5 Astroworld festival, where a stampede led to the death of 10 attendees and left hundreds more injured.
During the event, a crowd surge toward the stage at the NRG Park stadium in Houston, Texas, sparked chaos and tragedy among the 50,000-strong patrons.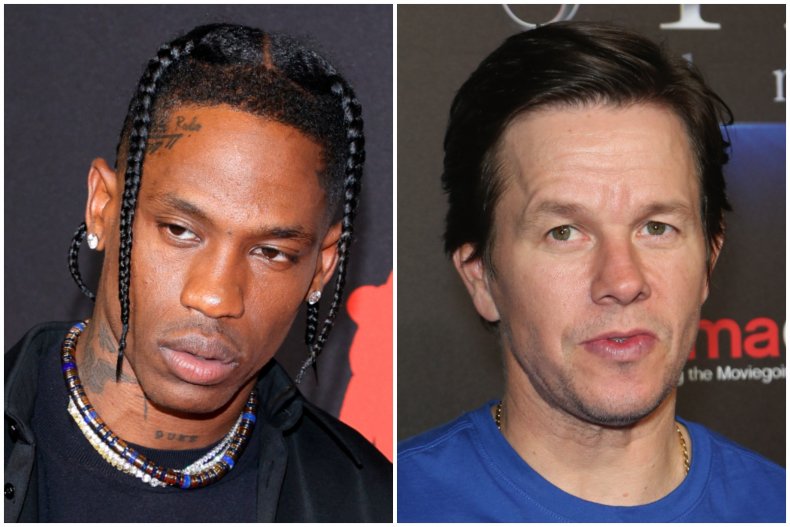 In the aftermath, Scott is facing a plethora of lawsuits, with a Texas attorney last week filing a $2 billion suit on behalf of 282 event attendees.
"The defendants stood to make an exorbitant amount of money off this event, and they still chose to cut corners, cut costs, and put attendees at risk," attorney Thomas Henry said in a statement, per the New York Post.
"My clients want to ensure the defendants are held responsible for their actions, and they want to send the message to all performers, event organizers, and promoters that what happened at Astroworld cannot happen again," he added.
Also named as defendants in the suit are Apple Music, the NRG Stadium, event organizers Live Nation, and rapper Drake, who was a surprise performer on the night.
Following the festival, Scott said that he was "absolutely devastated" in a statement shared on Twitter, as he addressed the tragic turn of events.
"My prayers go out to the families and all those impacted by what happened at Astroworld Festival," he said. "Houston PD has my total support as they continue to look into the tragic loss of life.
"I am committed to working together with the Houston community to heal and support the families in need. Thank you to Houston PD, Fire Department and NRG Park for their immediate response and support. Love you all."
It was later announced that Scott would cover all funeral costs of those who died as a result of the stampede, and provide free one-on-one online therapy for all others who were impacted.