Travis Scott Sued by Astroworld Attendee Over 'Predictable' Harm, 'Encouragement of Violence'
An injured Astroworld attendee is suing rapper and festival organizer Travis Scott in the wake of the "mass casualty" event that ensued at the festival Friday night.
The attendee, Manuel Souza, filed the suit against Scott, organizer ScoreMore, and Live Nation on Saturday, according to Billboard. The petition described the incident that left eight people dead and scores more injured as "predictable and preventable" and claimed that the defendants "actively encouraged and fomented dangerous behaviors."
"Defendants failed to properly plan and conduct the concert in a safe manner," wrote Steve Kherkher, the attorney representing Souza. "Instead, they consciously ignored the extreme risks of harm to concertgoers, and, in some cases actively encouraged and fomented dangerous behaviors."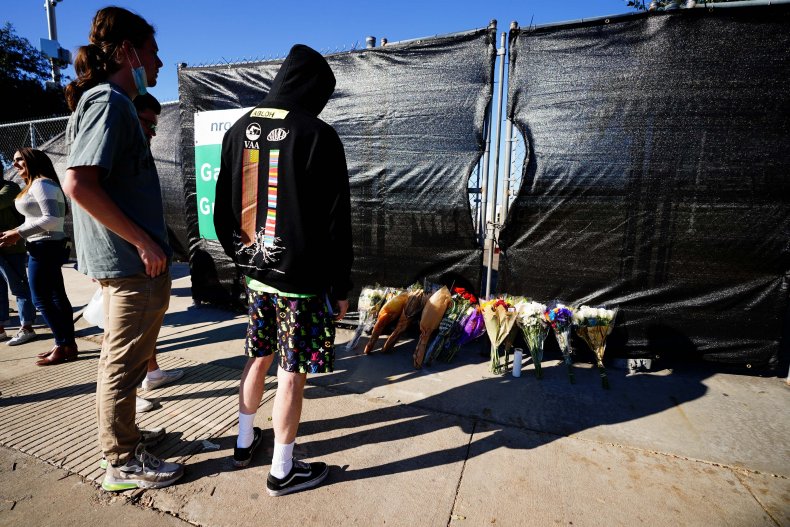 The tragedy at the third annual Astroworld festival began on Friday night when the crowd of around 50,000 rushed toward the stage during a performance by Scott at the NRG Park stadium in Houston. This created a "human crush" scenario and resulted in numerous attendees getting trampled. Some witnesses alleged that Scott encouraged the audience to get closer to the stage prior to the incident. Scott has, in general, been accused of frequently encouraging chaotic and dangerous behavior at his shows.
Multiple videos have also emerged from the night, showing attendees pleading with security to stop the show and sections of the audience chanting for the performance to stop. Videos of other artists, including Linkin Park, stopping their shows to address crowd safety have also gone viral in the wake of the Astroworld incident.
Newsweek reached out to representatives for Scott for a comment on this story. While they did not respond directly, Scott has since confirmed that he be covering all funeral costs for those affected by the Astroworld incident and is also partnering with BetterHelp to provide therapy sessions to attendees.
"We continue to support and assist local authorities in their ongoing investigation so that both the fans who attended and their families can get the answers they want and deserve, and we will address all legal matters at the appropriate time," Live Nation wrote in a statement sent to Newsweek.
ScoreMore released a statement on Twitter about the efforts it is taking to help local authorities in Houston. The company is a subsidiary of Live Nation, having been acquired in 2018.
"My prayers go out to the families and all those impacted by what happened at Astroworld Festival," Scott wrote in a tweet about the incident. "Houston PD has my total support as they continue to look into the tragic loss of life. I am committed to working together with the Houston community to heal and support the families in need. Thank you to Houston PD, Fire Department and NRG Park for their immediate response and support. Love you all."
Kylie Jenner, Scott's partner, also released a statement sharing support for the victims while also insisting that the rapper was not aware of the incident while he was performing.
"Travis and I are broken and devastated," Jenner wrote on Instagram. "My thoughts and prayers are with all who lost their lives, were injured or affected in any way by yesterday's events. And also for Travis who I know cares deeply about his fans and the Houston community. I want to make it clear we weren't aware of any fatalities until the news came out after the show and in no world would have continued filming or performing. I am sending my deepest condolences to all the families during this difficult time and will be praying for the healing of everyone who has been impacted."
Update 11/8/2021 4:05 p.m. ET: This story has been updated to include statements from Live Nation and ScoreMore.