Is Tre Jones Duke's Most Important Player? Twitter Thinks So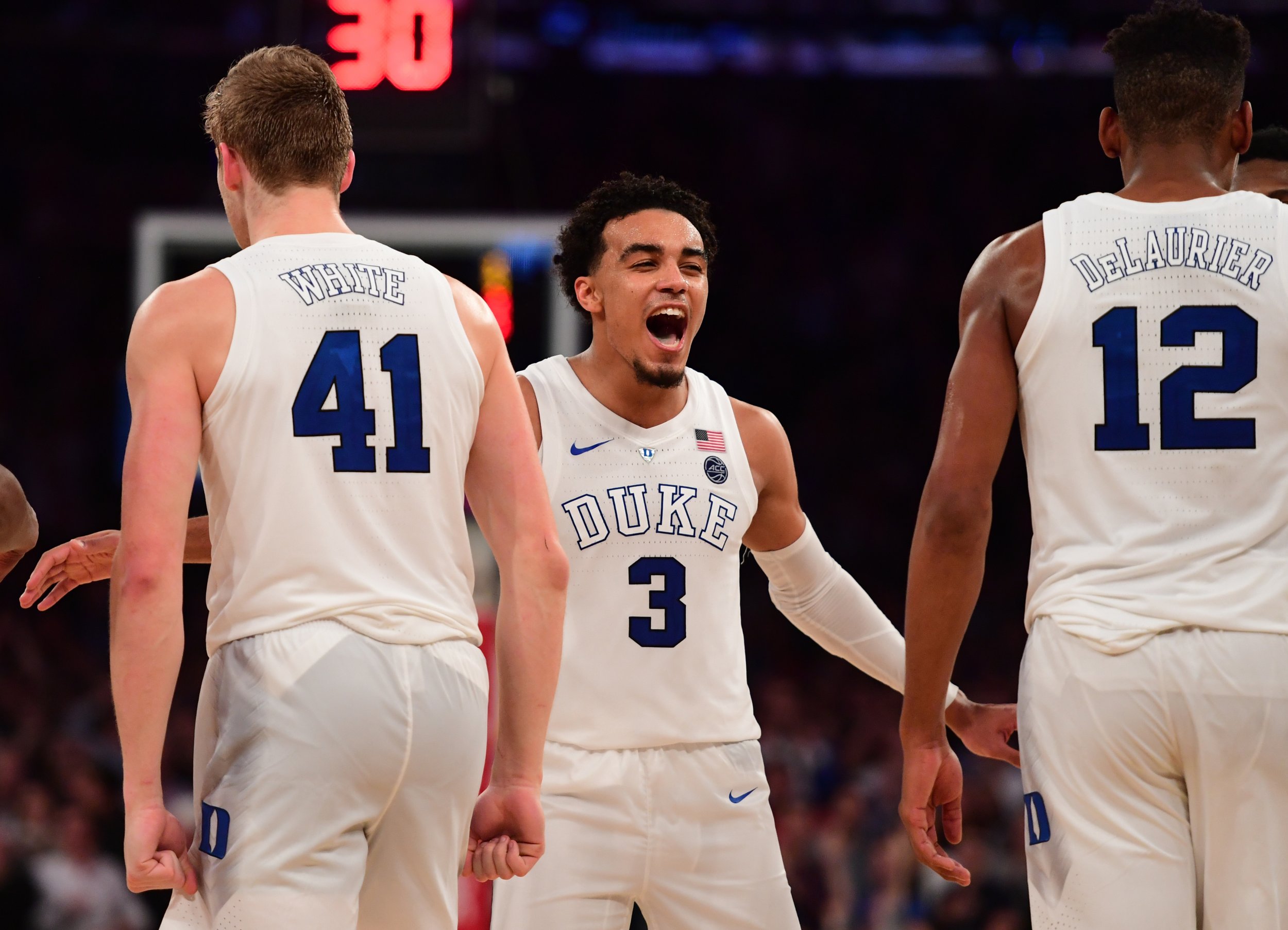 Tre Jones stole the show at Madison Square Garden as Duke clinched a comfortable 69-58 win against Texas Tech on Thursday night.
Dozens of NBA executives and a host of NBA stars, including Jimmy Butler, Trae Young and Emmanuel Mudiay arrived at the arena eager to cast their eyes on Zion Williamson, R.J. Barrett and Cam Reddish.
Read more: Zion Williamson on MSG: '41 at the Garden' Would 'Be Incredible'
Duke's three freshmen have been the biggest show in college basketball this season but on Thursday the limelight belonged to one of their teammates.
Jones had 13 points, five rebounds, five assists and six steals and his high-octane defensive game was a big factor in keeping Texas Tech to just 58 points. Duke's defensive effort offset their worst offensive game of the season.
The Blue Devils converted just three of their 20 attempts from beyond the arc and turned the ball over 19 times. Barrett had 16 points but went 7-for-22 from the field, Reddish scored just eight points, while Williamson had 17 points and 13 rebounds but fouled out.
Jones dominated on both sides of the ball, steadying the ship when the Blue Devils needed it the most.
"Tre was the key to the game," Duke coach Mike Krzyzewski was quoted as saying by ESPN after the game. "He just turned it around for us with six steals [...] It was magnificent to see. He did a hell of a job."
Coach K wasn't the only one to be impressed by Jones's performance, which attracted plenty of attention on social media.
Meanwhile, Williamson got Knicks fans excited by suggesting he would relish the opportunity to play 41 games at the Garden next season.
"Forty-one games at the Garden, I mean, it would probably be incredible," said the 18-year-old, who played in the famous arena for the first time on Thursday night. "This is the Garden. A lot of greats have come through here. Playing 41 games here wouldn't be so bad."
Williamson is a projected top-five pick, and with New York currently holding the fifth-worst record in the NBA, there's a realistic possibility of seeing the Blue Devils star in New York next season.
For now, Williamson remains focussed on college basketball. The win over Texas Tech saw Duke extend its winning run to six games and improve to 11-1.
The Blue Devils, who are currently second in the Associated Press poll of NCAA teams, are second in the Atlantic Coast conference behind fifth-ranked Virginia, which has won all of its 10 games.
Texas Tech, which is ranked 12, slipped to 10-1 and are joint-second in the Big 12 alongside Oklahoma, behind the number one-ranked Kansas Jayhawks.