Treasury Says Mnuchin's Travel Expenses Are 'Prudent,' Lower Than Obama's Officials
Treasury Secretary Steven Mnuchin has not misspent taxpayer dollars, and his travel expenses are actually lower than Obama-administration officials who held the same post, the Treasury said Friday. However, the department's watchdog said that Mnuchin's travel expense justification could use "more detail and rigor."
The department, which manages government revenue, was responding to a report issued on Thursday by the left-leaning watchdog group Citizens for Responsibility and Ethics in Washington (CREW). The group published Treasury emails and other documents obtained through a lawsuit that showed Mnuchin spent $1 million on eight flights on military planes between spring and fall of last year.
The secretary's travel expenses came under fire along with several other Trump cabinet members and officials in recent months, and were reviewed by the Treasury's Office of Inspector General last fall.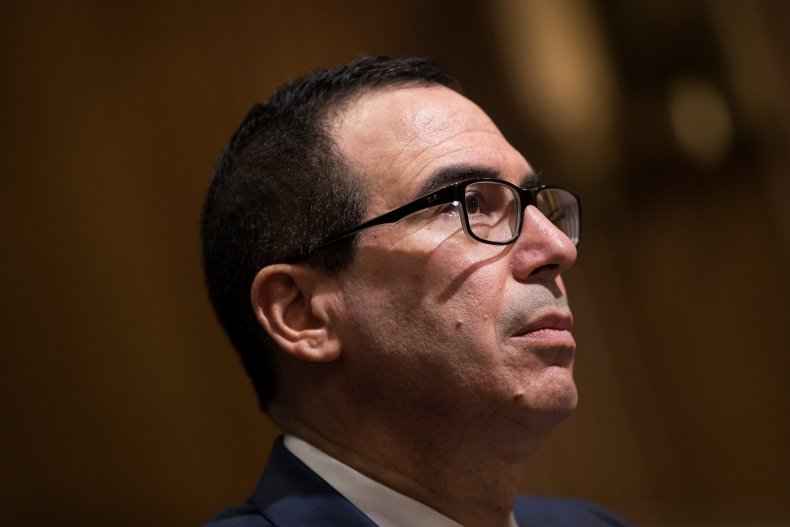 Yet his travel costs are less than Obama's Treasury officials, the Treasury told Newsweek Friday. "Secretary Mnuchin's 2017 official travel totaled $1.2 million, substantially less than the $2.8 million his predecessor in the Obama administration averaged annually," said Tony Sayegh, the Treasury's assistant secretary for public affairs, in a statement responding to CREW's findings.
"Both figures," Sayegh explained, "represent the cost to the government for commercial and government air travel, train travel, hotels, vehicles and other costs for the secretaries and their security and traveling staff." That means former President Barack Obama's Treasury secretaries Timothy Geithner and Jack Lew spent more than twice as much traveling each year than Mnuchin.
Read more: Ryan Zinke spent $139K on doors—here are all the Trump officials accused of misspending taxpayer dollars
But CREW stood by its question as to why Mnuchin needed a military jet to transport himself and his wife, Louise Linton, "when a readily available commercial flight would have saved thousands of dollars" for taxpayers.
"As we noted in our report, the issue is not just the dollar figure, but the trend by the Secretary to choose the most expensive travel options," wrote Jordan Libowitz, CREW's communications director, in an email to Newsweek.
The documents CREW obtained, he said, showed the Mnuchin "office's preference to spend tens of thousands of dollars to fly in a G-IV private jet when significantly less expensive options were available," citing the secretary's $26,953 trip to Miami. Libowitz said that Mnuchin was different from previous secretaries in "that he does not appear to consider flying commercial domestically, something his predecessors did."
The Treasury defended the travel, stating that a review launched by the department's Office of Inspector General (OIG) found the military flights necessary because the secretary is "required by applicable authority and policy to have access to secure communications at a high level of classification at all times."
The OIG launched the review last summer after receiving complaints about Mnuchin's flight with his wife on a military aircraft to visit Fort Knox, and view the solar eclipse, last August. Following media inquiries, the review was later expanded to include other trips.
The Treasury pointed out Friday that the review, which was completed on October 4, found "no violation of law, regulation, or ethics requirements" on Mnuchin's part during that trip and a series of others. "The documents CREW cites are the same documents that were examined by Treasury's inspector general in his review of Treasury's travel," a Treasury spokesperson said, stating that they showed Mnuchin had been "prudent" with taxpayer money.
While the OIG did not find any wrongdoing in the documents it reviewed, Rich Delmar, counsel to the Treasury's OIG, said the watchdog's report "stated that the justifications provided by the Department and accepted by the White House in the requests we reviewed could have incorporated more detail and rigor."
In a statement Thursday, CREW said it found that "none of the requests for White House Mission designation" made by the Treasury for Mnuchin's flights explained whether those flights were explicitly authorized by the president.
"We are in the process of reviewing the documents cited in the CREW article to determine if they fully comport with the body of information we obtained last year," Delmar said.