Treasury Secretary Mnuchin Floats Trump Tariff Power One Day After Tentative Agreement Defusing Crisis
Fewer than 24 hours after the administration of President Donald Trump and Mexican authorities reached a tentative agreement to forestall tariffs affecting hundreds of billions of dollars in goods imported from Mexico, Treasury Secretary Steven Mnuchin warned on Saturday that the president still claims the authority to levy taxes on imports from Mexico if he sees fit to do so.
Mnuchin's comments came amid an already tense economic situation, with Trump's change of heart on the tariffs occurring only days before the threatened June 10 deadline. Had an agreement not been reached by that date, the president pledged to begin by immediately enforcing a 5 percent fee on all Mexican imports.
Because of existing trade deals, most imported goods have been free of tariffs for years. The spate of new fees — which would have increased by five additional percentage points on the first of each subsequent month — would have thrown major sectors of the American economy into disarray and potentially destabilized a fundamental trade relationship with Mexico.
"Our expectation is that Mexico will do what they've committed to do and our expectation is that we won't need to put tariffs in place," Mnuchin told Reuters on the sidelines of a G-20 summit in Japan. "But obviously if that's not the case, the president retains that authority."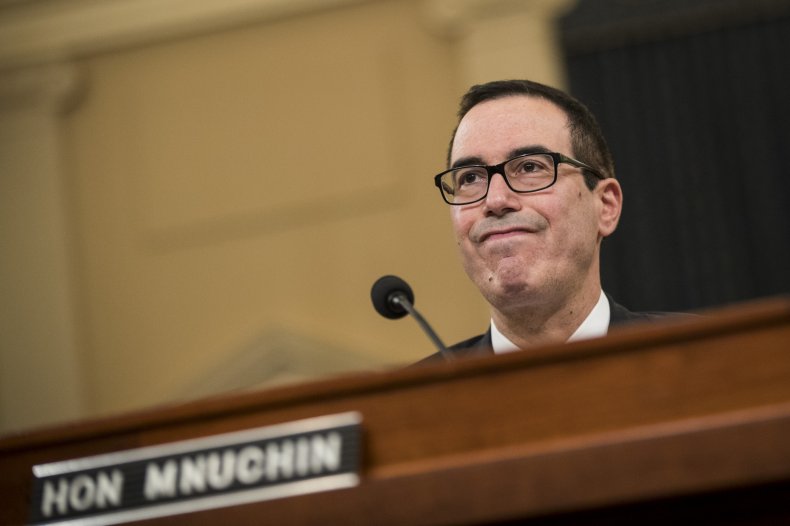 In his initial announcement setting off the tariff dispute, the Trump administration invoked an authority under the International Emergency Economic Powers Act (IEEPA) which gives the president the power to regulate commerce in response to an "unusual and extraordinary threat" from a foreign country.
According to presidential powers experts, Trump's use of this emergency declaration may be unprecedented in its own right, despite the law's invocation by past presidents.
"IEEPA has not been used by any previous president to impose tariffs on goods from another country, so it's really a first," Elizabeth Goitein of the Brennan Center for Justice told NPR after the tariffs were announced. "Ultimately, I think this will be challenged in court, and it will come down to a court's reading of what Congress's intent was in passing this law."
This is also one of the first instances where President Trump has sought to leverage his fondness for tariffs against his desire to cut off migrants — primarily from Central America — at the southern border.
The administration said on Friday that Mexican officials had agreed to deploy additional troops to prevent migrants from crossing through their country en route to the U.S. Mexico has also apparently accepted a Trump administration proposal to expand their obligations under an agreement where asylum seekers wait in Mexico while the claims are adjudicated in the U.S. That plan had been put on hold by a federal judge, but an appeals court let the Trump administration begin to send asylum seekers to Mexico while legal challenges were heard.
Despite mounting concerns over the stability of the agreement, Mnuchin expressed a certain level of confidence that the current bargain, absent other developments, would hold.
"We now have an agreement that we believe is going to fix the immigration issue. And that was extremely important to the president," he said.