Treasury Secretary Steve Mnuchin Says Donald Trump Is Looking at Areas of U.S. Where Economy Can Be Reopened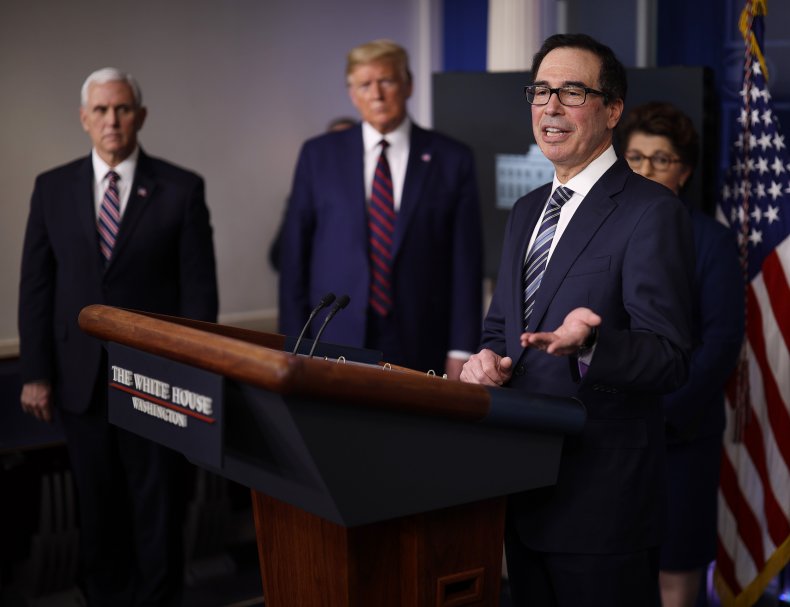 Secretary of the Treasury Steve Mnuchin said Tuesday that President Donald Trump is looking at areas in the country where the economy can be reopened.
"I think everything I hear from the medical professionals in many places is we're close to the worst point and beginning to peak. I think then things are going to get better. I know the president is very much looking at how we can reopen parts of the economy. There are parts of the country, like New York, where obviously this is very, very concerning. There are other parts of the country where it's not," Mnuchin said in an appearance on FOX Business Network.
Mnuchin said he hopes the shutdown will not go on longer than eight weeks, which is the length of time small businesses can pay their employees when they take out a loan from the federal government loan program provided under the CARES Act.
"All these small businesses need to do is pay their employees. If they're closed and there's no work to do, they don't have to come in. They just pay them so as soon as they're ready to open, they have their employees.… They didn't have to get unemployment," Mnuchin said, adding that the amount of people who could benefit for this program account for "50 percent of the private economy.
"I can assure you the president has instructed us to get this money into the economy fast."
Americans have filed 10 million unemployment claims in the past two weeks, according to Forbes. The numbers are due to businesses closing down as a result of stay-at-home orders put in place in response to the new coronavirus pandemic. Businesses Insider compiled a list of major companies that have either furloughed or laid off thousands of employees. including Marriott International, General Electric and Macy's.
Trump has said that he does not want the cure to be worse than the disease, meaning that the measures put in place to protect Americans from contracting the new coronavirus should not be worse than the impact of the virus itself.
"We built the greatest economy in the world. I'll do it a second time. We got artificially stopped by a virus that nobody ever thought possible," the president said Monday during his daily coronavirus press briefing.
There are over 370,000 confirmed cases of the new coronavirus in the United States and over 11,000 deaths attributed to the virus, according to the Johns Hopkins Coronavirus Resource Center.