Treasury Secretary Steve Mnuchin Says More Money Is Needed to Boost Economy During Reopening
U.S. Treasury Secretary Mnuchin told Congress Wednesday that more money will be required to boost the economy as the country begins to reopen.
"I definitely think we are going to need another bipartisan legislation to put more money into the economy," he said. "Small business, and by the way, many big businesses in certain industries, are going to absolutely need more help."
Mnuchin outlined that he wants to see more money for businesses to encourage rehiring employees in the next stimulus bill, as well as unemployment insurance in some manner. He asked legislators to seriously consider more direct payments to individuals in order to stimulate the economy.
He added that "whatever we do going forward needs to be much more targeted" towards the small businesses and industries that have struggled to reopen.
Appearing before the U.S. Senate Small Business Committee, Mnuchin said the economy has already begun rebounding from the coronavirus pandemic and that data shows the U.S. is "well-positioned for a strong, phased reopening of our country."
He said the federal program is currently supporting 50 million workers across the nation.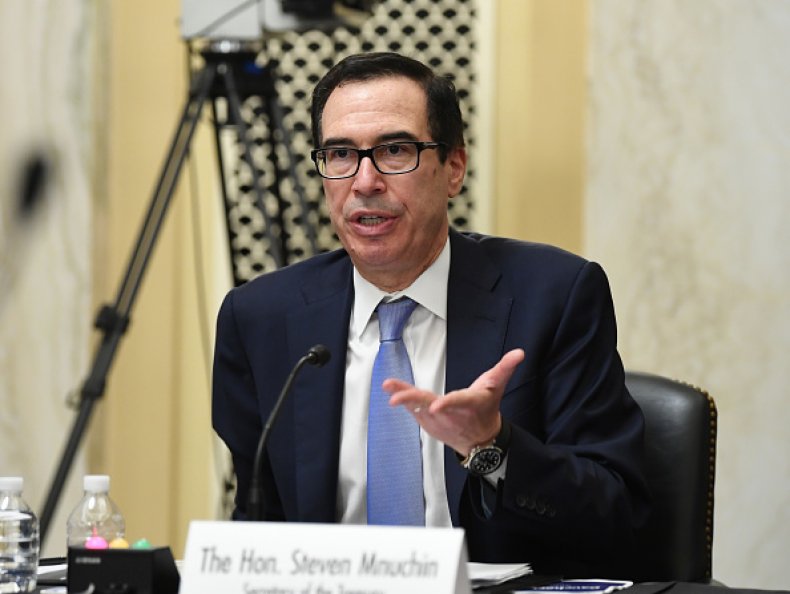 Mnuchin confirmed to Senator Marco Rubio that those borrowing from the Paycheck Protection Program (PPP) who use less than 60 percent of their government loans on payroll will remain eligible for forgiveness.
He announced that new PPP guidance released by the administration today will ease restrictions against PPP borrowers with criminal records. Currently, the program prohibits loans to any small business owners who have had a felony conviction, plea, or was placed on probation, parole or diversion within the last five years.
The secretary also said that approximately $12 billion was returned by large companies who tapped into the federal relief fund after he threatened that companies would be audited and held "criminally liable" for failing to meet the program's requirements.
Big companies were met with public outcry after receiving funds they had acquired via a loophole allowing businesses with fewer than 500 employees in one location to be eligible for government assistance.
Mnuchin said a large portion of the returns were likely from "large public companies and sporting teams" that he is a fan of. The Los Angeles Lakers and Shake Shack were among notable businesses that decided to return their PPP loans. A number of private schools and universities with large endowments also came under pressure to return the government money.
However, Mnuchin noted the Trump Administration has no intention of releasing "proprietary information" on which businesses received loans and for how much.
Newsweek reached out to the U.S. Treasury Department for comment but did not hear back before publication.