'Treated Them As Trash': Mom Applauded for Living Room Revenge on Fiancé
Thousands of internet commenters defended one mother who took swift action after her fiancé left her 12-year-old daughter in tears.
In a viral Reddit post published on r/AmITheA**hole, Redditor u/ThrowRAsp677 (otherwise referred to as the original poster, or OP) said she was forced to step in after an issue between her fiancé and daughter went too far and described the tension that has existed ever since.
Titled, "[Am I the a**hole] for removing all of my fiancé's certificates from the wall after he took down my daughter's dog picture?" the post has received more than 14,000 votes and nearly 3,000 comments in the last nine hours.
Noting that her daughter "adores animals," the original poster said that when one of the family's dogs passed away, they hung a photo in their living room to honor the beloved pet.
The original poster also said that her fiancé, who moved into her home just two months ago, despises the canine memorial.
"My fiancé saw it and got upset," OP wrote. "He commented on how strange it was to have the dog's picture up on the wall and...suggested we remove it but I ignored him."
Despite paying no attention to his suggestion of removing the photo, the original poster said she was furious to discover that her fiancé did so anyways, prompting quick and equal revenge.
"I got home and saw that he's taken it down," OP wrote. "[My daughter] was in her room crying holding the picture...and she told me that my fiancé took the picture off and told her she's not allowed to have it hung up there."
"I was shocked," OP continued. "I rushed out and immediately started taking down all the certificates he had on that wall. His doctorate, master's and bachelor's degrees. And about 4-5 other certificates."
"[He] snapped at me and said since...it's his house as well...I should respect his input," OP added. "He yelled at me demanding that I [stop] nagging him and acting childishly and spitefully...[and] about how I disrespected him and his achievements and treated them as trash."
For many couples, moving in together is a major step and can add a ton of pressure to previously-breezy relationships. And when one or both partners have children, that pressure is ratcheted up even more.
Before families come together, or an outside individual joins a family unit, Very Well Family recommends that parents meticulously consider every factor associated with living with a partner and understand how those factors may affect children.
When couples make the final decision to move in together, however, the work is hardly done.
Although some blended families live harmoniously from the beginning, many face early challenges involving new sibling rivalries and unfamiliar authority figures better known as step parents.
Even when one partner is childless and the possibility for stepsibling rivalry is eliminated, issues between children and their parent's live-in partner are common and often result from brash stepparents' attempts to overhaul household rules in favor of their own codes of conduct.
"Young children...may be more willing [to] accept a stepparent's authority in the new family," Parents magazine reports. "But school-age children and teens will often rebuff a stepparent's attempts at automatic authority."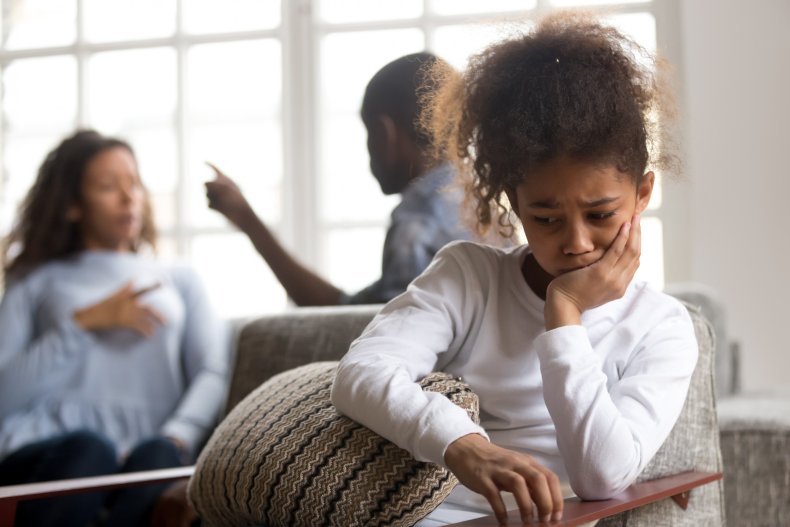 Throughout the comment section of the viral Reddit post, Redditors called out the original poster's fiancé for so brazenly attempting to take control over the household and warned how his behavior could be indicative of future hostility.
"[Not the a**hole]," Redditor u/Impossible-Pause3788 wrote in the post's top comment, which has received nearly 26,000 votes. "He doesn't want equal say- he wants a dictatorship."
"It's clear that he will continue to hurt your daughter behind your back," they added. "I would reevaluate my relationship."
Redditor u/WhoKnewHomesteading, whose comment has received more than 18,000 votes, echoed that sentiment.
"He is trying to take over what you have achieved," they wrote. "You need to think hard about what life will look like for you and your daughter going forward [if] this is only [two] months in."
"What is her emotional well being worth to you?" they added.
In a separate comment, which has received nearly 10,000 votes, Redditor u/awyllt was blunt in their assessment of the original poster's relationship.
"He took a picture of your grieving child's dog, threatened her, told you that your house is also his, yelled and you and demanded an apology," they wrote.
"He took down the picture and threatened a 12 year old that she'd lost it permanently if she didn't keep it in her room rather than on the wall in a common area in her own house," Redditor u/CrystalQueen3000 chimed in, receiving more than 3,500 votes.
"If this is indicative of the way he is with her when you're not around then I'd boot him out of your life ASAP," they added.
Newsweek reached out to u/ThrowRAsp677 for comment.