On Friday, as policemen returned from jogging near the southern French city of Carcassonne, a man identified as 26-year-old Redouane Lakdim opened fire. Six shots rang out, leaving one officer injured.
But the shooter, acting alone, appeared to have an even more sinister plan.
The gunman then made his way to the Super U supermarket in the southern town of Trèbes, located 60 miles southeast of Toulouse.
There, he took hostages at around 12:05 p.m. local time, shooting three people dead and leaving around a dozen injured, according to French national police. The two incidents were connected, Yves Lefebvre, secretary general of SGP Police-FO police union, confirmed to the Associated Press.
He would meet his grizzly end in the aisles of the shopping mart when police stormed the supermarket, shooting him dead.
Police had earlier surrounded the shopping mart, announcing a security operation and warning citizens to avoid the area.
By 1:35 p.m. local time, the man had remained holed up in the supermarket, before he was killed.
The motive of the attack appeared to be of a radical Islamist nature. Mayor of Trèbes Eric Menassi said the gunman had entered the supermarket shouting "Allahu Akbar!" ("God is great!" in Arabic), before shouting "I'll kill you all."
Local media reported that he had pledged allegiance to the Islamic State militant group (ISIS) during the attack. French authorities have yet to officially confirm the ISIS link, but the interior ministry confirmed that 26-year-old Lakdim was a petty criminal who had been radicalized and was under police surveillance.
It is unknown how his pledge, if any, was conveyed, but previous attackers in Europe and the U.S. have done so in phone calls with authorities, with the possession of ISIS's black flag or by merely shouting an allegiance at the scene of their attack.
By mid-afternoon, ISIS had claimed the attack on its Amaq news agency, calling Lakdim a "soldier of the caliphate." It provided no evidence of a link between the group and him.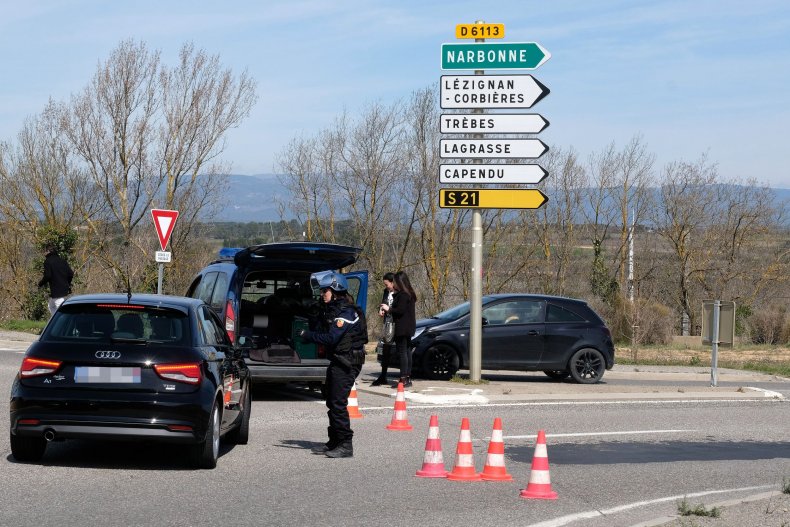 French news channel LCI reported that the attacker was a Moroccan national known to French security services and had made a demand for the release of Salah Abdeslam, the last surviving member of the Paris attacks cell. He remains in prison and has so far refused to cooperate with French authorities after his extradition from Belgium. That demand remains unconfirmed.
The French government was treating the incident as an extremist attack, which would make it the first since the election of Emmanuel Macron in May last year, and the first since a two-year state of emergency was lifted in October. France has remained on high alert ever since.
"All the information we have as I speak leads us to think that this would be a terrorist act," French Prime Minister Édouard Philippe said.
"There is an ongoing situation...in the town of Trèbes, where shots have been heard and a man entrenched himself in a supermarket," Philippe said. "It's a serious situation."
Macron sent Interior Minister Gerard Collomb to the scene of the attack. The Paris prosecutor's office said that counterterrorism officers had taken over the case. It did not elaborate on why it was presiding over the case.
The incident revived memories of the January 2015 Hypercacher kosher supermarket siege in Paris, in which an ISIS sympathizer killed at least four hostages. More than a dozen managed to escape.
ISIS has inspired or directed more than half a dozen attacks shooting and vehicle-ramming attacks on French soil since January 2015, killing more than 240 people. The deadliest was the November 2015 shooting and suicide bomb assault on different locations in Paris by an ISIS-cell that had planned their attack in Belgium. That assault left 130 people dead.