Tree Cut Exactly in Half After 'Petty' Dispute Between Neighbors
Hilarious photos circulating online show what happens when neighborly conflict is taken to the extreme. A tree, located on the very edge of one property, has been allegedly been sawed in half vertically by its next-door neighbor, and photos from the scene are prompting people to weigh in.
The sixteen-foot-tall Fir tree belongs to 56-year-old Bharat Mistry of Waterthorpe, says WalesOnline—and according to the news outlet, he and his family were "gutted" when their neighbors took such drastic measures to clear their driveway of the 25-year-old tree's overhang.
The conflict between Mistry and his neighbors, Graham and Irene Lee, began about a year ago. "It has been there for 25 years and we'd trimmed [it] into a ball shape with an agreement with the [neighbor] and he has been fine about it," Mistry explained. Recently, however, the Lees allegedly expressed that the birds living in the tree were too loud and created a mess.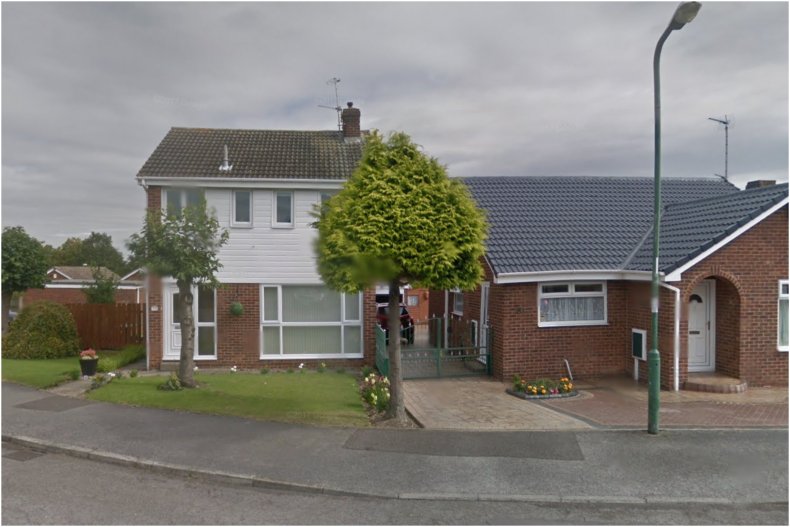 Mistry told WalesOnline that his neighbors "started off by putting black bin liners in the tree to stop the birds sitting there." From there, things seemed to escalate: "Last weekend he said he was going to get a tree surgeon to cut it down and we asked him not to but they came on Friday and did it."
"We were absolutely distraught," said Mistry. "We pleaded and pleaded with them not to do it, but their mind was made up. That tree was coming down."
A Reddit post documenting the bizarre feud gained traction on the platform, where it was described as "some traditional British pettiness on display." Since then, it appears the photo's owner has deleted the image, but hundreds of comments regarding the dispute still remain on the site. Many commenters used the forum to share their own experiences with neighborly, garden-related conflicts.
"My neighbor just casually walked into my front garden and cut the ivy off our side of the wall," shared one Reddit user. "Only a meter or so into our garden but still a slight violation."
Recalled another: "Similar story with my family's fig tree a bit overhanging into neighbors property. 2 times a year we'd have the most delicious figs you could imagine and invited the neighbor to partake if they wished. Instead, they forced us to get rid of the tree (claiming that the roots were interfering with their lawn, which I don't think was a case)."
Meanwhile, others saw the humor in the predicament: "I'm guessing extending an olive branch would meet a similar fate," joked one Reddit user.
In addition to social media attention, the tree has been the subject of TV coverage in the UK, turning the house into a bit of a tourist destination, said WalesOnline. "We've had a lot of people walking past to look at it, people you can just tell have come out of their way to walk their dog on a different route to have a look," said Mistry. "You think we'd probably do the same if it was another house, but it does feel a bit like an invasion of privacy."