Tree of Life Synagogue Rabbi Warns of 'Open Hunting Season on Jews' After Recent Anti-Semitic Violence in U.S.
Jeffrey Myers, the rabbi at the Tree of Life synagogue in Pittsburgh, decried the recent spate of anti-semitic violence Monday and said that he wondered what could motivate anyone to attack or kill any person they chose.
"I don't recall them selling licenses to have open hunting season on Jews but it sure can make Jews feel that way," Myers told John Berman, co-host of CNN's New Day.
On Saturday, as Rabbi Yisroel Kahan and family and friends celebrated the seventh night of Hanukkah in Monsey, New York, a man pushed his way into the home and stabbed five people with a machete. The act of "domestic terrorism," as Gov. Andrew Cuomo described it, came a day after New York City Mayor Bill de Blasio announced increased police patrols in areas with large Jewish populations, a result of several reports of anti-semitic incidents.
Myers, who was at the Tree of Life synagogue when a gunman open-fired on congregants in 2018, told Berman hearing about the Monsey attack was an "oh no not again" moment. He said it made him wonder what was fostering the sentiment that people had a "God-given right to attack any human being for whatever reason they choose."
Since December 13, at least eight anti-semitic incidents were reported to the New York City police department's hate crime unit. Last Tuesday, a group of people yelled "f*** you Jew" and threw a Slurpee at a 25-year-old Jewish man, according to WNBC. Hours later, a group of people approached a man in his 50s and punched him in the back of the head.
"We cannot and will not let attacks on our Jewish community become the new normal. That means not only responding to attacks but preventing them," de Blasio posted on Twitter Sunday.
New York Police Department Commissioner Dermot Shea said hate crimes were up 22 percent in 2019 and include swastika graffiti, bricks thrown through windows and wigs ripped off women's' heads. After marriage, some Jewish women cover their heads with hats, scarves or wigs, often referred to as sheitels.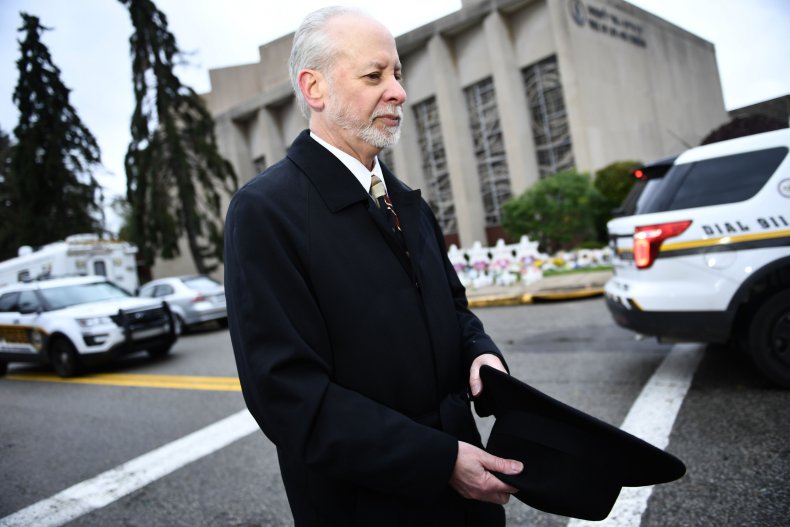 Five people were wounded in Saturday's stabbing, according to the BBC and the suspect, Grafton Thomas, 37, was apprehended in New York City. His lawyer, Michael Sussman, said in a statement that Thomas had a "long history of mental illness" but no history of violent acts.
"He has no known history of anti-Semitism and was raised in a home which embraced and respected all religions and races. He is not a member of any hate groups," Sussman said.
Thomas pleaded not guilty to five counts of attempted murder and one count of burglary and is being held in jail on a $5 million bail.
Since the Tree of Life shooting, Myers told Berman he learned that society rejects people who engage in violent acts against others. Unfortunately, the "small minority" of people doing these acts get the "most attention," causing us to lose sight of the good, caring people in the world.
"This sort of evil will never win because that's not who we are as human beings," Myers said. "The good that I've seen reassures me that we are far better and there are good people out there. We just don't hear enough of them on a regular basis."