Black England Player Slams Bulgaria Manager Who Claims he Heard No Racist Chants During His Team's 6-0 Defeat: 'Is This Guy For Real?'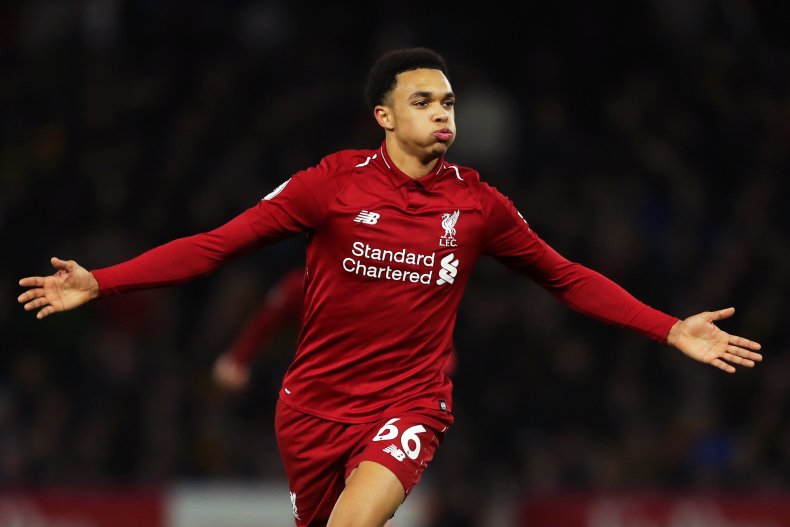 England soccer player Trent Alexander-Arnold is speaking out amid responses to an incident involving racist chants during Monday's Euro 2020 qualifier match between his team and Bulgaria.
The game was stopped two times following jeering and gestures from the crowd—including Nazi salutes—as England defeated their opponents six-to-zero.
However, Bulgaria coach Krasimir Balakov later said that he "did not hear any chanting," to which Alexander-Arnold replied: "Is this guy for real? The way the team stuck together last night was unreal but we can't ignore what happened. The racism has gotta stop."
According to a BBC report, Balakov also said that he "saw the referee stopped the game," but "the behavior was also not only on behalf of the Bulgarian fans but also the English fans." He insisted that English fans—who were shouting during the Bulgarian National Anthem—were the source of animosity during the game.
"During the second half they used words against our fans which I find unacceptable," Balakov commented.
According to English Football Association chairman Greg Clarke, 50 people had to be removed from the stadium during halftime.
Sky Sports reporter Rob Dorsett said he heard monkey chants on various occasions throughout the game—primarily when England players Tyrone Mings and Marcus Rashford were in possession of the ball, Reuters reported.
"I heard one fan clearly shout 'Hey, monkey' as Mings passed the ball," he told the outlet.
After the game, some of England's players took to Twitter to call out the crowd's behavior and express gratitude for their fans' continued support.
"Not an easy situation to play in and not one which should be happening in 2019," Marcus Rashford tweeted. "Proud we rose above it to take three points but this needs stamping out."
"The best way to bounce back. Proud of the team," Harry McGuire posted. "There's no place in football for that—disgraceful behaviour. Something must be done."
"Feeling sorry for Bulgaria to be represented by such idiots in their stadium," Raheem Sterling added. "...At least we did our job."
On Tuesday, the president of the Bulgaria Football Union, Borislav Mihaylov, stepped down from his position after calls for his resignation from Prime Minister Boyko Borissov in response to Monday's game.
"It is unacceptable for Bulgaria, which is one of the most tolerant countries in the world, and people of different ethnicity and religions live in peace, to be associated with racism and xenophobia," said Borissov, rebuking the incident.