Trevor Lawrence Thanks Jaguars Fans For Wedding Gifts, Hints He'll Go No. 1
Former Clemson quarterback Trevor Lawrence got married on Saturday, and he was apparently showered with gifts and donations to his favorite charities by fans of the Jacksonville Jaguars.
Lawrence, who opted to forego his senior year, has long been projected to be the top pick of this month's NFL Draft. The Jaguars have that No. 1 pick, and it's expected that new coach Urban Meyer will take Lawrence to build his offense around.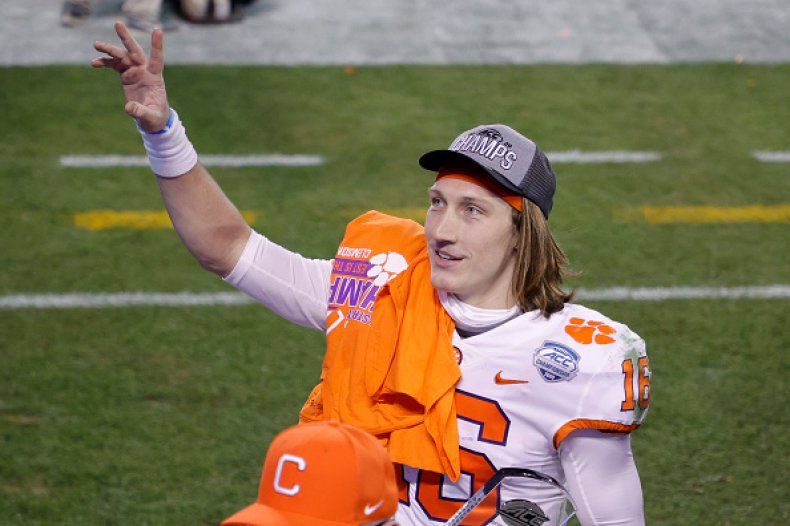 Nothing is set in stone until the draft picks are announced that first night, but Lawrence may have let it slip with his tweet thanking Jaguars fans, indicating he'll reciprocate donations to Jacksonville charities.
"Thank you @Jaguars fans. We really appreciate the wedding gifts and donations for charities of our choice! In addition to the donations, Marissa and I will also be donating $20K to charities in Jacksonville. Thanks again, we hope to be a part of your community soon," Lawrence tweeted, ending it with the folded hands emoji.
The NFL Draft will take place April 29 - May 1 in Cleveland this year. Only the first round will happen on the first night, with three rounds each of the next two days. Lawrence has already said he is declining the invitation to be in Cleveland.
Lawrence won a national championship his freshman season (2018), a national runner-up finish in 2019 and another College Football Playoff appearance in 2020. Last year, he finished runner-up for the Heisman Trophy behind Alabama's DeVonte Smith. Lawrence finished seventh in the 2019 Heisman Trophy race.
The only two losses in his career both came in the college playoffs, and both in the Mercedes-Benz Superdome in New Orleans. He lost to Joe Burrow and the LSU Tigers in the championship following the 2019 season, and he lost to Justin Fields and the Ohio State Buckeyes in the 2020 semifinals.
He is listed at 6-foot-6, 220 pounds. In three seasons at Clemson, he completed 758 passes for 10,098 yards and 90 touchdowns with just 17 interceptions. He had a passer rating of 164.3 for his career, and he completed at least 65 percent of his passes in all three seasons.
Lawrence is part of a quarterback draft class that is more stacked than it's been in years, and he still appears to be the frontrunner of the group. There are five quarterbacks expected to go in the first round: Lawrence, Zack Wilson (BYU), Justin Fields (Ohio State), Mac Jones (Alabama) and Trey Lance (North Dakota State). Kyle Trask (Florida) could also go in the first round or early second round. Sam Ehlinger (Texas) and Kellen Mond (Texas A&M) could also go in the first 3-4 rounds.