Trevor Noah Addresses Larger Issue of Abuse in Kim-Kanye Split
Daily Show host Trevor Noah says the caustic and public split between Kim Kardashian and Kanye West highlights the harassment and potential violence women face when trying to leave a relationship.
Noah drew parallels between West's behavior towards Kardashian and that of domestic abusers during a monologue Tuesday. Advocates for survivors of domestic violence said Noah's remarks show the potential danger women face when trying to leave a partner lashing out when losing control of the relationship.
"If Kim Kardashian cannot escape this, what chance do normal women have?" Noah said.
Noah pointed to how rapper and designer West, now known as Ye, has acted "more and more belligerent" in his efforts to win back model and reality TV star Kardashian.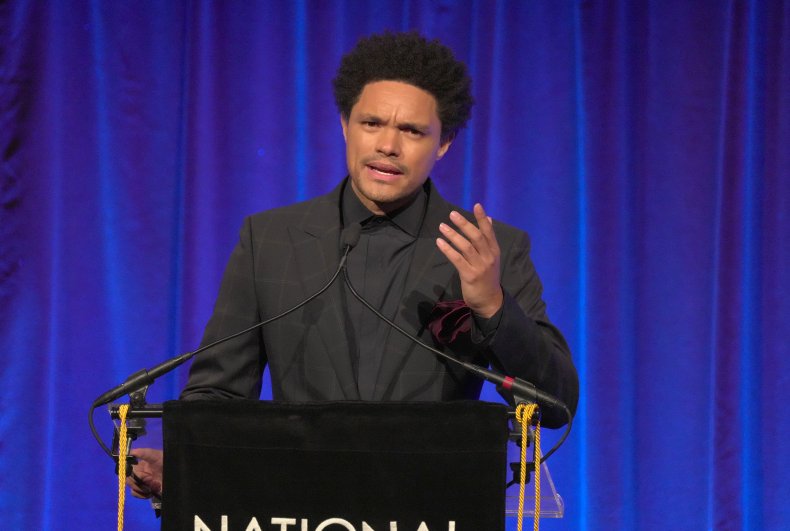 West has taken to social media to accuse Kardashian of keeping him from their four children after she filed for divorce in February. Kardashian has denied the accusation, saying West has been allowed to pick up their kids for school.
She's also shared screenshots saying West was creating a "dangerous and scary environment" for her and SNL actor Pete Davidson, whom she is seeing romantically.
"Divorce is difficult enough on our children and Kanye's obsession with trying to control and manipulate our situation so negatively and publicly is only causing further pain for all," Kardashian said in a statement posted to Instagram.
West has pushed back on the criticism, saying, "my name has been dragged." On Wednesday, West saw his Instagram account suspended for 24 hours for targeting Noah with a post containing a racial slur.
Noah said that while it may be difficult to sympathize with Kardashian because of her fame and wealth, "what she's going through is terrifying to watch. And it shines a spotlight on what so many women go through when they choose to leave."
Noah said onlookers often don't understand why a woman doesn't leave a troubled relationship. He said Kardashian's situation shows that "a lot of women realize when they do leave, the guy will get even crazier." He pointed to a music video from West featuring him kidnaping a claymation representation of Davidson. The song includes lyrics about beating Davidson.
Marissa Seko, family violence intervention unit manager at the Oakland, California-based Family Violence Law Center, told Newsweek the people trying to leave or end an abusive relationship face increased risk of violence.
She said domestic violence is based on patterns of power and control within a relationship and abusers will escalate their abusive behaviors when they feel like they are losing control, she said.
"Often those times are when abusers are lashing out through social media, or they're escalating their violence or they're trying to put other kinds of pressure on someone to return to a relationship," she said. "It is part of why it is so hard to leave an abusive situation."
Seko said stalking, which she said is also another attempt to control someone, can be particularly scary. Stalkers can now use social media to track and repeatedly contact their target, she said. But she said law enforcement doesn't always understand that stalking can be part of a dangerous pattern and can be slow to respond.
Noah, in his monologue, spoke of his experience growing up with an abusive stepfather who shot his mother in the head. His mother's complaints of abuse were downplayed by people and the police before she was shot. Noah stressed he wasn't saying West would commit similar violence.
"But, just, as society we have to ask ourselves questions," said Noah. "Do we wish to stand by and watch a car crash when we thought we saw it coming? Or do we at least want to say, 'Hey, slow down, let's put our hazards on?"
Newsweek has reached out to West and Kardashian for comment.