Trevor Noah Called Out for Grammys Joke About Sharing a Bed With Cardi B
Trevor Noah made some Grammy viewers uncomfortable on Sunday night when he joked about being in bed with Cardi B. Following the rapper's elaborate (and heavily censored) performance of "WAP" alongside Megan Thee Stallion, Noah made his way onto the stage Cardi B was on, which was shaped like a giant bed, and joked that he previously had a dream about being in bed with the performer.
"I just realized something," Noah said into his microphone. "This is a dream. This is a dream that I've had—to be in bed with Cardi B. And then my grandmother comes in and whoops our a**es for having our shoes on in the bed."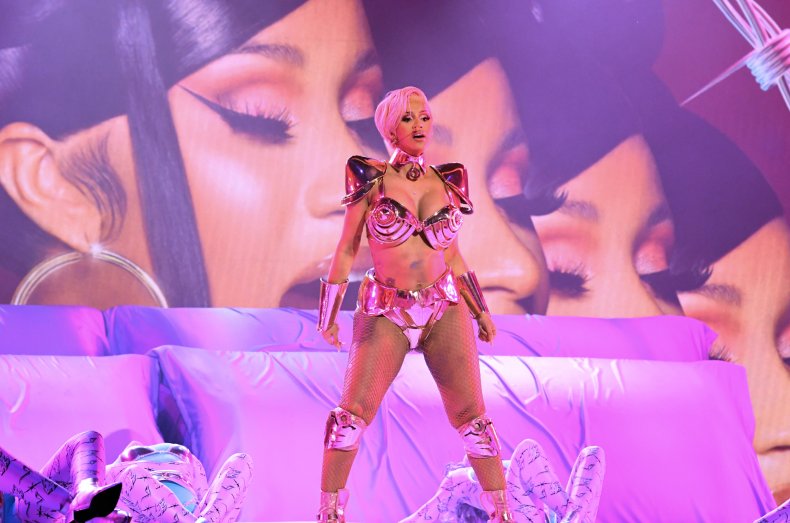 The joke didn't land right for some who called Noah's comment sexist. Many Twitter users were quick to voice their discomfort with the bit and label it as degrading.
"That Trevor Noah riff about finally sharing a bed with Cardi B could've been workshopped a bit more," Vice writer Josh Terry tweeted.
Another added: "We didn't need to hear his little boy fantasies while she stood there."
Cardi B didn't respond directly when Noah joked about getting into bed with her. Instead, she laughed a bit and continued to wipe sweat from her brow.
As the ceremony was ending, the rapper got onto Twitter, but she made no mention of Noah. "I hope you guys enjoyed The UP/WAP performance. Boyyy I was tired but I didn't want to make my fans wait so long for a performance. Love you guys .Congrats on all the winners tonight," Cardi wrote.
Amid the backlash for the joke, Noah's official Twitter account sent out a photo of him and Cardi on the stage. "When they write my story," the tweet reads, "may this picture prove that I was a backup dancer for @iamcardib."
Noah even shared a gif of the two dancing atop the bed, which was originally tweeted out by The Daily Show's official account. "When the wedding is enforcing social distancing," reads the tweet from The Daily Show.
As for the "WAP" performance itself, it drew a good amount of praise from people online, who were impressed with Cardi B and Megan Thee Stallion's dancing. Of course, there were some people who joked about the performance—specifically that they were a bit embarrassed to be watching it alongside their parents.
Cardi B wasn't nominated for any awards on Sunday night, but Megan Thee Stallion took home three in total. She won for Best New Artist, Best Rap Performance ("Savage" feat. Beyoncé) and Best Rap Song ("Savage" feat. Beyoncé). Megan was also nominated for Record of the Year, but that award went to Billie Eilish, for "Everything I Wanted."