Trevor Noah Compares the Return of Coronavirus to a 'Zombie or a Jehovah's Witness'
Like most late-night shows, The Daily Show is still social distancing—and it has nothing to do with the fact that host Trevor Noah may or may not have paid the utility bill at the show's production studio. It's because, despite the country reopening, the coronavirus is still raging on.
Restrictions have eased in a number of cities and countries around the globe, but those efforts to get life back to normal may have been a bit premature. In places like New Zealand, which had essentially eliminated the threat of coronavirus thanks to its strict lockdown measures, two brand new cases of the virus have suddenly popped up now that just about every aspect of the country has reopened.
During Wednesday night's show, Noah warned that countries' urge to get back to business as usual would likely come with consequences that we've seen before—in pretty much every horror movie ever.
"Oh, no, New Zealand. You made the classic zombie-movie mistake. When you are in the house and everything is fine, and someone knocks on the door, you don't let that person in. It's going to be a zombie—or a Jehovah's Witness. Either way, don't open the door," Noah said.
Noah added that the virus is also popping up again in China. After 50 days of no new cases in Beijing reported, the capital city is enacting shutdown measures once again after more than 100 cases were confirmed.
"Wait a minute, China is shutting down Beijing because of 100 cases? Either China takes this way more seriously than everyone else or there's something they're not telling us again," Noah teased.
Noah's concerns were only amplified by the reports that coronavirus cases were on the rise in some cities across the United States. In fact, states including Alabama, Arizona, California, Florida, Nevada, North Carolina, Oklahoma, Oregon, South Carolina and Texas have seen their highest seven-day average of new coronavirus cases per day since the pandemic erupted in the U.S. in March, according to a CNN analysis of a recent John Hopkins University report.
President Donald Trump blamed the incline of cases on the increase in testing, recently telling reporters that if testing were to stop, there'd be fewer cases of coronavirus—a statement Noah thought was "technically right."
"If you don't test anybody, then you don't have any cases. The same way if black people stopped recording the cops, we would have zero cases of police brutality," the late-night host said. "Ignorance is bliss."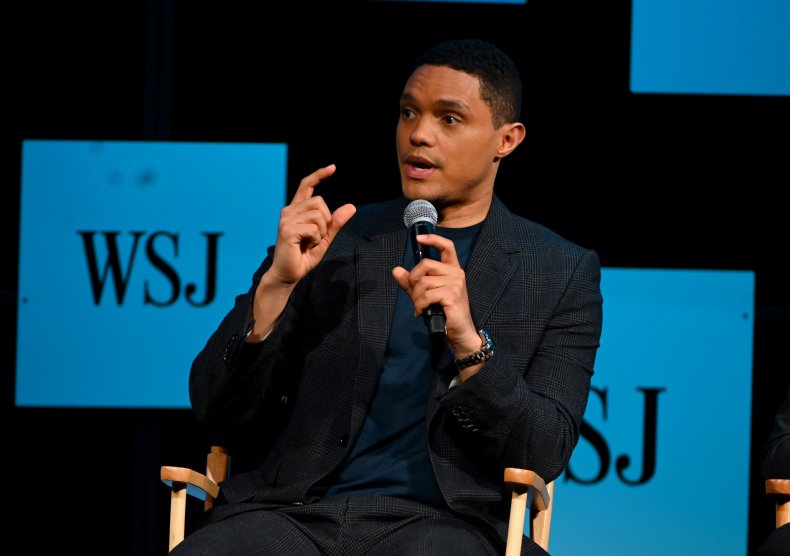 There is a bright side to all of this, though. Despite cases being slowly on the rise again in various places, researchers have made some progress in the fight against the virus. Noah pointed out that at Oxford University, researchers have discovered a common steroid that's been around for nearly 60 years that has apparently helped to significantly reduce the risk of death in severely ill patients. He also mentioned that other experts have determined that people likely can't contract coronavirus from touching surfaces or from brief outdoor contact. It is now believed that the main form of contraction comes from close contact with others for extended periods and crowded events at poorly ventilated venues, which Noah thought was a good thing to know.
"Like, now we know the total nightmare scenario for catching coronavirus would be like a big crowded indoor event where thousands of people are packed together, screaming and chanting about locking someone up," Noah said. "But luckily, no one would do such a thing."