Video: Trevor Noah on 'Awkward Threesome' Oval Office Meeting—'Just Old People Fighting'
Trevor Noah kicked Tuesday's Daily Show off with a look at the Oval Office meeting between President Donald Trump and Democrat congressional leaders Representative Nancy Pelosi and Senator Chuck Schumer, which he described as an "absolute mess."
"Trump is demanding $5 billion for a border wall. And as you can imagine, Democrats would rather release Obama's original Kenyan birth certificate than give Trump that wall money," he said. "Which is why this meeting turned into an absolute mess."
Read More: Here's what Trump's wall will look like—if it ever gets built
In the ill-tempered meeting Tuesday, Trump met with Pelosi and Schumer to discuss a potential government shutdown if Congress does not approve a budget funding his wall along the U.S.-Mexico border.
First, Noah joked that the wall is top of Trump's Christmas wish list—which is unlikely to be granted.
"Because if there's one person that's on the naughty list, it's Trump."
"Santa's like 'oh you've been a naughty boy this year Donald. You put children in cages,'" joked Noah, and said Trump "is like 'Yeah, I've been so naughty, I've been a bad boy… Spank me Santa, spank me!"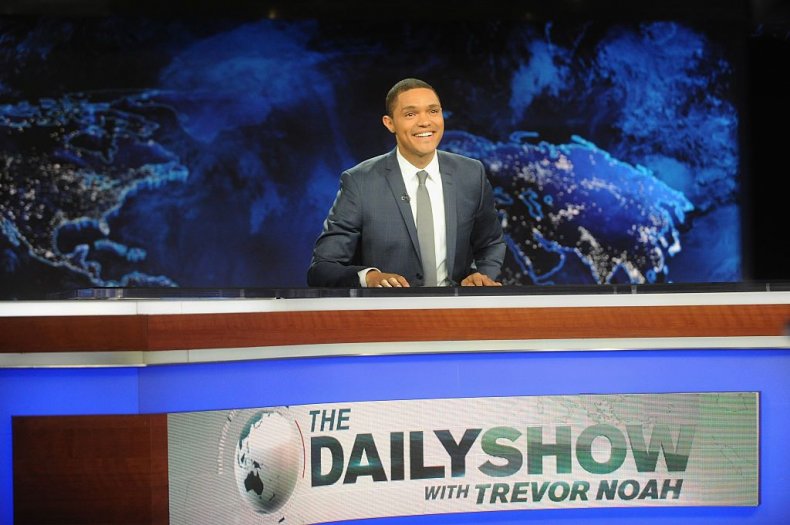 At the meeting, the Democrats said that Trump should take responsibility for a potential shutdown—which the president proudly accepted.
"Okay. Okay. Why does Chuck Schumer keep talking to the camera?" he said. "They're having an argument and he's like a character in an episode of The Office."
"But honestly, watching these three go at it for twenty minutes, it felt like being in the TV room of the nursing room," he said. "Just old people fighting."
He then turned to Vice President Mike Pence, who sat watching the Oval Office exchange in silence.
"My favorite part of this awkward threesome, was Mike Pence, because you might not have even noticed him," he said. "Because he didn't say a word the entire time. He just sat there motionless, like a guy whose edibles just kicked in."
He speculated about what was going through Pence's head. "He was probably just daydreaming about, I don't know, whatever it is Mike Pence daydreams about" —with a picture showing a Pence daydreaming about the theocratic dystopia depicted in The Handmaid's Tale.