What You Missed on Late Night: Trevor Noah Says Trump's 'White House Thinks Chaos Is an Essential Service'
If there's one thing that's become incredibly evident with the coronavirus pandemic, it's that nothing is as it once was.
Just about every aspect of American life has changed. Millions of people have lost their jobs, and many of the ones who do get to work from home haven't worn pants in over a month. Police are making fewer arrests for small crimes, and officers aren't responding to non-essential calls like getting your cat out of a tree or reports of minor fender-benders. Leaving the house without a face mask almost feels like a crime—and depending on where you live, it actually might be. There's no dining out at restaurants, and hanging out at the park with friends is off-limits.
Everything is upended. (Deep sigh.) But, hey, at least we can count on late-night hosts to help articulate some of our frustrations, right? On The Daily Show on Thursday, Trevor Noah took note of the confusion coming out of Washington—particularly the firing of Rick Bright, the former director of the Department of Health and Human Services' Biomedical Advanced Research and Development Authority, who was helping develop a coronavirus vaccine.
Meanwhile, on The Late Show, Stephen Colbert was impressed to see Senate Majority Leader Mitch McConnell continuing to rile lawmakers up with his recent proposals, and Jimmy Kimmel didn't think it was too out of the ordinary to hear President Donald Trump contradicting his own infectious disease experts.
Check out some of the best of late-night last night below.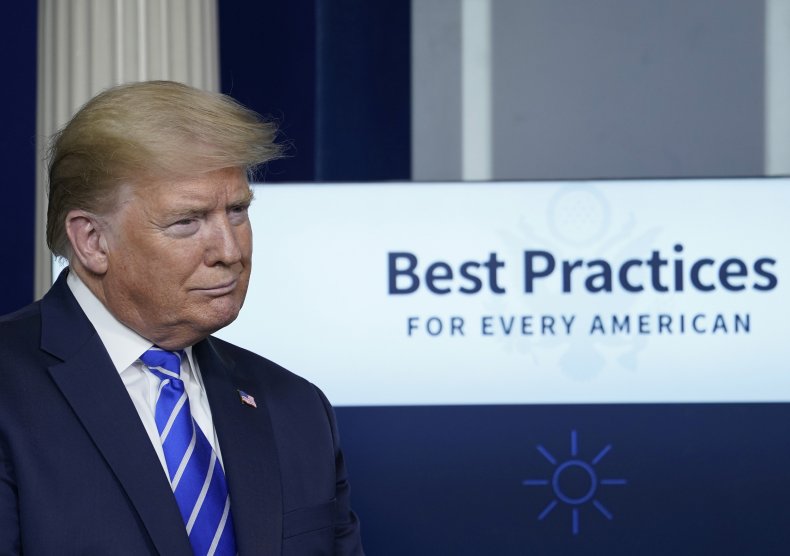 The Daily Show with Trevor Noah
Noah kicked off his big-story monologue by tackling the chaos that's consuming the federal government following the firing of health official Rick Bright.
"Ever since coronavirus started nothing's been the same. Policing is not the same. Relationships are the not the same. Getting drunk at 10 a.m. is not the same. I mean, it's way less exciting if everyone's doing it now," Noah said. "But there's one thing that's remained surprisingly constant, and that's been the chaos within the Trump administration. Because where most administrations would be galvanized by an external threat, this White House seems to think of chaos as an essential service that they need to keep providing."
The late-night host was baffled that a man who was helping concoct the much-needed coronavirus vaccine could be fired with no apparent explanation. "We're in the middle of a pandemic and Trump's people are scrambling like they're on an Andy Cohen reunion show."
Jimmy Kimmel Live
The president's many contradictions were the main topic of discussion on Kimmel's show, who appeared in his monologue wearing a face full of makeup and a Jolly Rancher red lip, courtesy of his daughter Jane.
"President Trump is on quite a roll contradicting his own infectious disease experts on his daily televised temper tantrum," Kimmel said before cutting to a clip of Trump claiming that coronavirus might not come back in the fall at all.
Meanwhile, Dr. Anthony Fauci, director of the National Institute of Allergy and Infectious Diseases and the White House's lead expert on all things coronavirus, appeared in the same press briefing just moments later claiming he was certain there would be a second wave of coronavirus by fall.
"Now I don't know who to trust!" Kimmel said. "Here's the thing folks, our president is a contradict-head. Trump also trotted out the director of the CDC, Dr. Robert Redfield, who told the Washington Post we may have an even more devastating round of the coronavirus coming. That warning did not go over well with the president, who immediately tweeted that the doctor was misquoted and then marched him up to the podium to say, 'I was misquoted.'"
Interestingly enough, Redfield told reporters he was "accurately quoted" calling the expected second round of coronavirus "difficult" in the Washington Post story, but said the headline was inaccurate.
"These poor doctors working for Trump. If they don't give us the truth, they're not doing their jobs. But if they do tell us the truth, there's a good chance he'll fire them. So their only option is to play dumb and hope Trump gets distracted by a filet of fish or something," Kimmel teased.
The Late Show with Stephen Colbert
Over at Colbert's house, the late-night host was astonished by Senate Majority Leader (and "profile in porridge") Mitch McConnell's suggestion to Congress that states should consider bankruptcy instead of relying on the federal government to issue more emergency funding. Colbert's not a fan, to say the least.
"Bankruptcy? Really? They're American states, not Trump casinos!" Colbert proclaimed. "And, unsurprisingly, McConnell's 'screw the states' plan isn't very popular with the states, not even among conservatives."