Trevor Noah, French Ambassador Spar Over 'White Supremacist,' African Identity World Cup Joke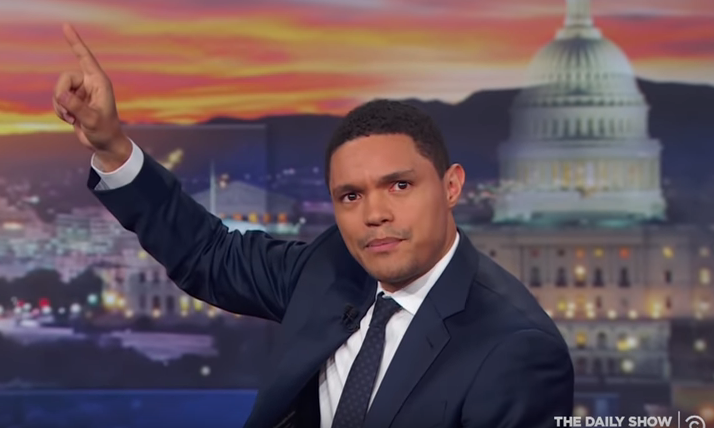 Trevor Noah, host of Comedy Central'sThe Daily Show, responded to backlash over his "legitimizing" of racist ideologies after a joke the comedian made on his show Monday about Africans—and not the French—winning the World Cup.
French Ambassador to the United States Gérard Araud sent a strongly worded message to Noah declaring his anger about the South African-born comedian making a joke that implies "whiteness is the only definition of being French." Noah's joke referenced the dark skin and African heritage of several members of the French team, who beat Croatia 4-2 in Moscow the day before. Noah said the players' African descent makes France "Africans' backup team."
"I get it, they have to say it's the French team," Noah said Monday. "But look at those guys. You don't get that tan by hanging out in the south of France, my friends. Basically, if you don't understand, France is Africans' backup team. Once Senegal and Nigeria got knocked out, that's who we root for."
French social media users and the French ambassador immediately pounced on Noah's joke, accusing him of "alt-right humor" and denying the majority of the France-born players of their French identity. Ambassador Araud has continued his assault on Noah, who was born in South Africa to a white father and black mother. In a letter that Noah read to his audience Wednesday during taping breaks, Araud wrote: "I heard your words about 'an African victory,' nothing could be less true...By calling them an African team, it seems you are denying their Frenchness. This, even in jest, legitimizes the ideology which claims whiteness as the only definition of being French."
Araud continued, making the argument that Noah's brand of American identity politics humor is offensive to a country where "there is no hyphenated identity. Roots are an individual reality."
"As many of the players have already stated themselves, their parents may have come from another country, but the great majority of them, all but two out of 23 were born in France. They were educated in France. They learned to play soccer in France. They are French citizens. They're proud of their country, France," Araud wrote.
Noah responded to the controversy during his Wednesday show, saying it wasn't a reflection of "France's diversity," but rather a "reflection of France's colonialism." Noah explained to the audience that he researched the topic and was willing to listen to criticism. He detailed how Nazis used African identity to divide and attack French citizens based upon their ancestors.
"Coming from South Africa, coming from Africa, and even watching the World Cup in the United States of America, black people all over the world were celebrating the Africanness of the French players. Not in a negative way, but rather in a positive way going 'look at these Africans, who can become French.' It's a celebration of that achievement," said Noah. He criticized people that provide the binary argument that one can only be either African or French. "Why can't they be both?" he asked to the applauding audience.
He claimed Araud was making the argument that "in order to be French you have to erase everything that is African. Noah said that while America is a flawed country, he enjoys the ability to celebrate any culture through the identity of being an American. He shot back at the French politicians, saying it "vexes" him to see when African immigrants commit a crime or are unemployed, that their "immigrant" side is reflected by the French leaders.
Araud continued his response to Noah on Thursday, taking to Twitter to write the comedian is making the "the argument of the far-right."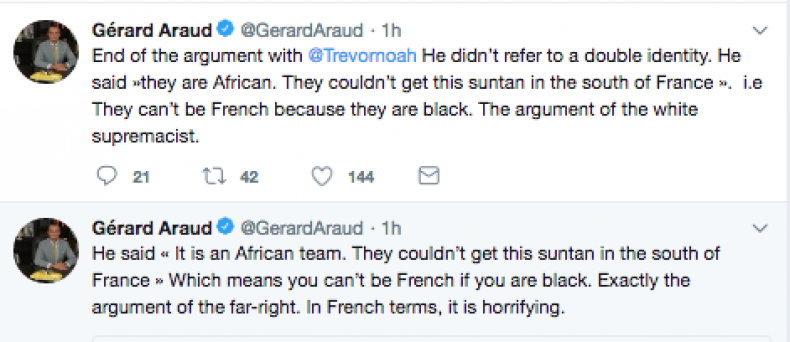 "He said 'It is an African team. They couldn't get this suntan in the south of France.' Which means you can't be French if you are black. Exactly the argument of the far-right. In French terms, it is horrifying," Araud tweeted Thursday. "End of the argument with @Trevornoah He didn't refer to a double identity. He said 'they are African. They couldn't get this suntan in the south of France.' i.e They can't be French because they are black. The argument of the white supremacist."
The French ambassador to the U.S. has spent hours defending his critique of the comedian, telling one person that the country does not "ban hijabs" of Muslim women. "France is not an ethnic country. Common culture—an ever-evolving reality —would be more correct."