The Daily Show​ host Trevor Noah has expressed disbelief that members of President Donald Trump's staff are working within the White House to frustrate his agenda, commenting: "This whole time we've been dealing with the watered-down version of Trump."
The host was responding to the unprecedented op-ed published in The New York Times on Wednesday, headlined "I Am Part of the Resistance Inside the Trump Administration."
The author, who is an unidentified senior official in the Trump administration, describes a concerted effort by colleagues to protect America's institutions from the president.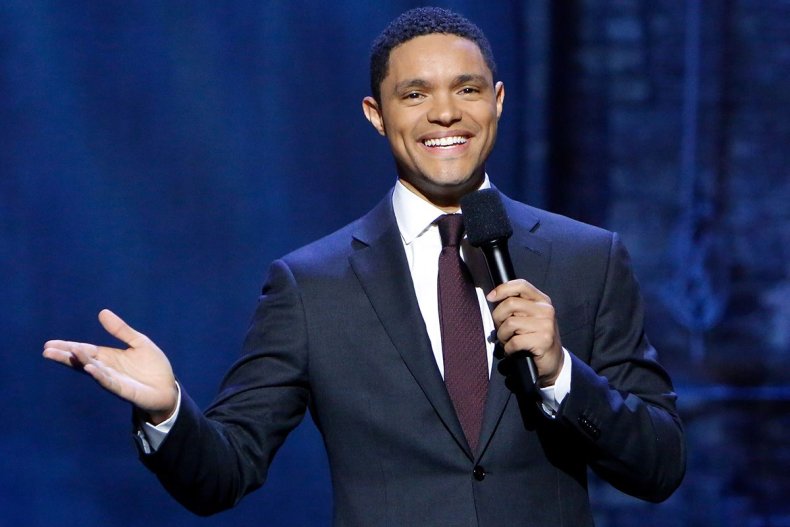 "Holy shit," Noah said. "There's a secret group of people within the White House actively working to curb President Trump, which is wild because this means this whole time we've been dealing with the watered-down version of Trump."
"You're telling me this is the better version?" he went on. "I thought this was the peak of craziness—this is Diet Trump? That's like finding out [fecal porn video] 'Two Girls, One Cup' is the PG version of the clip."
The New York Times op-ed immediately went viral and included several extraordinary claims. Among them were aides had considered removing the president from office using the 25th Amendment. The amendment allows for a president who is "unable to discharge the powers and duties of his office" to be replaced. But the process is complex and, the author wrote, "no one wanted to precipitate a constitutional crisis."
Noah was unimpressed with this logic. "Wait, what? So Trump is such a danger to America that his cabinet thought about using the 25th Amendment to remove him from office, but then they decided not to use it because it would be too messy?" he said.
"The 25th Amendment is there so you can use it," he continued. "It's like there's a sign that says: "In Case of Emergency Break Glass" and these guys were like: 'I mean, we could break the glass, but then there'd be glass everywhere. Maybe we can just try steer the fire in a different direction.'"
Trump responded furiously to the publication of the op-ed at the White House late on Wednesday. He railed against the "failing" Times and called the anonymous source "gutless" and "probably failing" as well.
"We're doing a great job," Trump said. "The poll numbers are through the roof, and guess what: No one is going to come close to beating me in 2020, because of what we've done."
He continued his attack on Twitter later, posting: "TREASON?" He then followed up: "If the GUTLESS anonymous person does indeed exist, the Times must, for National Security purposes, turn him/her over to government at once!" There is no statute in the US legal code against members of office writing anonymous op-eds.