Trevor Noah Pretends to Promote Solidarity at Oscars, Says 'White People Don't Know I'm Lying' in Xhosa
Trevor Noah introduced Black Panther as a nominee for the best picture category at the Oscars on February 24. While onstage, the host of the The Daily Show took the opportunity to joke about white people.
"Growing up as a young boy in Wakanda, I would see King T'Challa flying over our village, and he would remind me of a great Xhosa phrase: Abelungu abazi ubu ndiyaxoka, which means, 'In times like these, we are stronger when we fight together than when we try to fight apart,'" he said, receiving applause.
But as BBC News noted, the phrase actually translates to "White people don't know that I'm lying."
Noah's joke prompted laughter among Xhosa speakers on Twitter. France 24 reported that Noah was trending on Twitter in South Africa a few hours later.
The comedian also took aim at actor Mel Gibson during his Sunday remarks.
"Even backstage, Mel Gibson came up to me like, 'Wakanda forever.' He said another word after that, but the Wakanda part was nice," Noah said.
In 2010, Gibson drew attention for a racist rant he left on the voicemail of his ex-girlfriend Oksana Grigorieva. He admitted in the call to hitting her, saying she "deserved it," according to The Atlantic.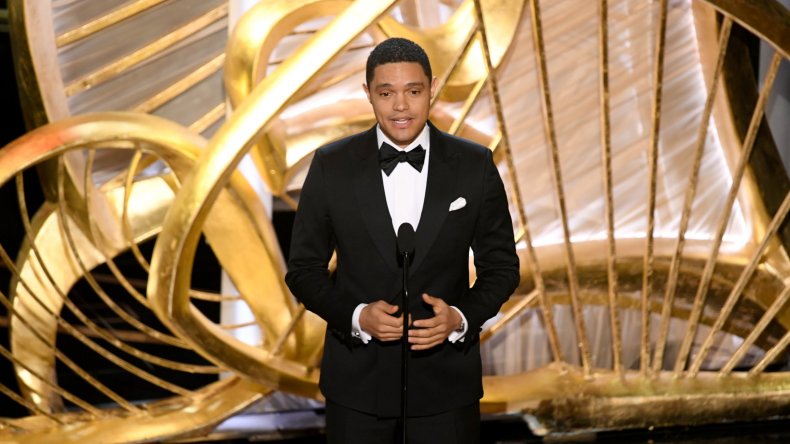 The ceremony contained a number of outwardly political moments, with figures criticizing President Donald Trump.
"Just a quick update for everybody, in case you're confused: There is no host tonight, there won't be a popular movie category, and Mexico is not paying for the wall," Maya Rudolph said early in the show.
Spike Lee, the director of BlacKkKlansman, also criticized the president after winning the Oscar for best adapted screenplay.
"That car drove down that one street in [Charlottesville], Virginia, and the president of the United States did not reject, refute [or] did not denounce the Klan, alt-right and Neo-Nazis," Lee said, referencing the 2017 white supremacist rally in Virginia.
He encouraged people to vote against Trump during the next presidential election, saying, "The 2020 presidential election is around the corner. Let's all mobilize. Let's all be on the right side of history. Make the moral choice between love versus hate."
Lee's political statements prompted a response from Trump, who tweeted Monday morning that it would "Be nice if Spike Lee could read his notes, or better yet not have to use notes at all, when doing his racist hit on your President, who has done more for African Americans (Criminal Justice Reform, Lowest Unemployment numbers in History, Tax Cuts,etc.) than almost any other Pres."
Trevor Noah Pretends to Promote Solidarity at Oscars, Says 'White People Don't Know I'm Lying' in Xhosa | U.S.