Trevor Reed Held in Russian 'Stalin-Era Gulag,' Parents Say as Ukraine Tensions Mount
Trevor Reed, a former U.S. Marine who is currently serving a nine-year prison sentence in Russia, has been subjected to harsh conditions for a crime he did not commit, his family told Newsweek.
Now, with the situation on the Ukrainian border continuing to intensify with reportedly around 100,000 Russian troops lined up on the border, Reed's family has grown even more concerned.
"If war breaks out in Ukraine, we may never see our son again," Joey Reed, Trevor's father, said on Monday.
Thirty-year-old Trevor Reed has been in Russian custody since August 2019 after he was charged with assaulting police officers who were driving him to a police station following a night out.
Reed, who was visiting his girlfriend in Moscow at the time of his arrest, has denied the charges against him. Joey Reed maintained his son's innocence during a Monday phone call with Newsweek.
"The judge refused to hear any of the evidence, and they had already decided what they're going to do. They gave him the longest sentence for that charge in modern Russian history," Joey Reed said of the verdict a Russian court reached in July 2020.
He added that such a charge warranted only a fine and then release. Reed said, "No one was hurt or injured. We have video evidence and witnesses that prove beyond any doubt that he did nothing."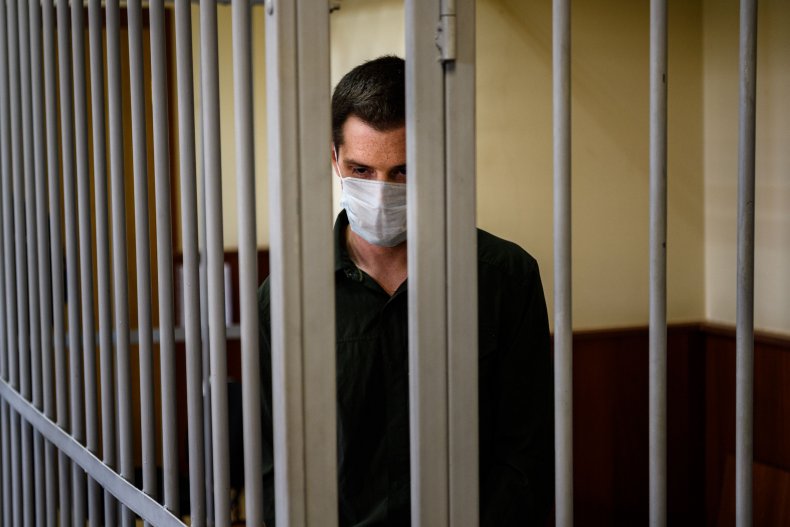 On Friday, U.S. Secretary of State Antony Blinken brought up Trevor Reed and another former Marine imprisoned in Russia, Paul Whelan, during a meeting with Russian Foreign Minister Sergey Lavrov.
Blinken urged Russia "to do the right thing and let them come home."
David Whelan, Paul's brother, told Newsweek his family was appreciative of Blinken's efforts.
"We're grateful that, at a time when the White House is trying to deter an illegal invasion of Ukraine by Russia, that Secretary Blinken still took the opportunity to raise Paul's case and that of Trevor Reed," David Whelan said. "It is this sort of continued engagement with the Russian government that seems integral to finding a resolution and securing Paul's freedom."
Joey Reed said he and his wife, Paula, were similarly appreciative of Blinken's efforts, but they also asked for the Biden administration to do more to push for their son's release.
"We're a little bit concerned that this administration hasn't made a determination on whether or not they're willing to make trades for wrongful detainees," he said. "If there was something on the table, and it dealt with a prisoner trade or something like that, we wish they would just go ahead and pull the trigger before it's too late."
The Reeds said they had been in communication with Blinken, who held a virtual phone call shortly after he took office with a large group of people who have family members detained in foreign countries. They had another call with him "a few months ago," but they said their main point of contact in the government has been John Sullivan, the U.S. Ambassador to Russia.
Joey Reed said Sullivan not only regularly advocates for his son's release, but he also visits him.
"He's made a couple of trips out to Mordovia (where Trevor is imprisoned). That's an eight-hour drive in an armored vehicle," Reed said, noting Sullivan also visits Whelan during those trips since the two U.S. citizens' prisons are only about 10 miles apart.
Life in prison has been incredibly hard for Trevor, his father said.
"Our son is in a Stalin-era Gulag in the middle of the forest somewhere and living literally in something you would see out of a movie," Joey Reed said. "He's generally in solitary confinement. Sometimes, he'll be in a room with another person, and other times he's in a very small room with a bed that folds down off the wall. He has to drink out of a faucet of untreated water, and there's a hole in the floor for a toilet."
Occasionally, Trevor is permitted to call his Russian girlfriend, who the Reeds said they communicate with daily.
Trevor also experiences tremendous back pain due to surgery he had before he was arrested, and he was already malnourished before he went on a short hunger strike in November, his father said.
Joey Reed mentioned the fact that his son is being named in conversations by government officials is encouraging, which was not the case when former President Donald Trump was in office.
"We asked for them to speak out, and neither the president nor the secretary of state would ever acknowledge our son," he said of the previous administration.
Even still, Joey Reed maintained that "time is of the essence," and the family is concerned about what the Ukrainian situation means for their son.
He said, "We're very thankful for Blinken for continuing to mention Trevor and Paul, but we're obviously—like the other dozens of hostage families—a little frustrated that they don't seem to be bringing anyone home."