Trevor Reed, U.S. Citizen Jailed in Russia, Starts Hunger Strike
Former U.S. Marine Trevor Reed, who is serving a nine-year jail sentence in Russia, is on a hunger strike to protest his treatment while incarcerated, according to his parents.
Reed's parents, Joey and Paula Reed, said that he began the protest after being placed in solitary confinement and not receiving adequate medical treatment after potentially contracting tuberculosis, Reuters reported.
Reed, 30, has been detained in Russia since 2019 after being convicted of endangering the lives of two police officers in Moscow, though he has denied the charges.
His parents told Newsweek on Friday that they feared they would never be able to see him again in the wake of Russia's invasion of Ukraine, which has further soured U.S.-Russia relations.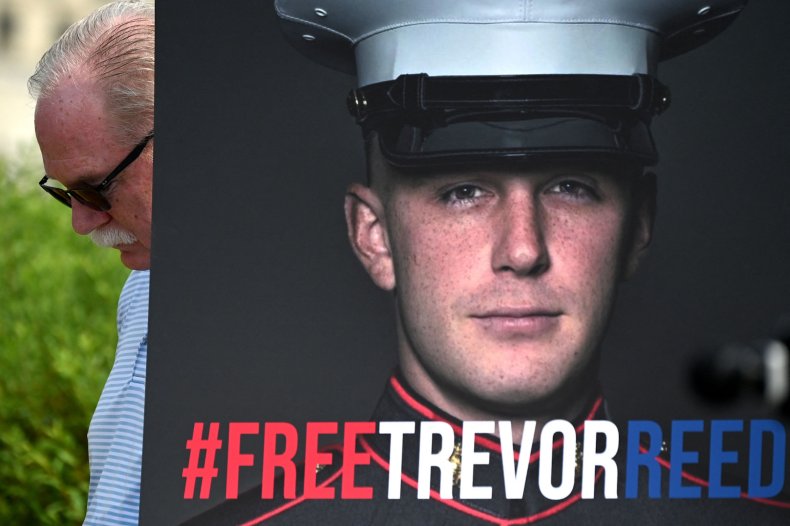 "Trevor's Mordovian lawyer was able to see him today and confirmed that Trevor begun a hunger strike yesterday to protest being sent back to solitary confinement while injured and having TB," the statement read. "Again, while we are in awe of our son's integrity and strength of character, as his parents, there aren't words to express how concerned we are about our son's health."
Reed's parents began demonstrating outside the White House on Wednesday morning with a sign that read "Free Trevor Reed" and "Prisoner of Russia Since 2019."
"We hope the President will be able to find the time to see us. We need his Administration to stop deliberating and start acting. We believe the President [whom we voted for] is the only person who can save our son's life," the statement added.
President Joe Biden has promised a meeting with Reed's parents.
In December, Reed had "prolonged" exposure to another prisoner with active tuberculosis, Jason P. Rebholz, a spokesperson for the U.S. Embassy in Moscow, tweeted in mid-February. Rebholz said that Reed reported coughing up blood, which the U.S. Centers for Disease Control and Prevention designates as a potential symptom of tuberculosis.
Reed's parents said in a statement that he spent 10 days in a prison hospital but was sent back last week despite not receiving a test for tuberculosis. He didn't receive any "meaningful medical care" outside of an X-ray, "which was taken incorrectly," according to the statement.
This is the second time Reed has gone on a hunger strike to protest his detainment and what he alleges are human rights violations, Reuters reported. The first, which he began late last year, lasted nearly a week before he ended it.
Newsweek reached out to Russia's Foreign Ministry for comment but did not hear back in time for publication.
Update 3/30/22, 10:51 a.m. ET: This article was updated with additional information and background.