Trial Delayed for 3 Former Minneapolis Cops Charged in George Floyd's Death
A Minnesota judge delayed the state trial for three former Minneapolis police officers charged in George Floyd's death but did not announce a definitive date.
Judge Peter Cahill granted a request from attorneys for a continuance motion and delayed the start date for the state trial. He told the state prosecutors and defense attorneys for Thomas Lane, J. Keung and Tou Thao that they have until Sunday to inform the court of the newly agreed-upon trial date.
Cahil said the trial can begin at any time from March 14, 2022, through January 9, 2023, but the two sides must agree on the date. Cahill said if an agreement can't be reached, the trial will be set for March 7, KSTP reported.
Last week, both prosecution and defense attorneys asked to delay the start date of the state trial because the three men have an upcoming federal trial for allegedly violating Floyd's civil rights, which is set to begin on January 20. Attorneys have indicated that they're uncertain when that trial will end.
Cahill informed the attorneys if they cannot agree on a start date for the state trial, and the federal trial runs into the March 7 start date given by the court, the state trial will be delayed on a "day-to-day basis" until the federal trial is over, WCCO reported.
Jury selection for the former officrs' federal trial begins on January 20. They are charged with depriving Floyd of his right to be free from indifference to medical needs.
Keung and Thao are also charged with depriving Floyd of his right to be free from unreasonable use of force after they didn't intervene when Chauvin pressed his knee into the back of Floyd's neck.
U.S. District Judge Paul Magnuson, who is hearing the federal trial, told the attorneys on Tuesday they needed to "move the case along" to reduce the possibility of the trial being postponed by the COVID-19 pandemic.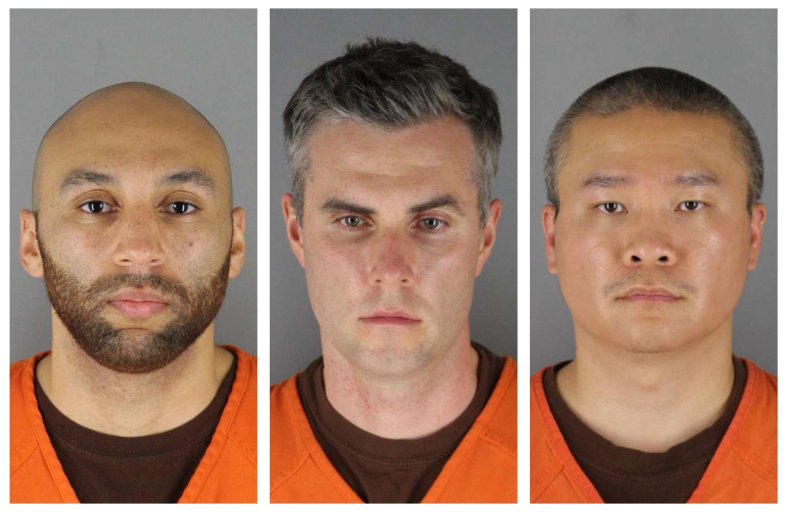 Lane, Kueng and Thao face charges of aiding and abetting both murder and manslaughter.
Derek Chauvin, who is white, was sentenced to 22 and a half years in prison last year on murder and manslaughter charges for pressing his knee against Floyd's neck for up to 9 and a half minutes as Floyd repeatedly said he couldn't breathe and eventually went limp. Chauvin, Kueng and Lane helped restrain the 46-year-old Floyd as he was on the ground. Kueng knelt on Floyd's back, and Lane held down Floyd's legs. Thao kept bystanders from intervening.
Chauvin pleaded guilty in December to a federal count of violating Floyd's civil rights during the May 25, 2020, arrest.
The killing, which was captured on video, galvanized protests against police brutality around the U.S. and beyond.
The Associated Press contributed to this report.