A dozen news guilds and unions representing Tribune Publishing employees spoke out Friday in a combined statement, denouncing the $633 million sale of the company to a hedge fund notorious for gutting newsrooms.
The addition of Tribune to its portfolio makes Alden Global Capital the second-largest newspaper owner in the U.S. behind Gannett. A hundred newspapers and 200 publications already under Alden's ownership have suffered devastating cuts to newsrooms, a reality the guilds representing Tribune employees pledge to fight.
"Today, Tribune Publishing shareholders voted to put profit and greed over local news in our country," the guild said in the statement. "While we are saddened by the turn of events, we know that our work over the past year—to build allies in the community and to raise awareness about Alden—is not in vain. Those allies will support us as we fight against Alden to protect local news and the cuts that they will inevitably try to make."
Tribune's shareholders voted to approve the sale to Alden, who already had a 32 percent stake in the company as of 2019, on Friday following the years of pursuit of full ownership from the hedge fund. Los Angeles Times owner Patrick Soon-Shiong, who held 24 percent of Tribune's shares, abstained from the vote.
Organizers at Tribune papers like the Baltimore Sun staged campaigns months in advance of the sale and worked to procure alternative local buyers. Though organizers at the Baltimore Sun could not be reached by Newsweek for comment, Charlie Johnson, a co-founder of the Chicago Tribune Guild and a reporter who left the paper last week after 10 years, said Baltimore staffers had nearly managed to lock down a buyer.
Johnson said a wealthy local man, hotel magnate Stewart Bainum Jr., took an interest in purchasing the Baltimore Sun and turning it into a nonprofit model. It's a strategy local news companies across the country are considering after years of financial woes that have killed nearly a quarter of the nation's newspapers since 2004, according to new research on news deserts by journalist Penny Abernathy.
Ultimately, the guilds were not able to pull together enough money or people with a shared vision to make a counteroffer. Johnson added that the ownership can still change—associates of Bainum told NPR that he still has an interest in buying the Baltimore Sun. If Alden refuses, Bainum intends to pump millions into a digital news startup to rival the Sun.
"There is no reason this can't change," Johnson said.
In a message to its members provided to Newsweek by Chicago Tribune journalist Gregory Pratt, the Guild lamented the Alden sale but vowed to stand by its journalists.
"We are all deeply concerned by Alden Global Capital's purchase of Tribune Publishing. It is a sad, sobering day for journalism and the city of Chicago," the Guild said. "We have powerful labor protections in the form of status quo that prevent the company from taking unilateral actions. We will push back on any attempts to cut jobs or diminish your work."
Despite a track record of massive layoffs and cost-cutting measures in its newsrooms, Alden President Health Freeman said in a statement that Alden is committed to local newspapers.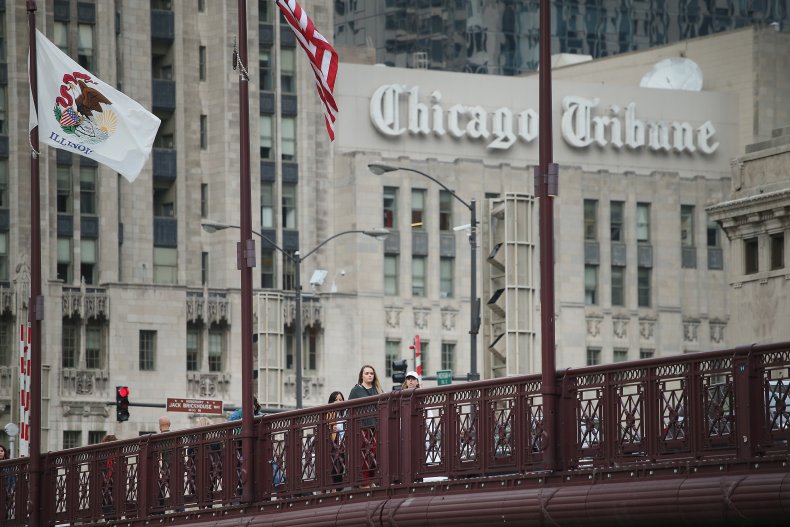 Alden-owned newspapers in Denver, Boston and beyond had already suffered staff reductions, some by more than half, when COVID-19 hit in 2020, according to Poynter. The pandemic exacerbated the circumstances befalling the already eviscerated newsrooms under Alden's operating company, MediaNews Group.
"Local newspaper brands and operations are the engines that power trusted local news in communities across the United States," Freeman said in the statement. "The purchase of Tribune reaffirms our commitment to the newspaper industry and our focus on getting publications to a place where they can operate sustainably over the long term."
Johnson, who is transitioning to law school, said the Chicago Tribune has had an enormous impact on his life growing up in the city and the lives of Chicago residents.
"It is such a resource for the people in this city to be heard, to get the word out about issues of importance, to understand and debate policy, to hold a government that's notoriously corrupt accountable," he said. "It's disappointing that if history is any indication, that there won't be an investment in the newsroom under this ownership."