Tributes Paid to James 'Kamala' Harris After WWE Legend Dead Aged 70
Tributes are flooding social media for former WWE wrestler James 'Kamala' Harris who has passed away. He was 70-years-old.
The news was confirmed by WWE who issued a statement about Harris' passing but did not confirm the cause of death but Deadline reports that his biographer Kenny Cassanova confirmed on Facebook that the cause of death was coronavirus.
The Washington Post reports that Harris suffered a number of health issues in recent years, and had had both legs amputated.
WWE honored the "6-foot-7, 380-pound" wresting giant in a statement saying he "battled the greatest Superstars in sports-entertainment history, including Hulk Hogan, The Undertaker and Andre the Giant."
The wrestling body added: "He terrorized opponents and thrilled audiences in Mid-South, World Class Championship Wrestling, WCW and WWE until 2006. WWE extends its condolences to Harris' family, friends and fans."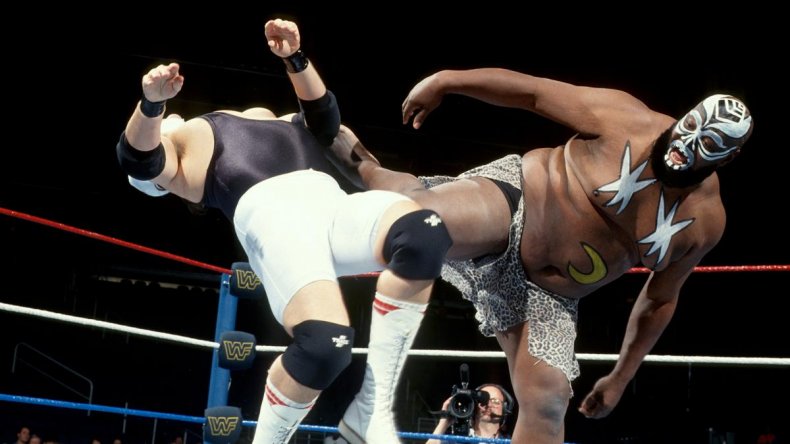 A number of prominent voices in the wrestling world have also extended their condolences to Harris' family.
Retired wrestler Mick Foley shared his sadness at the loss of Harris who he said thought him a "lesson about respect."
He tweeted: "I am so sorry to learn of the passing of James 'Kamala' Harris. I wrestled him for 90 seconds in 1986, but the lesson he taught me that night about treating others with respect has never been forgotten. #RIPKamala."
Hossein Khosrow Ali Vaziri, better known by his ring name The Iron Sheik shared his heartbreak at the news, tweeting: "GOD BLESS THE KAMALA HE ALWAYS PUT ON A SHOW FOR THE FANS GOOD BIG MAN WHO WORKED THE GIMMICK BETTER THEN MOST IT BREAK MY HEART #ripkamala."
Pro wrestling writer Scott Fishman described Harris as a "unique character." He wrote: "Kamala was one of those out there and unique characters you don't really see in pro wrestling today. Ones in many ways that are missed for many reasons. #RIPKamala #RIPUgandanGiant."
Andrew Everett offered his condolences to Harris' family and praised his ability to embody his character.
"Kamala, The Ugandan Giant was a unforgettable character, and the man behind it, James Harris invested so much into it. You rarely see someone tap into a character as perfectly as he did. Condolences to his family, and friends. #RIPKamala."
Prince Nana added: "Just heard the News..All I have to say is he was one of the most memerable performers in Pro Wrestling History...He was great to me and I will always remember his talent outside the ring as a Singer/Songwriter..Rest In Peace #RIPKAMALA."
Court Bauer, of Major League Wrestling also paid tribute to "larger than life" Harris. He tweeted: "No!! Kamala has passed away. Very sad news as the man behind the larger than life Ugandan Giant persona was an incredible person who I had the privilege of working with and knowing a little. While his last few years were hard, he continued to forge his way. A man's man #RIPKamala."