Tributes to Michael Constantine, 'My Big Fat Greek Wedding' Star, After Death Aged 94
Michael Constantine, who portrayed patriarch Kostas "Gus" Portokalos in the hit romantic comedy My Big Fat Greek Wedding, has died at the age of 94.
The Emmy-winning actor, given name Gus Efstratiou, died peacefully of natural causes on August 31 at his home in Reading, Pennsylvania, his family told the Reading Eagle.
Paying tribute to the screen star, Constantine's sister Patricia Gordon told the publication: "(He was) the most generous person you'd ever want to meet. The world is a better place because of him—really, truly."
As news of Constantine's passing circulated, tributes flooded in for the star, who earned an army of fans through his Emmy-winning role in the classic comedy Room 222.
Nia Vardalos, who played his daughter Toula Portokalos in My Big Fat Greek Wedding, wrote on Twitter: "Michael Constantine, the dad to our cast-family, a gift to the written word, and always a friend.
"Acting with him came with a rush of love and fun. I will treasure this man who brought Gus to life. He gave us so much laughter and deserves a rest now. We love you Michael."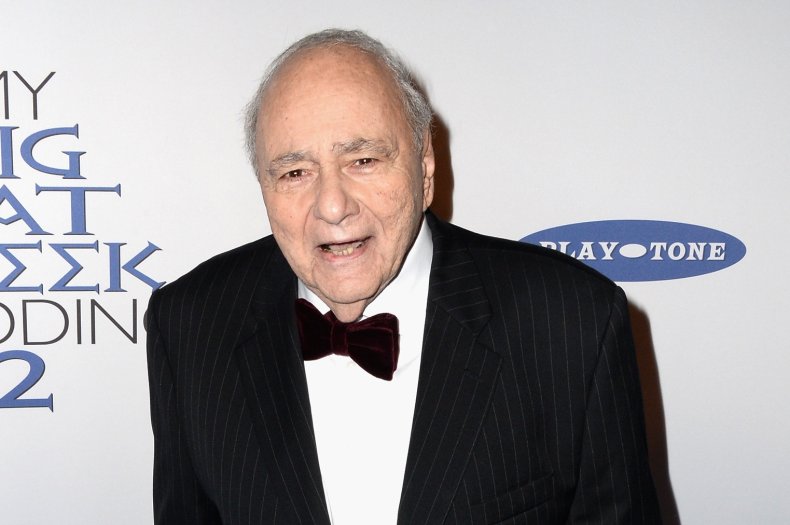 She also shared a photo of Constantine with her real-life late father, adding the caption: "Michael Constantine as 'Gus' and my real dad Constantine 'Gus' Vardalos, onset #MyBigFatGreekWedding2. May both dads Rest In Peace [heart emojis]."
Actor Bradley Whitford also dedicated heartfelt words to Constantine, as he tweeted: "Michael Constantine was a terrific actor and a wonderfully kind man. Well done, sir. Rest In Peace."
KTLA-TV anchor Sam Rubin shared his own memory of the star, tweeting: "Sad about this. Room 222 was an incredibly important show that was *way* ahead of its' time. Much of the series was shot on location at Los Angeles High School on Olympic Blvd. Michael Constantine was the well meaning anchor of that show...& much more."
"Thank you for taking the quintessential Baba and portraying him so brilliantly," said journalist Liana Aghajanian. "[T]he first time many of us saw the havoc and joy of our own homes that's often intertwined with immigrant identities comfortingly staring back at us on the screen."
WCVB-TV anchor Maria Stephanos shared a GIF of Constantine in My Big Fat Greek Wedding, as she recalled his character's penchant for toting a bottle of Windex.
"I love this movie. I love this character and I loved Michael Constantine," she wrote. "He passed at the age of 94. I will spritz some windex in your honor [heart emojis]."
ABC journalist John Kapetaneas looked back on the impact of Constantine's work as he added to the flood of tributes on social media.
"My Big Fat Greek Wedding was a watershed moment for Greeks around the world," Kapetaneas said. "Michael Constantine was the backbone of that film, portraying the lovable, overbearing father with an empathy and care that can only come from a lifetime of Greek-ness."
Podcaster Doug Benson recalled his joy at having once met the star, as he tweeted: "As a lifelong Michael Constantine fan, I was thrilled to meet and work with him when I was a stand-in on the movie IN THE MOOD. He was very nice, proving you can meet (some of) your heroes. RIP."
After starring in My Big Fat Greek Wedding, which earned a domestic gross of $241 million in 2002—making it the most successful romantic comedy of all time—Constantine reprised his role in the TV spin-off My Big Fat Greek Life in 2003.
Constantine, who began his career on the New York stage and appeared in a long list of TV shows and films, earned his final acting credit in My Big Fat Greek Wedding 2 in 2016.