Tributes Paid After New York Police Dog Rocky Dies Following 10 Years of Service
Tributes have been paid to an upstate New York police department after a 10-year veteran of its force died.
Rocky, a police K-9, passed away on November 8 after being diagnosed with a serious illness, Guilderland Police Department said.
He was the third canine to serve the force and had joined the police department in 2009.
"It is with great sadness that the Guilderland Police Department announce the death of the departments police dog K-9 Rocky," a spokesperson for the department said on Facebook.
"Rocky had recently been diagnosed with a serious illness and passed away on November 8, 2019.
"Rocky was born August 7, 2007 and after being certified in protection, narcotics and tracking, he joined the department in 2009."
Following the announcement, dozens of people commented on the Facebook post where the announcement was shared to pay tribute to the German Shepherd.
"So hard saying goodbye to these amazing dogs that forever change a community," Eric McCollum said. "Thank you for your service Rocky."
Rick Kemner wrote: "So sorry to learn of your loss... K-9s are invaluable to law enforcement, and are truly family to their handlers. Thoughts and prayers."
Lisa Dickson-Lemme said: "So sorry for the loss of Rocky. It's never easy to lose a fellow officer, whether two or four legged. You are all in my thoughts and prayers."
Tributes were also paid to officer Don Jones who handled Rocky for over 10 years.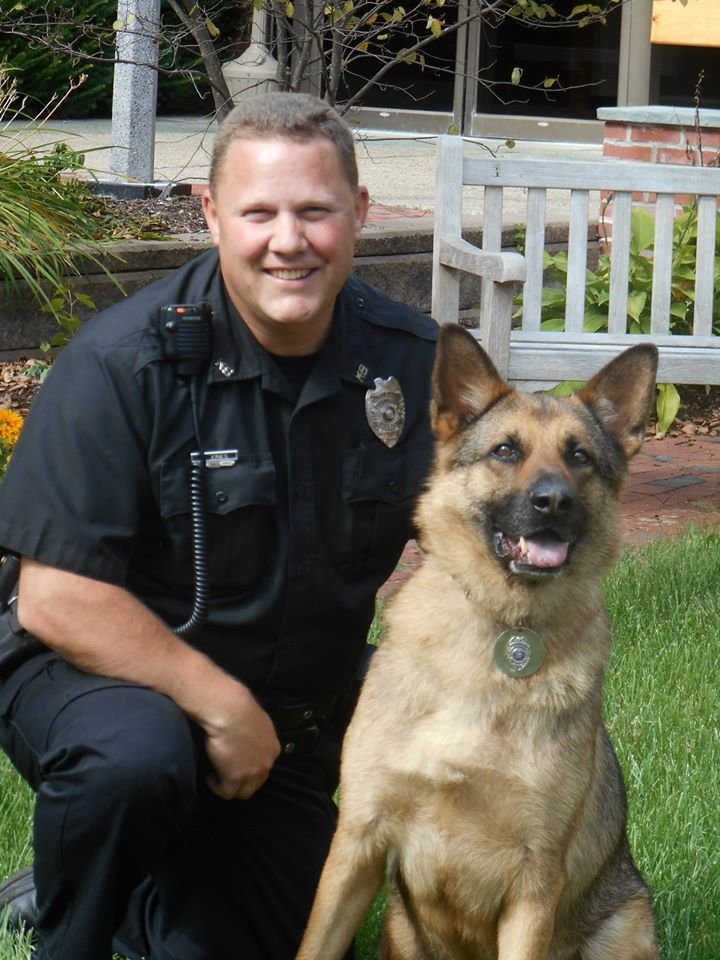 Rocky, a K-9 who died on November 8, alongside his handler officer Don Jones.
Guilderland Police Department
Numerous posts on the Guilderland Police Department Facebook page showed Rocky making a number of excursions and community visits over the years.
The dog was frequently taken to schools and children's organizations to teach them about how dogs are used in law enforcement.
Keleigh Gates, a mother, described how much of an impact Rocky had.
"We went on a field trip with my son's preschool on Friday and my daughter, two years old, has not stopped taking about Rocky!!" she said. "She's obsessed and keeps asking to go visit."
Although humans domesticated dogs thousands of years ago and often used them in protection and hunting, police K-9s only started to be used in the last two centuries.
One of the first uses of dogs in police forces is believed to have been in 1889 by the commissioner of the London Metropolitan Police, Charles Warren, when he started to face criticism for his inability to catch the notorious serial killer Jack the Ripper.
He enlisted two bloodhounds to aid with the job, but their recruitment was ultimately unsuccessful as one bit Warren and the two dogs escaped.
Police in Paris then started to use dogs to police gangs at night and the practice soon spread across continental Europe.
By 2019, they have become assets to most modern police forces across the world.