Tributes Paid to 'Oz' Star Granville Adams After His Death Aged 58
Granville Adams, best known for his role as Zahir Arif in the classic HBO prison drama Oz, has passed away at 58 after a long battle with cancer.
According to a statement shared on Adams' Instagram account, the actor, affectionately nicknamed "Granny," passed away on Sunday.
"Today our beloved Granville Adams has passed and is now with God," read a statement on Adams' account, alongside a picture of him. "After a long hard-fought battle with Cancer, Granny has ascended to the heavens.
"Gran spent his last days surrounded by his loved ones, family, and close friends. His wife Christina was by his side the entire time and was alone with him when he passed.
"Granny is now in peace and not suffering anymore. He fought till the end with a strength, beauty and grace like no other, putting his family before himself til the final moments.
"We are all so honored to have known Granville, who embodies the expression 'to know him is to love him.' Everyone who knew Granville knew the exemplary human kindness he possessed. Every life he touched was better for it.
"Granville was a beautiful man who always put others first and was known for his kindness and selflessness. Always the life of the party, Granville would not want us to be sad! Granny would want us all to smile and remember the best times we had with him, and share the love we learned from him!
"Granny may have left the building, but he will forever be in our hearts! Just before he passed, we asked him to show us a sign when he crossed to the other side.
"After he passed the friends and family who were there at the hospice and hospital went to eat and reminisce about Granny. As we were sitting and eating, there was a torrential downpour which subsided after 30 minutes only to reveal a brilliant double rainbow right in front of us.
"We knew in that moment it was Granny, spreading love as he does... We love you Gran always and forever!
"We are planning his life celebration and will advise. Please love each other the way Granville loved all of us! Rest In Power [folded hands, heart and rainbow emojis]."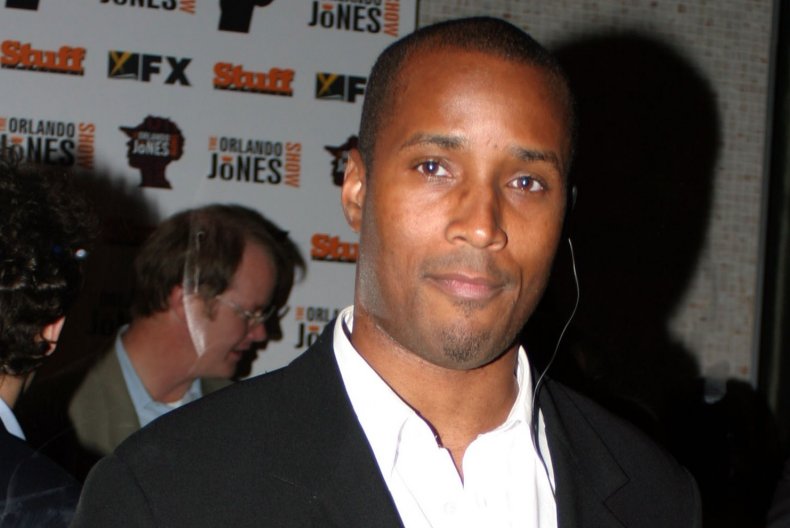 Oz showrunner and executive producer Tom Fontana took to Instagram in the hours following Adams' death to share a photograph of the actor in character as Arif.
Captioning the image, Fontana wrote: "Goodnight, sweet prince/and flights of angels sing thee to they rest #granvilleadams #oz."
Adams' Oz co-star Dean Winters also shared a tribute to the late actor on the platform, as he posted a promotional image of the two of them together.
"All of my photos of Granville Adams were lost, except for this one," Winters wrote. "How fitting is this? Us on the cover of TWILO magazine (@chris_meloni our middle man).
"We shot this on a Monday after being there all day Sunday, we were like young Lion Cubs who constantly broke away from the pack, only to come back to the tribe with our tails between our legs and gigantic, s*** eating grins."
He continued: "I first met Granny in 1992 and I immediately drank the Kool Aid. His smile was infectious, his chuckle was intoxicating. He never, ever spoke ill of anyone and I defy anyone who knew him to say anything negative about this man.
"Granville was beloved, period. He may as well have had people throwing rose petals at his feet while he walked down the street. A humble, beautiful soul who just elevated the afterlife to a whole new level.
"You will be missed my friend. You are my brother and I'm a better human being for knowing you. RIP G. Respect [heart emojis]."
Kirk Acevedo, who played Miguel Alvarez in Oz, posted a series of photos of himself with Adams on Twitter, as he wrote: "I lost my brotha today after a long battle with cancer. I don't do well with loss because I'm unfamiliar with it.
"Yo Granny we'll be chopping it up on the other side one day. Until then... Rest easy my friend. Granville Adams [folded hands emoji]."
Harold Perrineau, who starred as Augustus Hill in Oz, shared a tribute on Instagram from himself and his wife, Brittany Robinson: "You can't always cry, sometimes you've got to CELEBRATE the time you had together.
"Brittany and I LOVE this man and the entire group of family/friends that we all created. Sleep well Prince! We'll see each other again. @granveezy #OZ #its_never_goodbye."
Another Oz co-star, Evan Seinfeld, wrote: "Yo my brother from another mother @granveezy It was a blessing to share your final days with you and @ladylomeli - From back in the Oz days til today we always stayed so close and you will always be in my heart-now and forever!
"I learned so much from you- your kindness and grace is a shining example to all of the goodness that people can exude! Consistently a beautiful man - best friend- best husband - simply Granny you are the best of us. The best of the best.
"Proud and Grateful for our deep friendship and all the memories we shared. Was incredibly humbling to be there as all of the guys called in and FaceTime to say goodbye to our brother! I love you Granny. Thanks for sharing your life with all of us! #f***cancer."
In late January, Fontana and Winters launched a GoFundMe campaign to help Adams and his family pay for the medical care required as he fought cancer. The goal of $69,500 was exceeded, with the current total standing at over $100,000.
"As many of you know, our friend and brother Granville Adams has been diagnosed with cancer," Fontana wrote when launching the campaign. "In only a few months, the medical bills have skyrocketed to astronomical levels.
"Not only does he have to battle this ruthless disease, but now he has to fend off the hospital bills the insurance company refuses to pay. In this quarter alone, the unpaid bills have piled up to $69,550.
"We want to gather together and show Granville our love by clearing this quarter's bills, giving Granville concrete support in his fight against this vicious disease.
"Since Granville hasn't been able to work for the past year, all the donations from this campaign will go directly to Granville and Christina's account to help them pay the onslaught of bills that have been piling up; medical, rent, utilities, etc."
Adams appeared in all six seasons of Oz, which aired between 1997 and 2003. His character was imprisoned at the show's Oswald State Correctional Facility for possession of stolen goods, before embracing Islam and reforming himself.
The actor also had a recurring role on NBC's Homicide: Life on the Street and appeared in Empire, according to Variety.
He was cleared of negligent homicide in 2007, after an altercation at a New York City nightclub led to a man's death. Adams' attorney pleaded self-defense.